part 2 of 3
selected examples of miniatures and dollhouse furnishings previous to 1890
by Jennifer McKendry home page
photography by Jennifer McKendry©

Kestner firm, Walterhausen, Germany, mid 19th century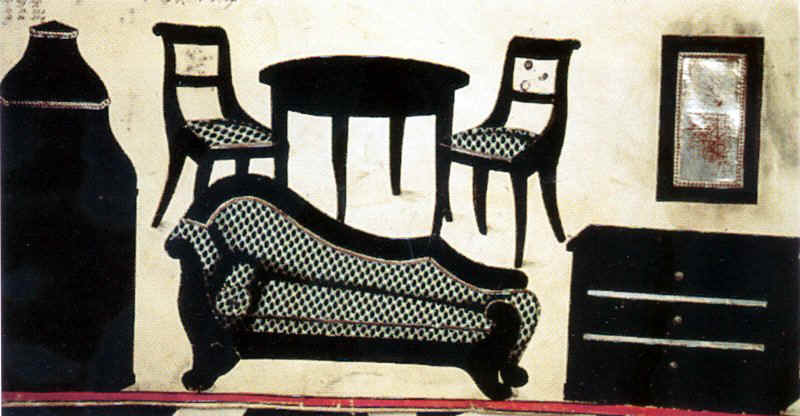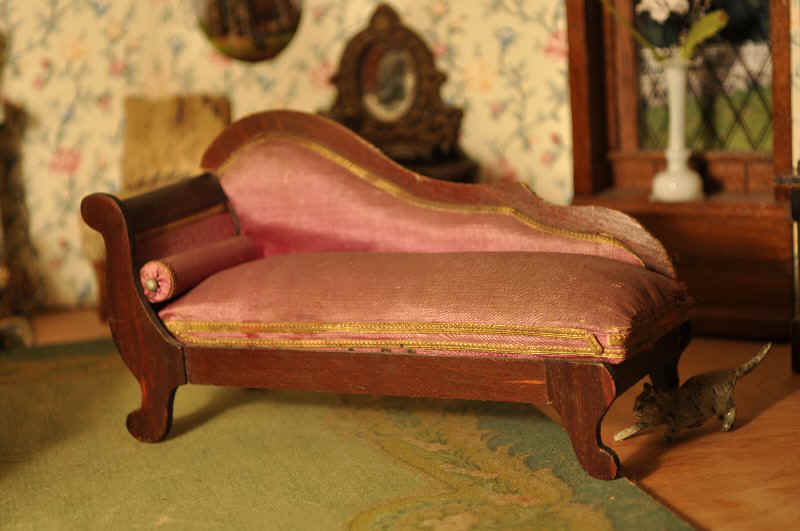 note:
For a helpful article on Johann Daniel Kestner Jr with illustrations from his c1850 catalogue in the archives of the Museum of Schloss Tenneberg, Walterhausen, Germany, see "Kestner's Doll' House Furniture" by Christiane Gräfnitz in Doll News (fall 2000): 56-59.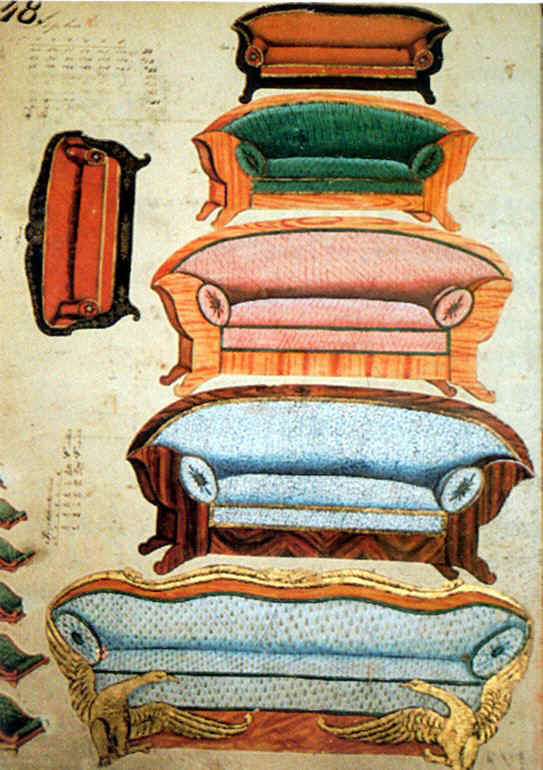 note double row of gilt edging and how the bolsters tuck into the arms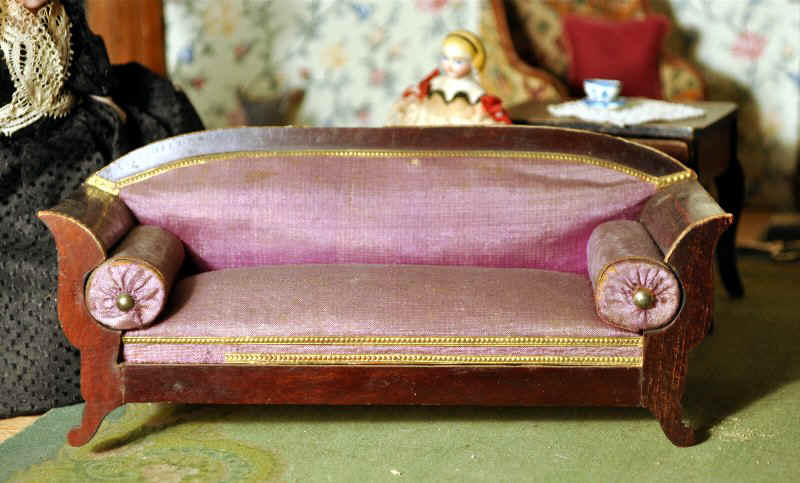 <![if !vml]>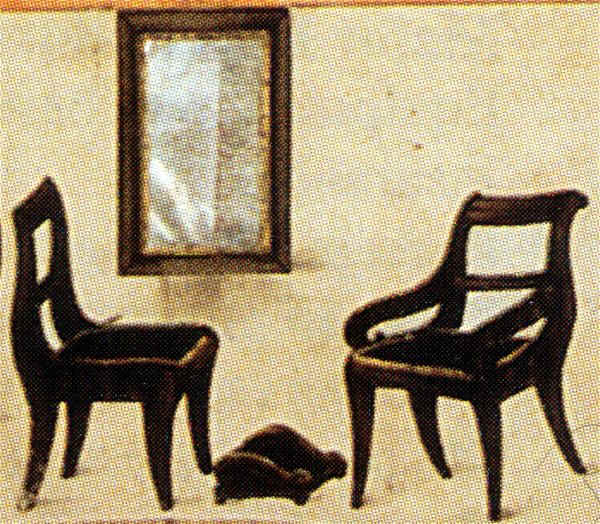 <![endif]>
<![if !vml]>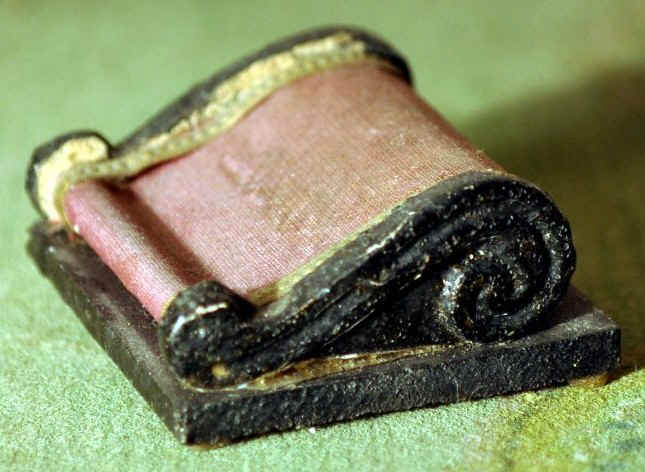 <![endif]>
footstool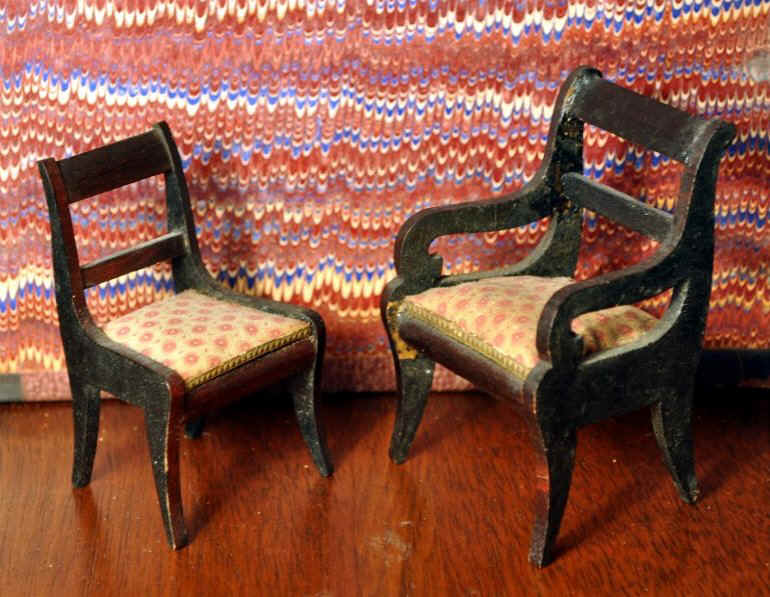 This form of chair was popular in the second half of the 19th century among German dollhouse furniture makers. The leg form with concave curves is known as klismos after Greek and Roman models, as enthusiastically embraced by early 19th century real chair makers in Europe, for example, Thomas Hope in England in his Household Furniture and Interior Decoration of 1807. "The beauty of the design" was praised and repeated by J.C. Loudon in his Encyclopaedia of Cottage, Farm and Villa Architecture and Furniture of 1839 (left). One suspects the prevalence of the klismos leg in miniature chairs is because one could saw the form in one piece with the back side and even include the arm in an armchair. The two cut parts were then attached with glue to the crest rail, back bar and seat. Kestner shows various colours but black is most commonly found<![if !vml]>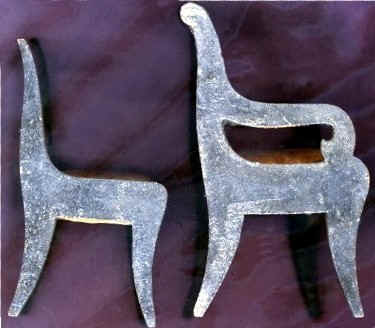 <![endif]>. The scale also has a number of variations.
<![if !vml]>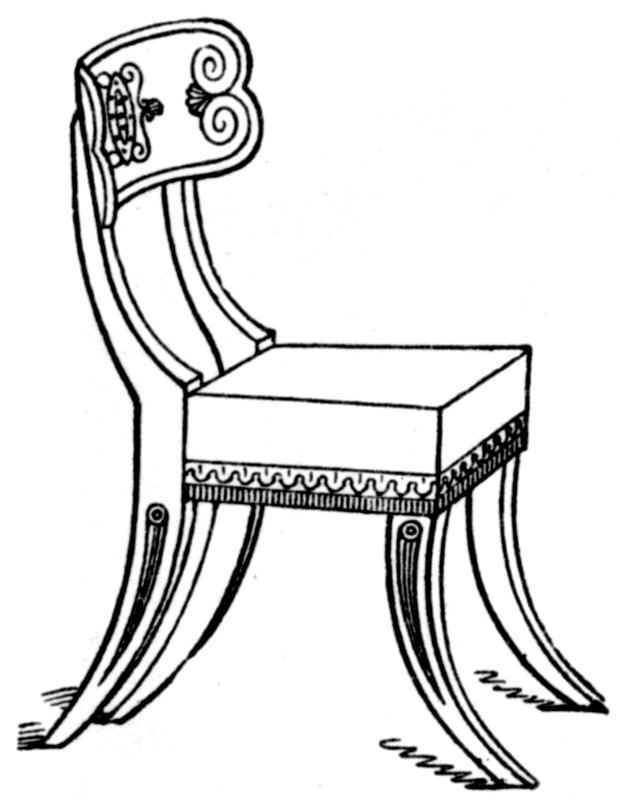 <![endif]>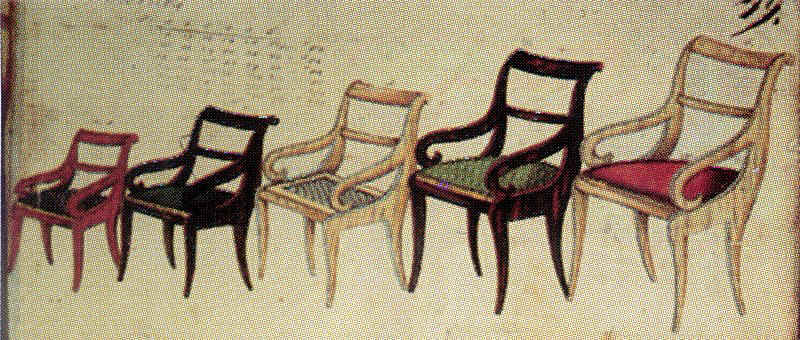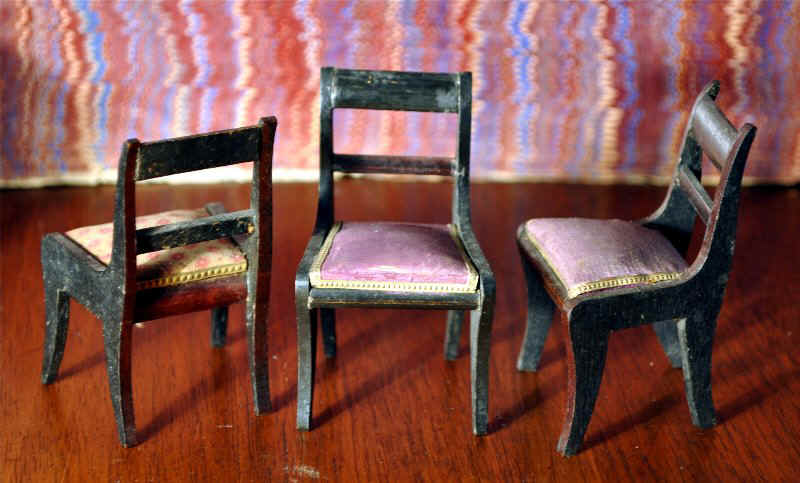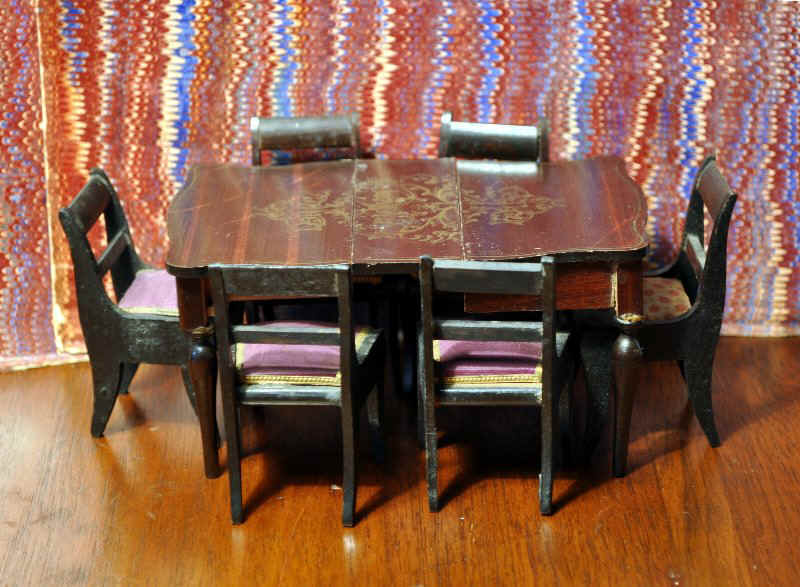 extension table, maker unknown
<![if !vml]>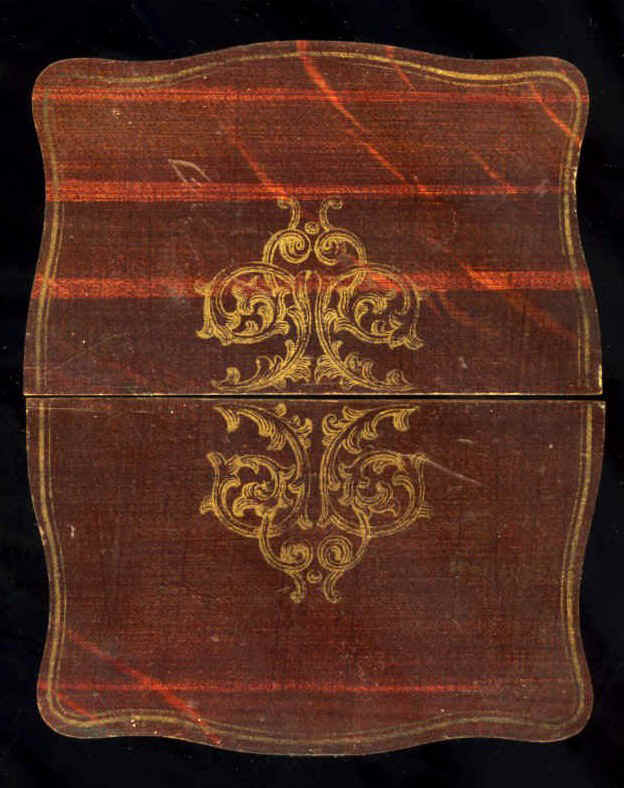 <![endif]>
"Boulle" work decorates the top covered in a false grain resembling rosewood. In real furniture, Boulle (Boull, Buhl) is the inserting of brass lines and shapes into wood surfaces
<![if !vml]>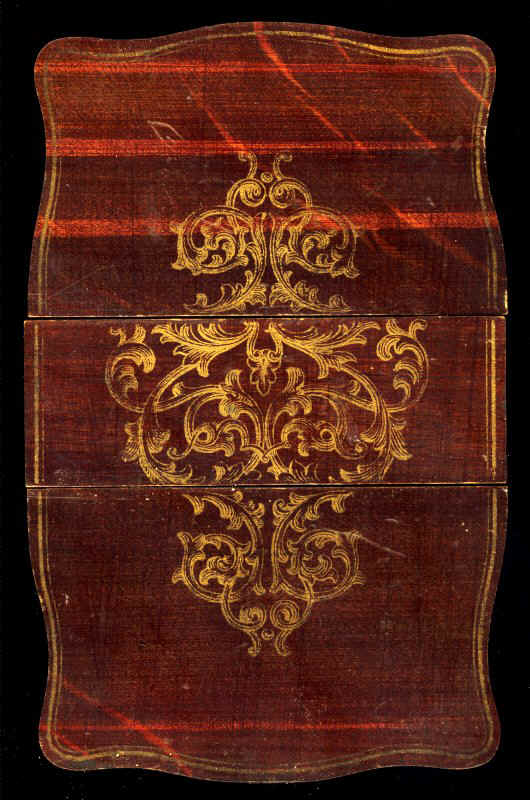 <![endif]>
below the extension system from the underside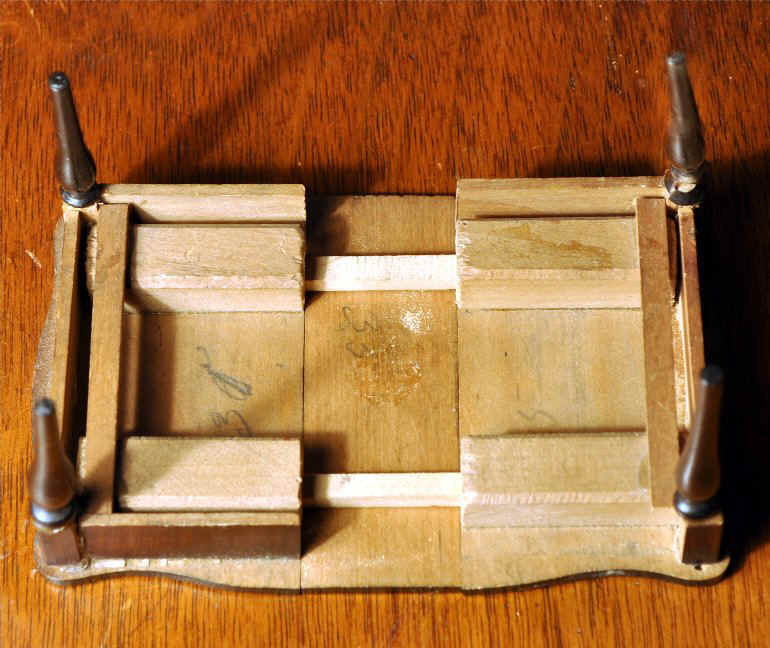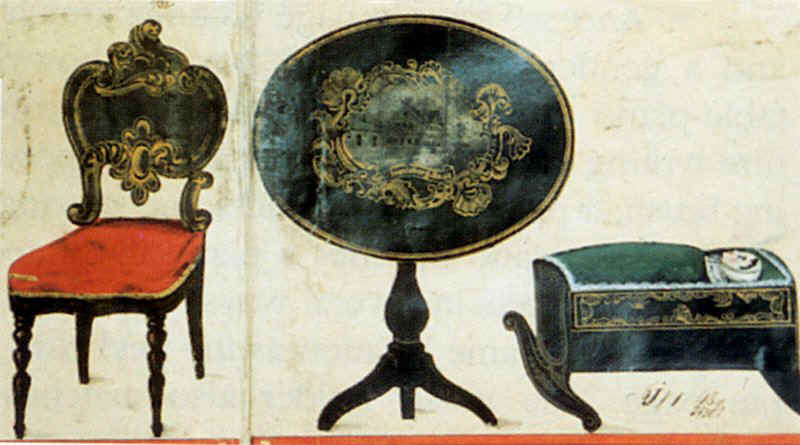 <![if !vml]>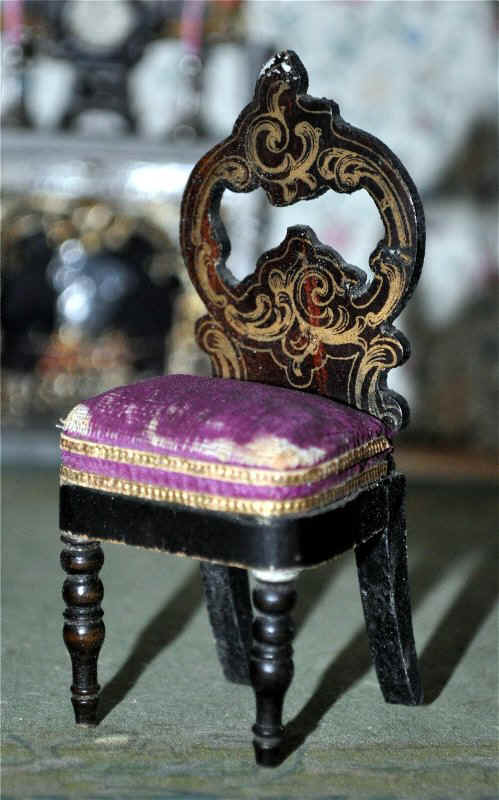 <![endif]>
Rococo Revival sidechair with turned front legs and splayed back ones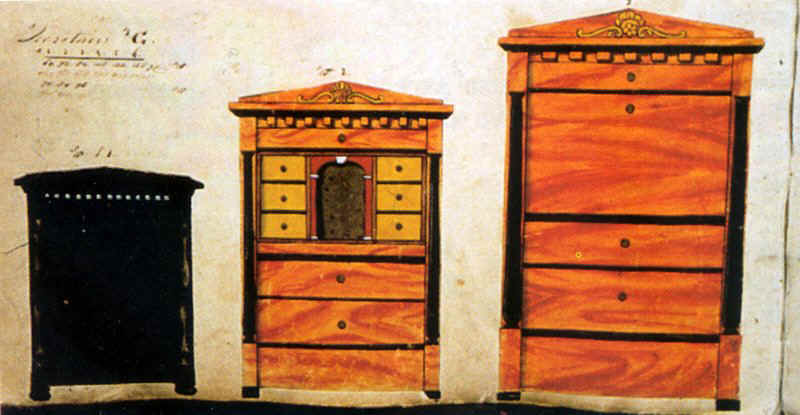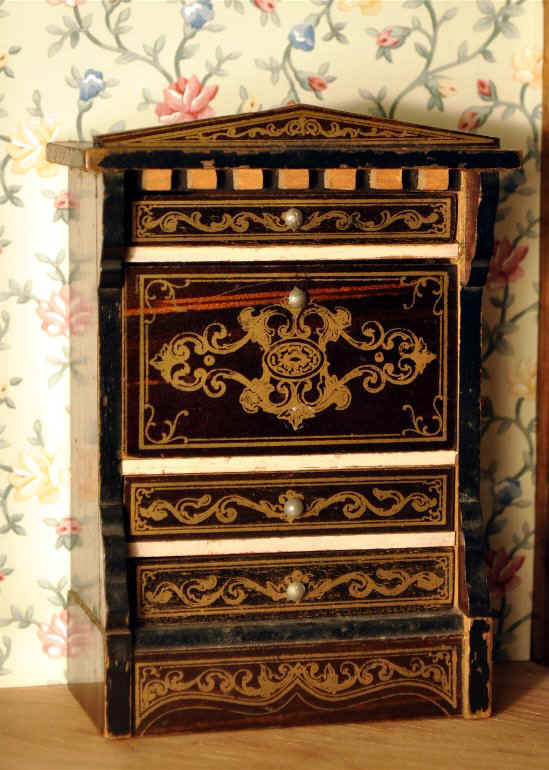 Desk; note heavy dentils under the pediment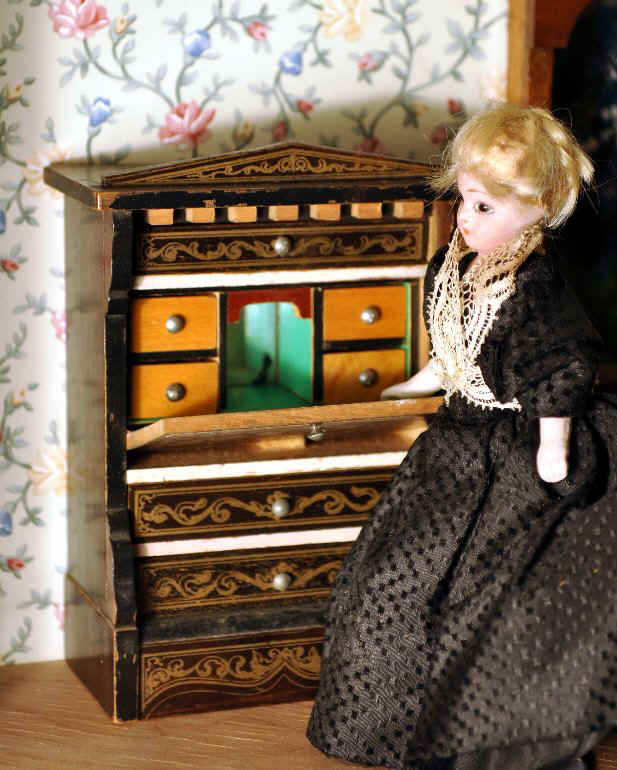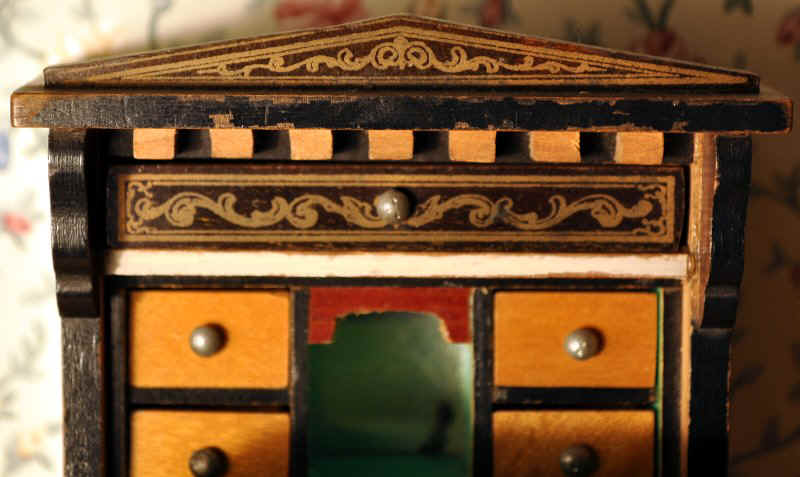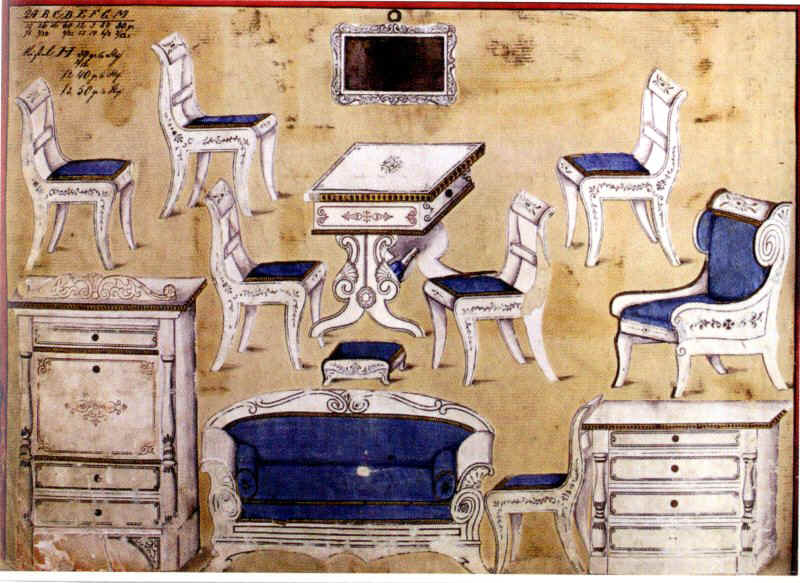 elegant and rare white set by Kestner in a neo-classical style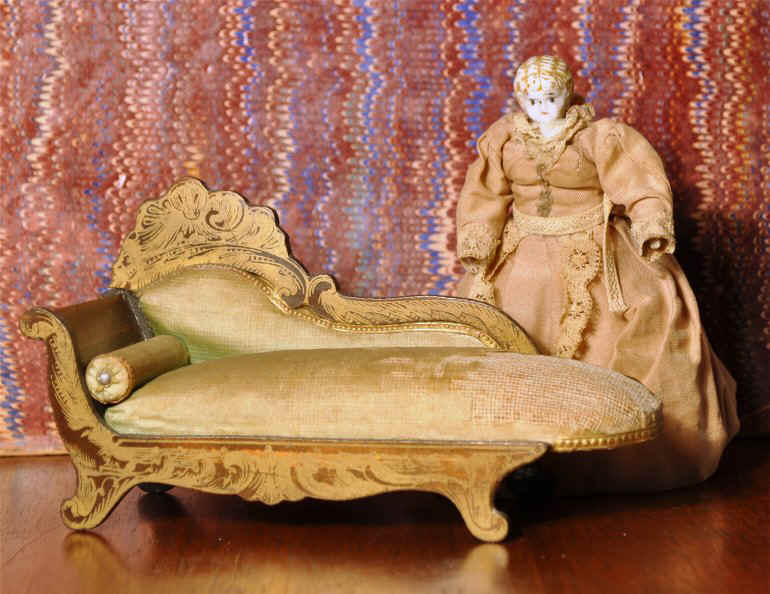 <![if !vml]>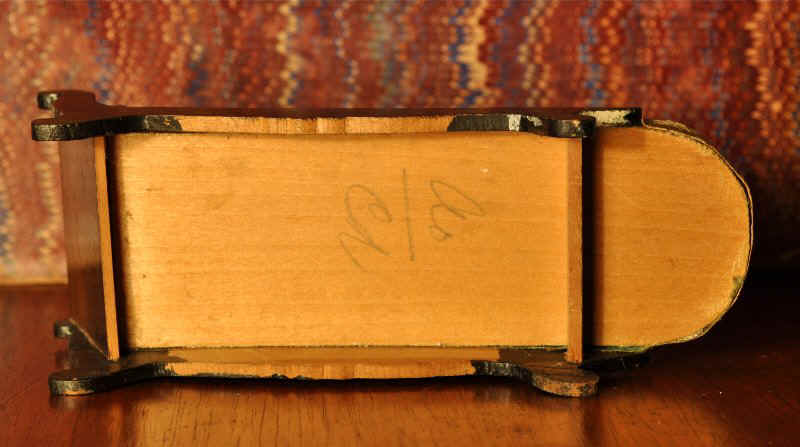 <![endif]>German chaise lounge with flowing gold ornament, original upholstery and bolster, maker unknown, c1860s or '70s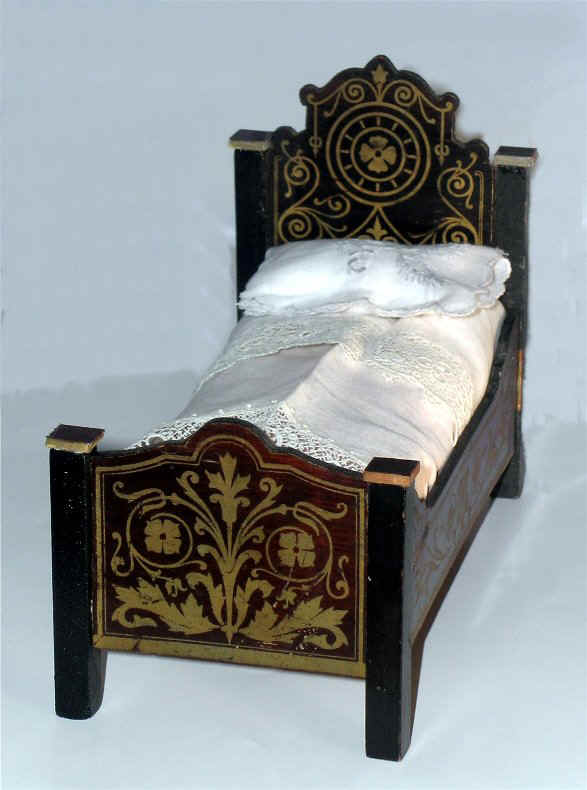 bed attributed to J.D. Schneegass, Schneegass & Söhne, Walterhausen, Germany, 1880s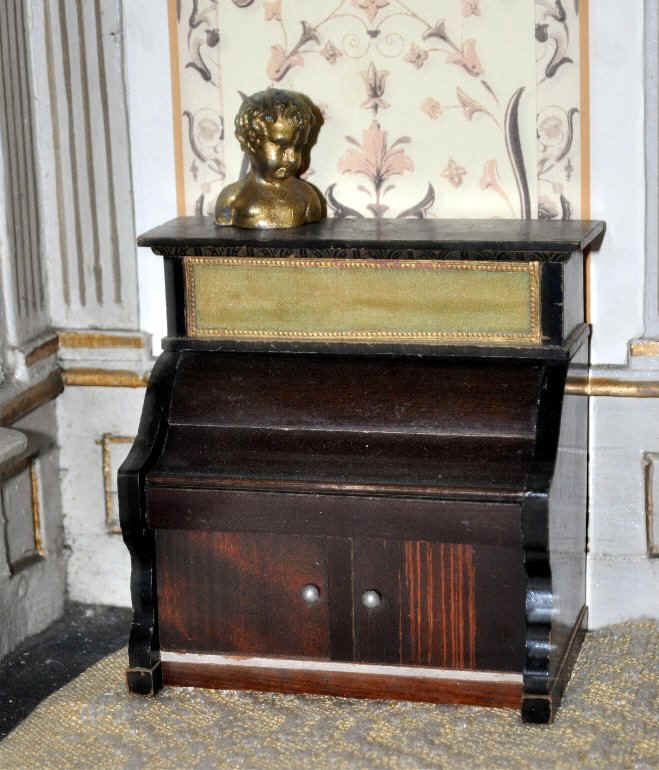 <![if !vml]>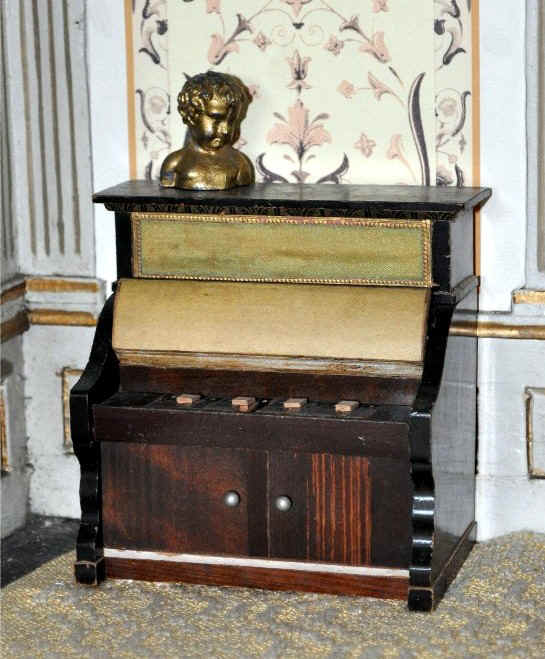 <![endif]>
German piano, maker unknown but possibly Kestner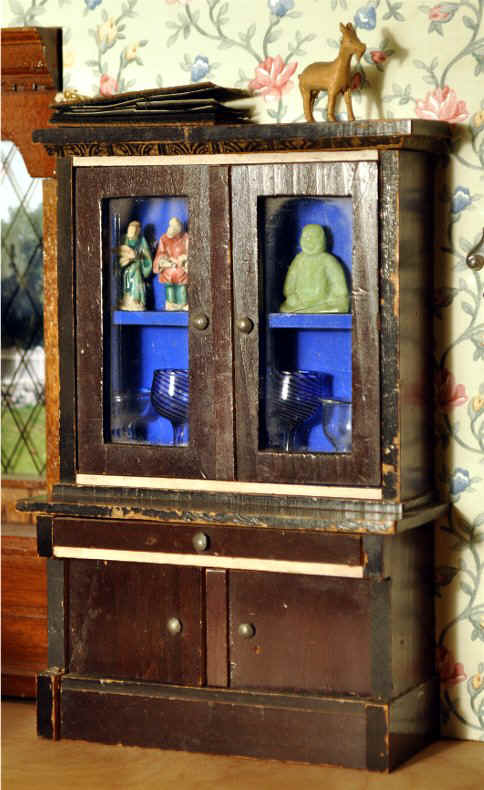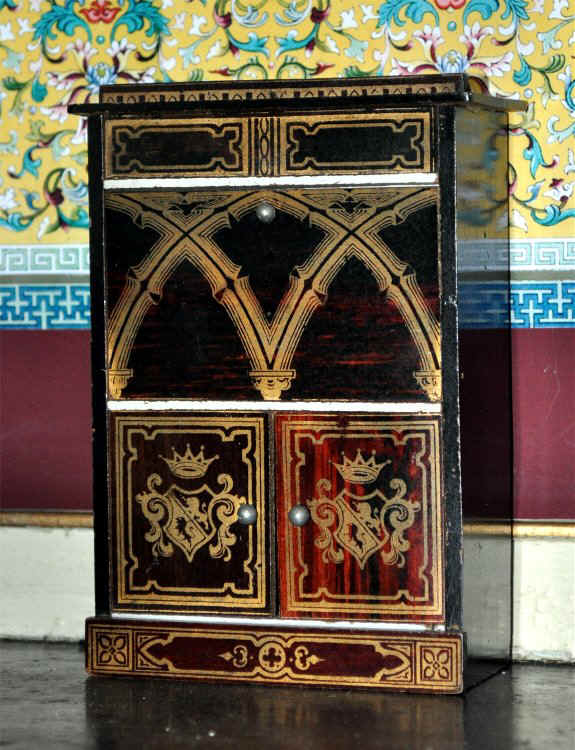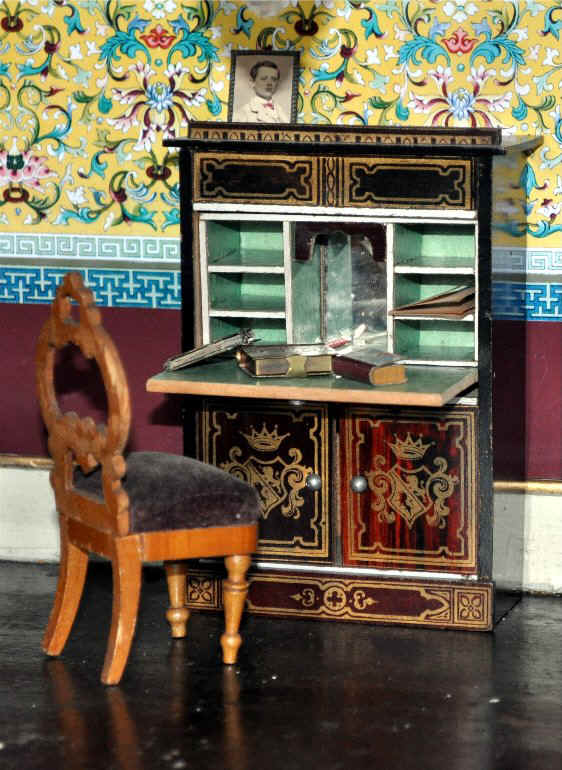 the desks above and below have Gothic Revival motifs (pointed arches, trefoils, cusps, armorial motifs) in "Boulle". Bands of white are often found on these pieces as contrast was valued. in high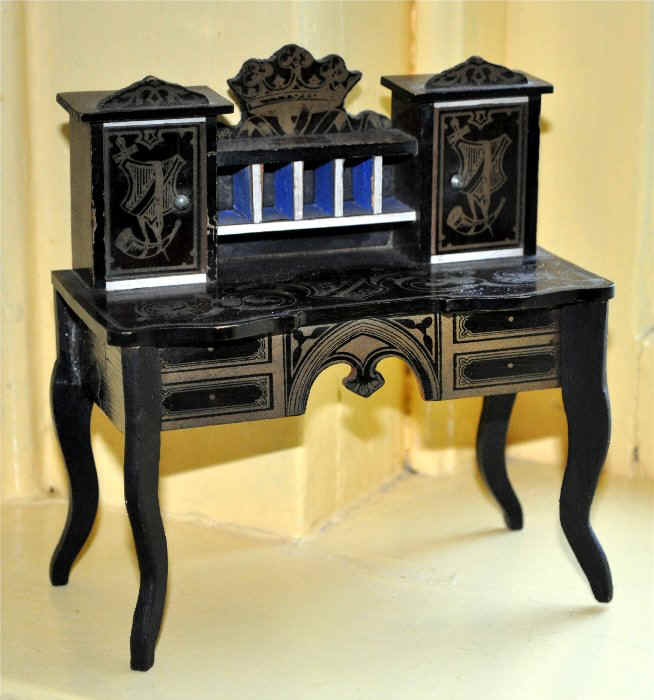 desk attributed to J.D. Schneegass, Schneegass & Söhne, Walterhausen, , Germany, 1880s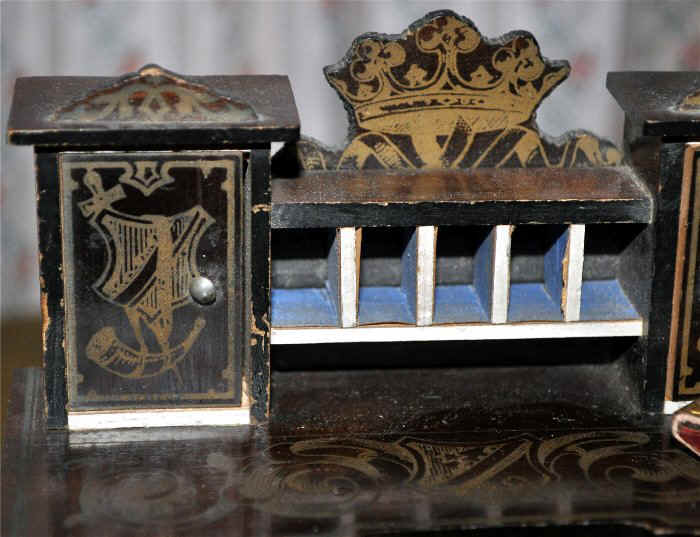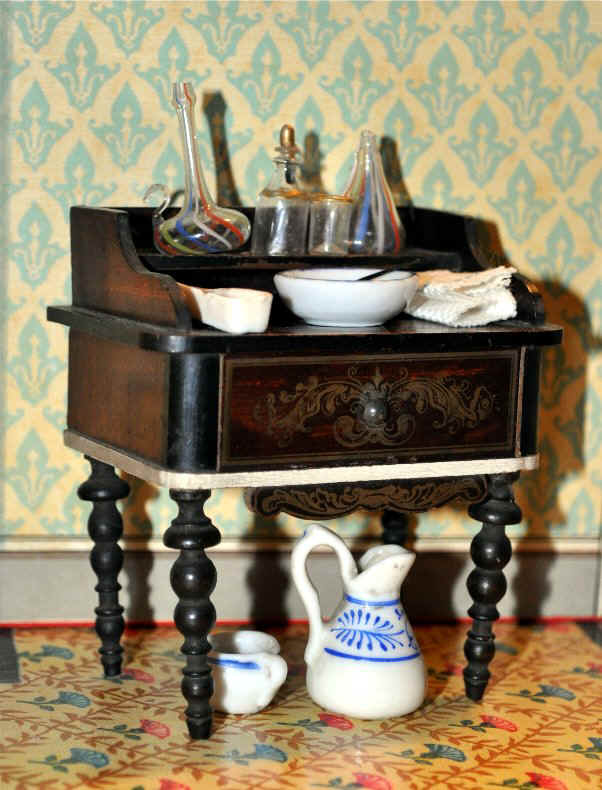 <![if !vml]>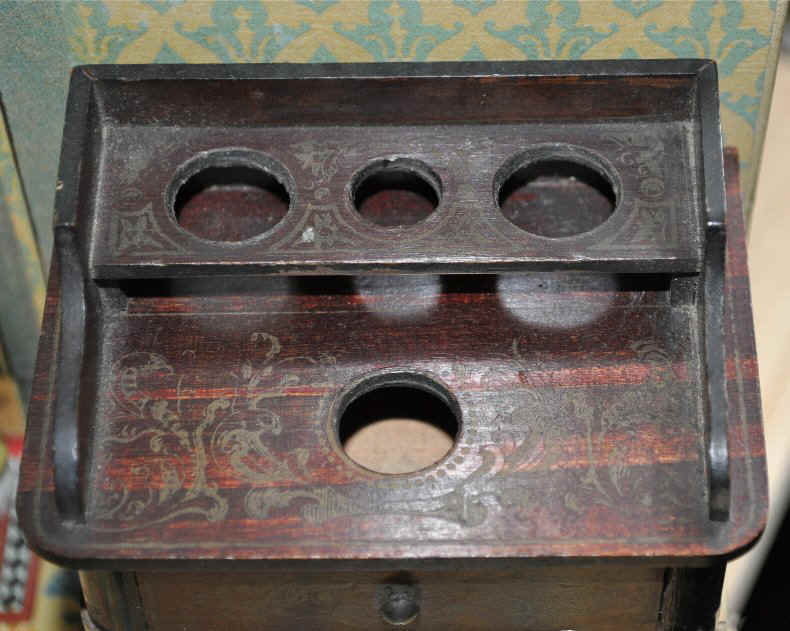 <![endif]>
German wash stand, c1870s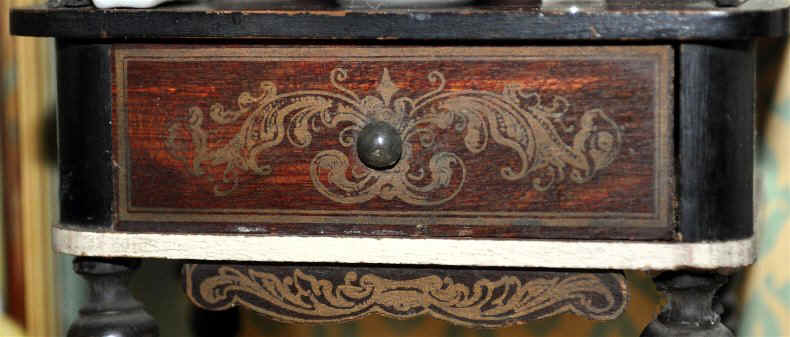 N.B. - please click here to continue to part 3
return to part 1
GALLERY of IMAGES of dollhouses & furnishings
references on dollhouses & miniatures