part 3 of 3
selected examples of miniatures and dollhouse furnishings made previous to 1890
by Jennifer McKendry home page
photography by Jennifer McKendry©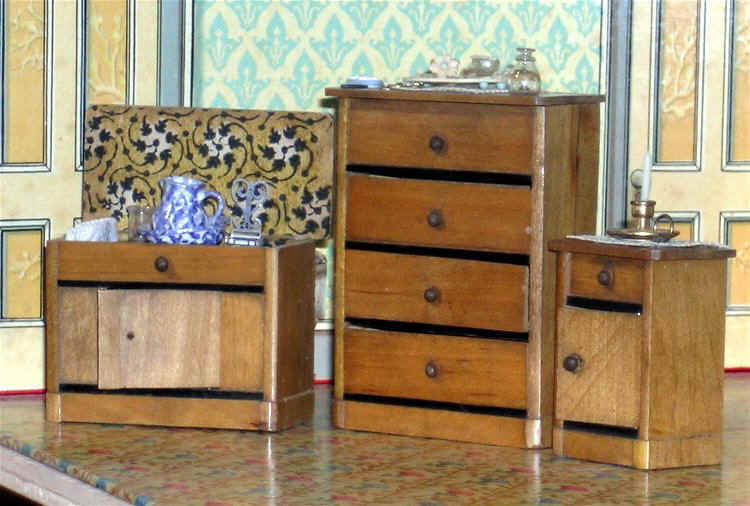 German bedroom set, golden exposed wood with back painted trim, wood knobs, hinged top lined with wallpaper on wash stand; 4-drawer chest is only one-inch deep but all the drawers open; severe plain style; c1860s, maker unknown
<![if !vml]>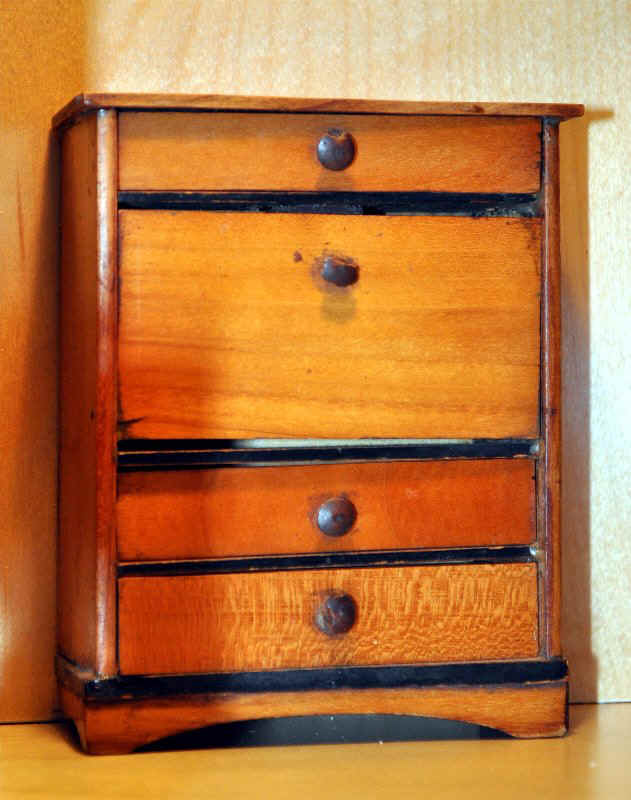 <![endif]><![if !vml]>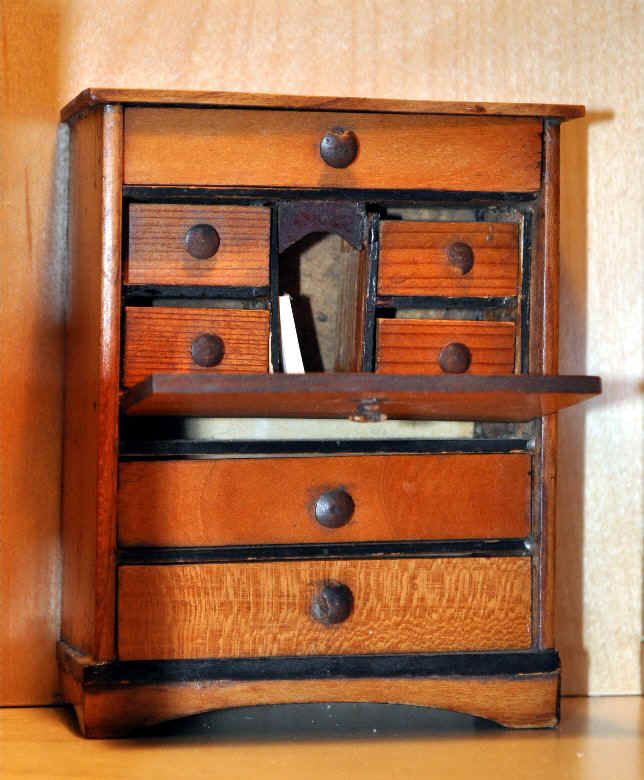 <![endif]>
German desks with fall-fronts, honey-tone wood (probably European fruitwood) with black trim, wood knobs, austere appearance, interior area with small drawers flanking a cubby-hole under an arch and backed by a mirror, c1860s, maker unknown. above 5 inches high; below 6 inches high
<![if !vml]>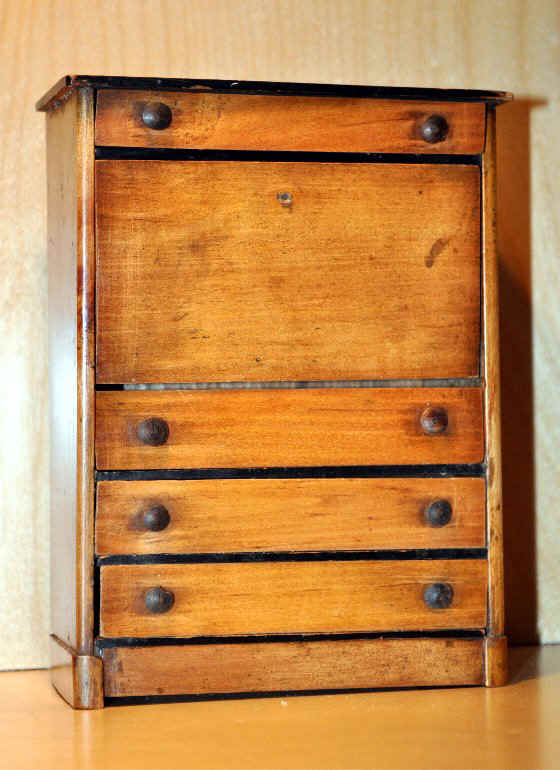 <![endif]><![if !vml]>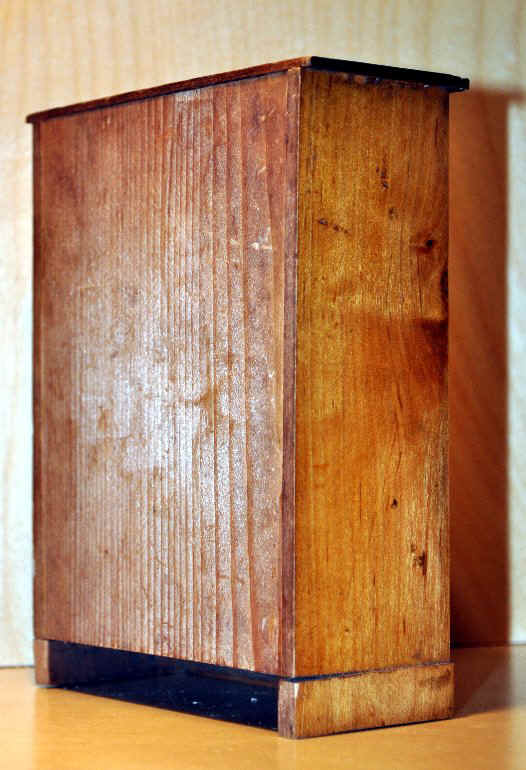 <![endif]>
<![if !vml]>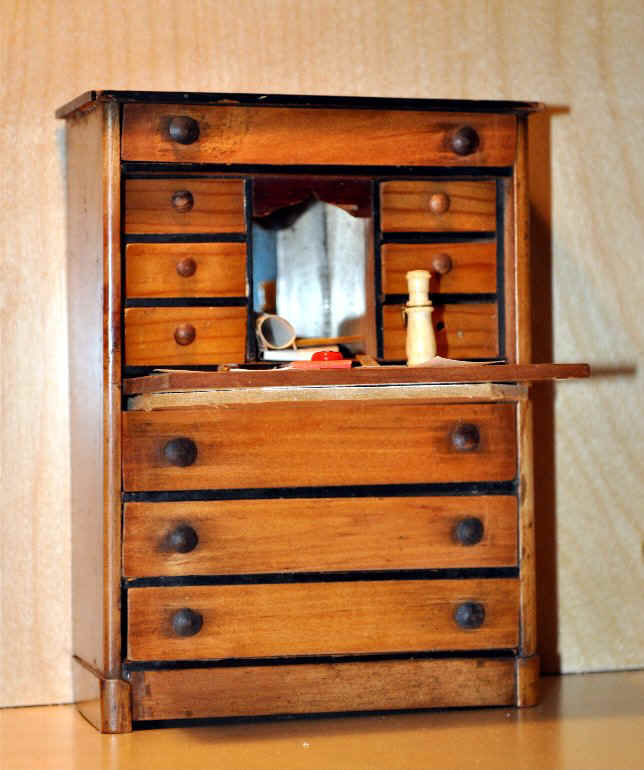 <![endif]><![if !vml]>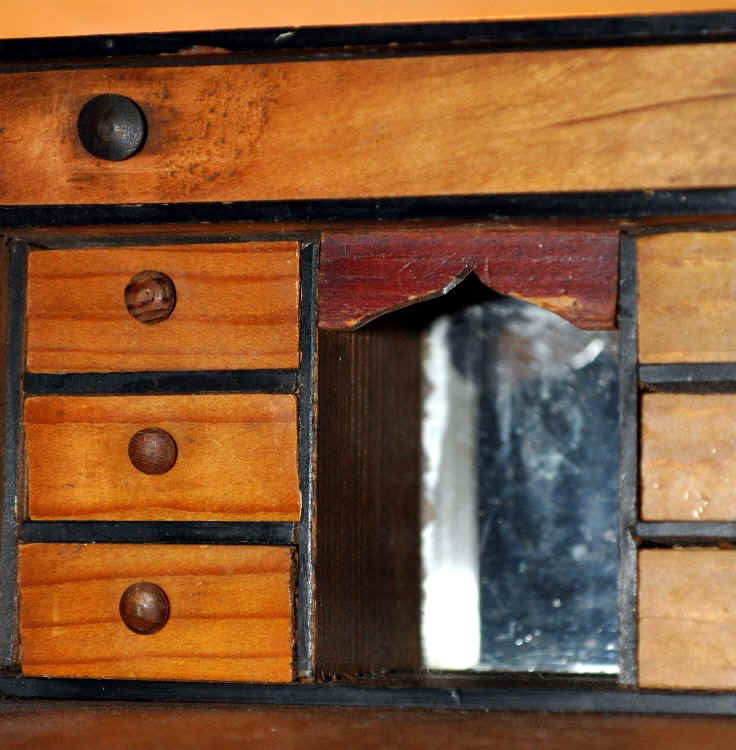 <![endif]>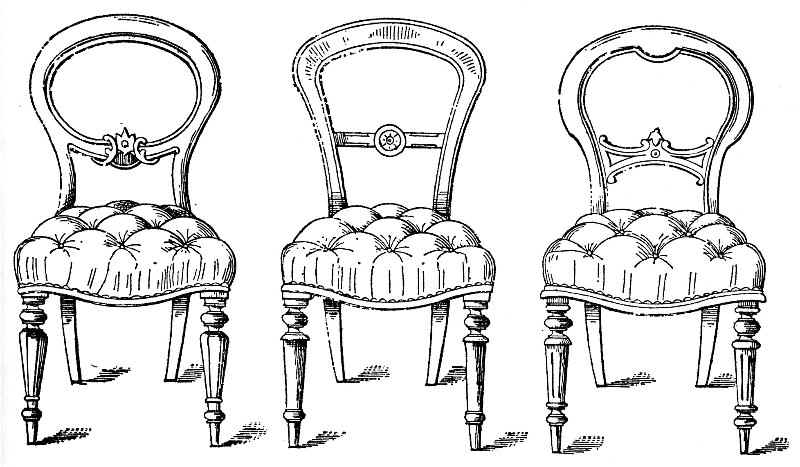 Balloon-back chairs, c1840, British trade catalogue (for real chairs); in the development of real balloon-backs, turned front legs were earlier than cabriole legs; the back form was often decorated with Rococo Revival ornament

British (real) drawing room, mid 19th century, showing five balloon-back chairs with front turned legs and dipped crest rails, as seen in examples from the 1840s
<![if !vml]>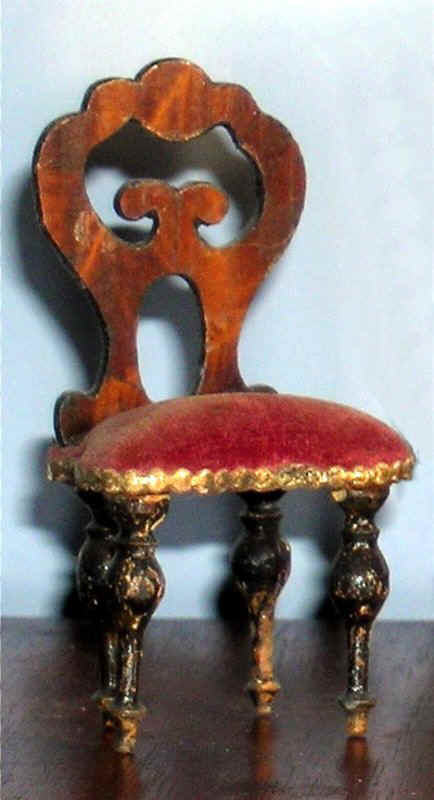 <![endif]><![if !vml]>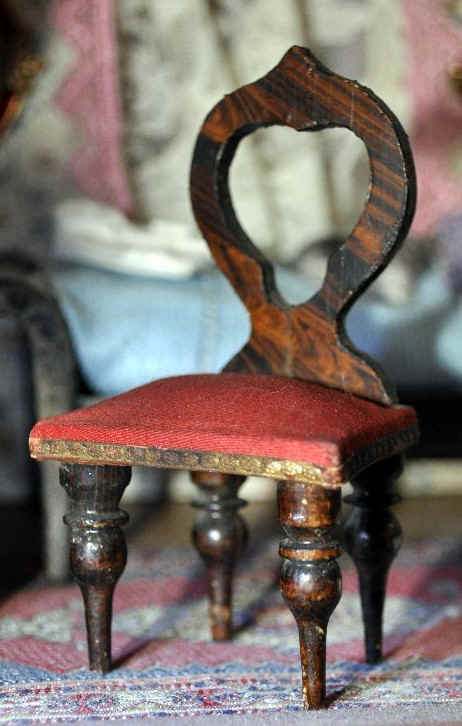 <![endif]>
German balloon-back sidechairs, false-grained on the front surface of the back; gilt edging around velvet seats; left, set of three, 4 inches high; right, 3 inches high; c1860s-'70s
<![if !vml]>
<![endif]>
tiny balloon-back chair, 2¼ inches high
below designs for real balloon-back chairs by Blackie & Son, The Cabinet-Maker's Assistant, England, 1853
As the 19th century progressed, delicate cabriole legs gained favour over turned legs but were difficult to manufacture in miniature unless cast in metal. Backs became more elaborate, again difficult in miniature unless in metal.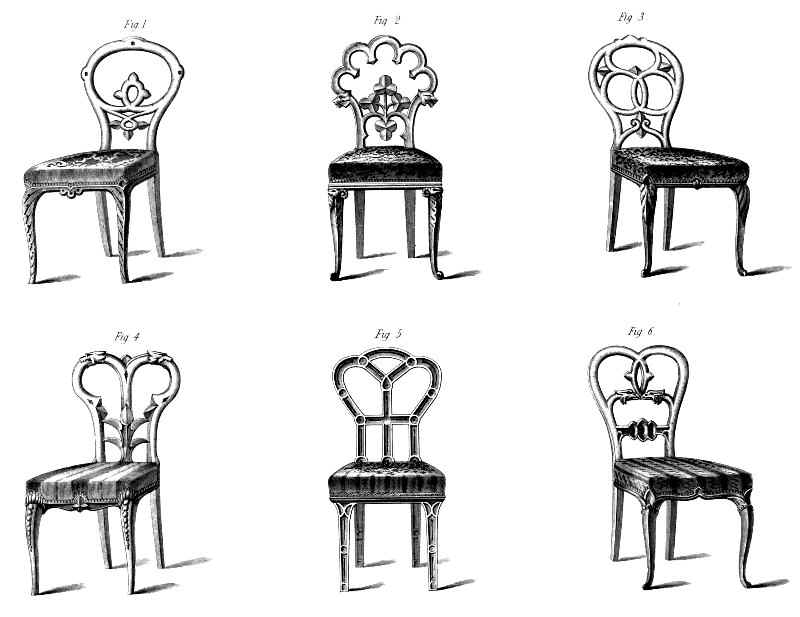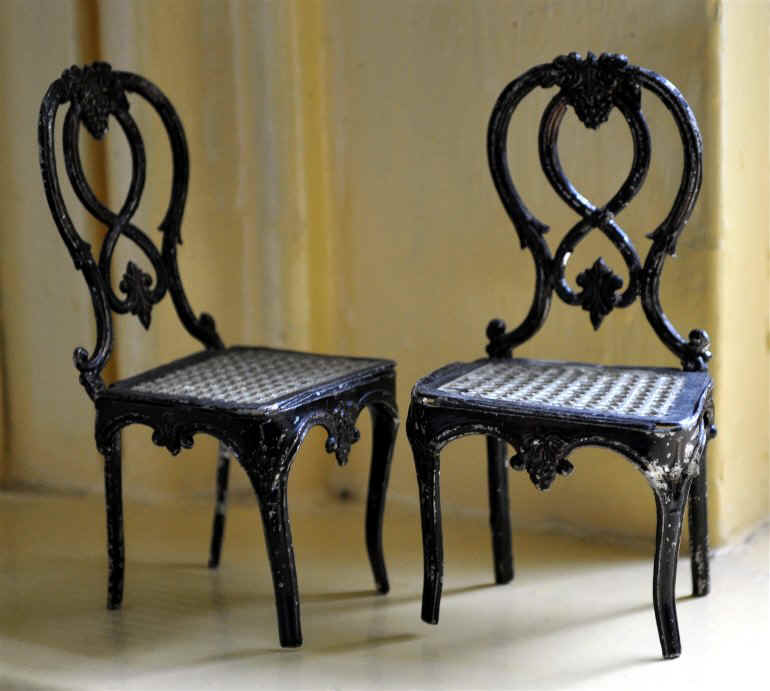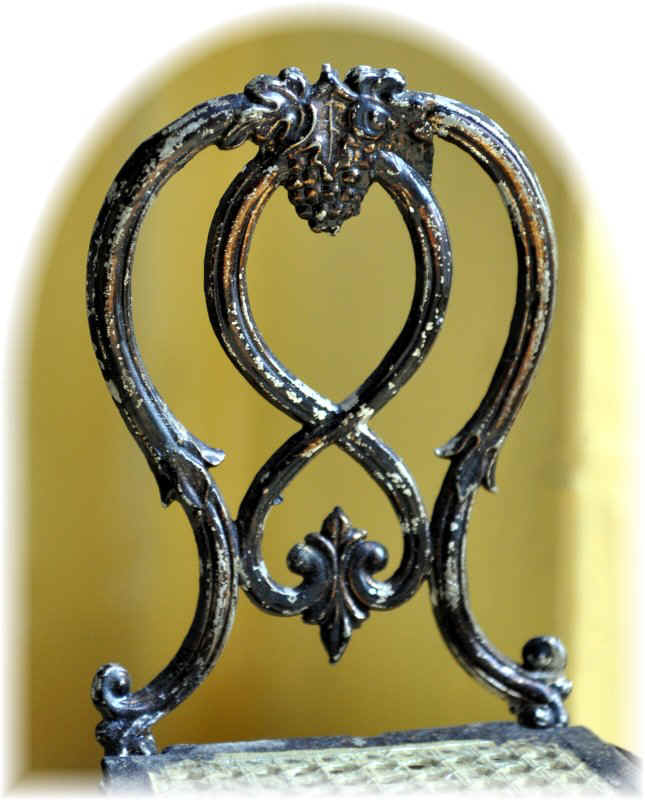 <![if !vml]>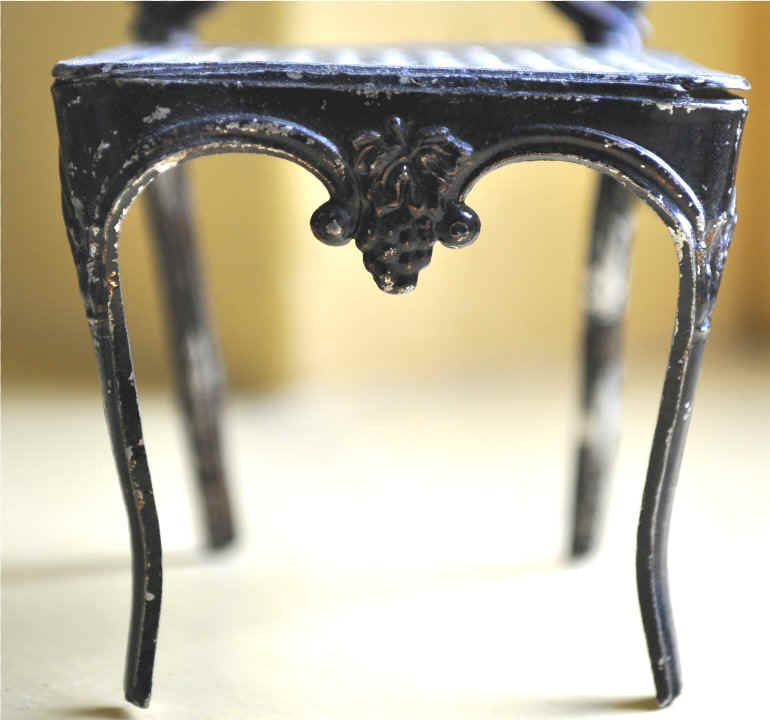 <![endif]>
One of a pair of refined balloon-back chairs with cabriole legs and imitation woven cane seats in Rococo Revival style, which favoured the S curve and aspects from nature such as grapes, leaves and vines. c1880s, 3½ inches high, marked O.H. (H.O. or D.H.)
attributed to Gerhard Söhlke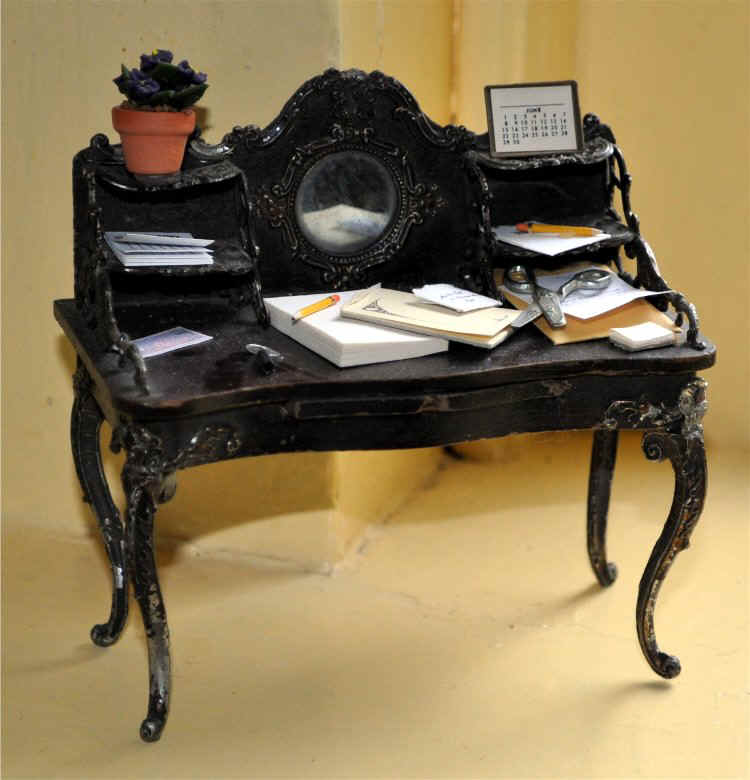 <![if !vml]>

<![endif]>Desk of dark-stained wood with metal cabriole legs, trim, mirror frame, open shelves; Rococo Revival style with vines, leaves, grapes, etc., German, c1870s - '80s
<![if !vml]>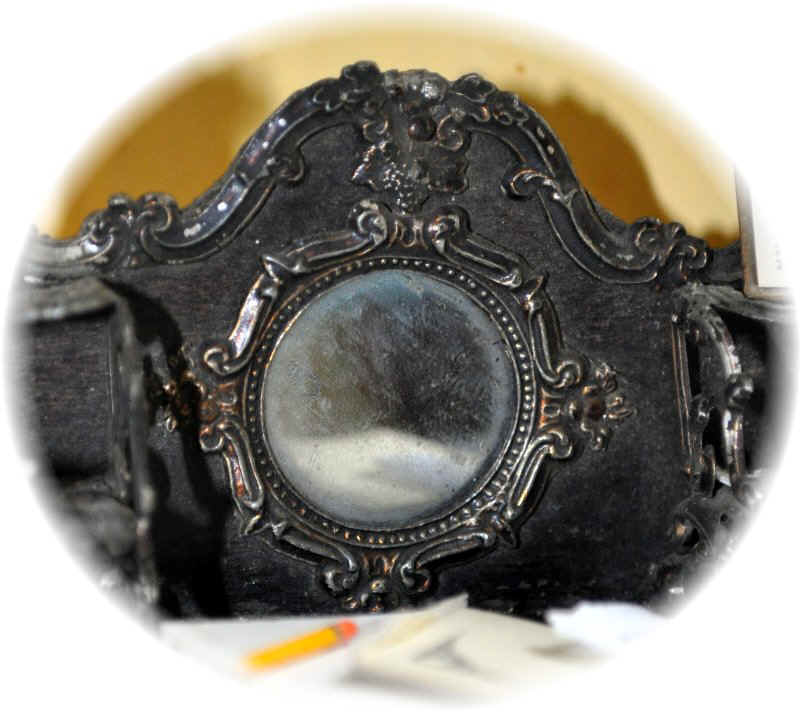 <![endif]>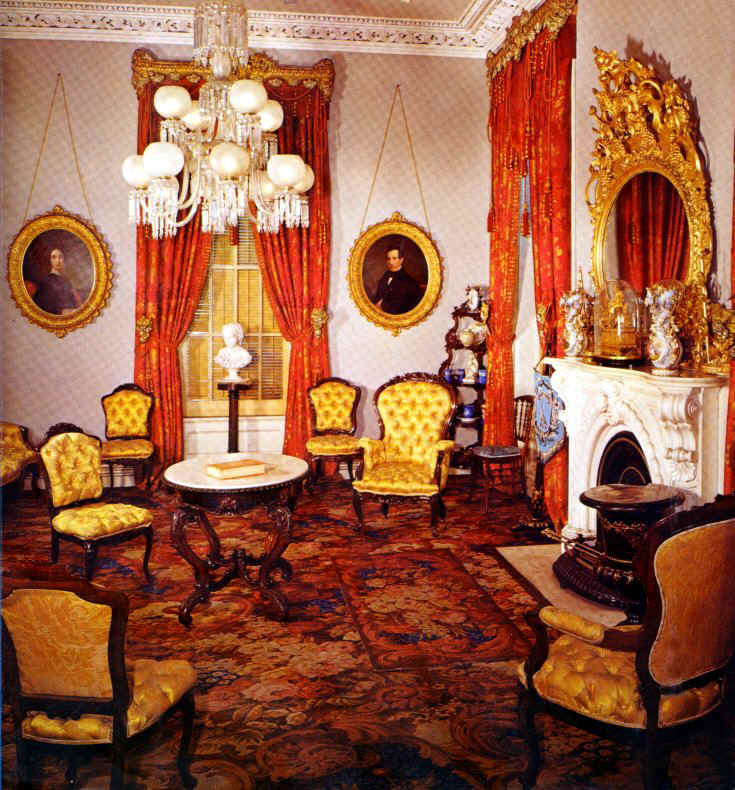 American Rococo Revival real parlour, 1855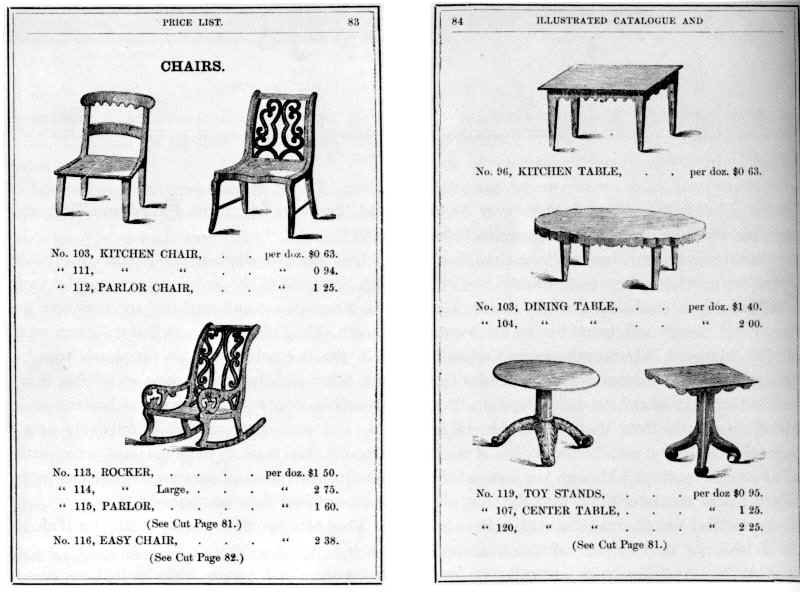 American cast-iron dollhouse furniture in the 1872 Stevens & Brown catalogue of Cromwell, Conn.; Rococo Revival forms; wood fretwork has been imitated in iron. Available in a various scales.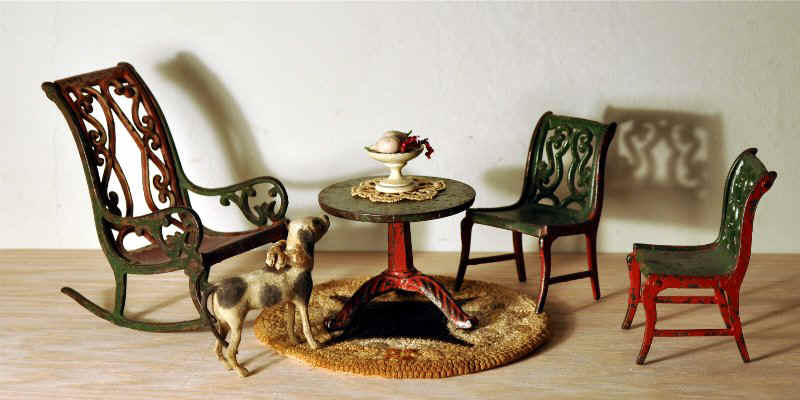 <![if !vml]>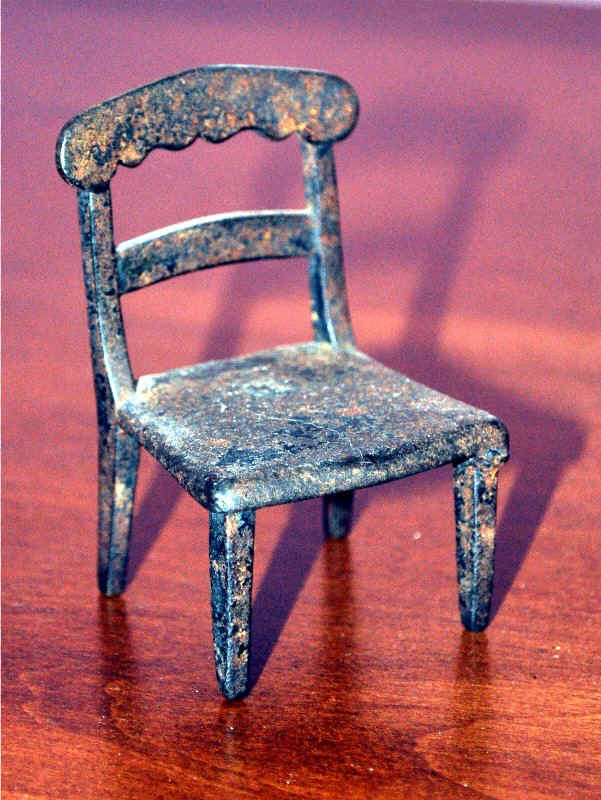 <![endif]><![if !vml]>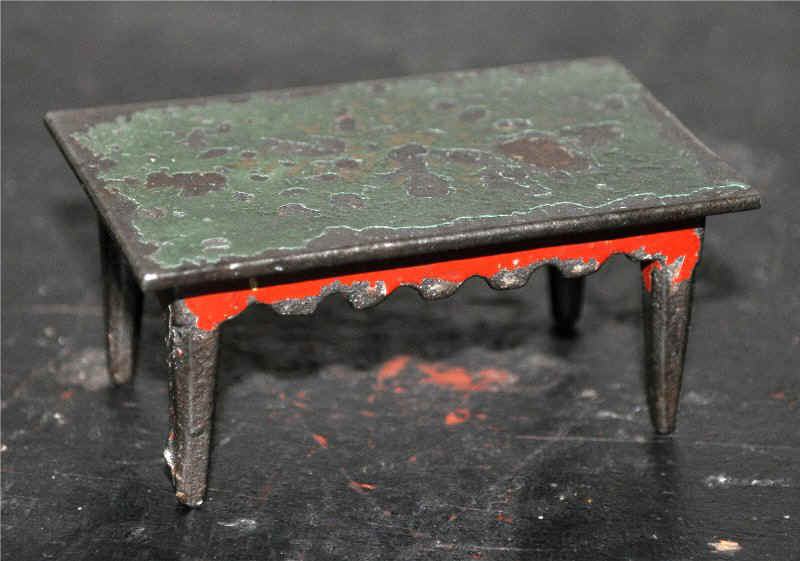 <![endif]>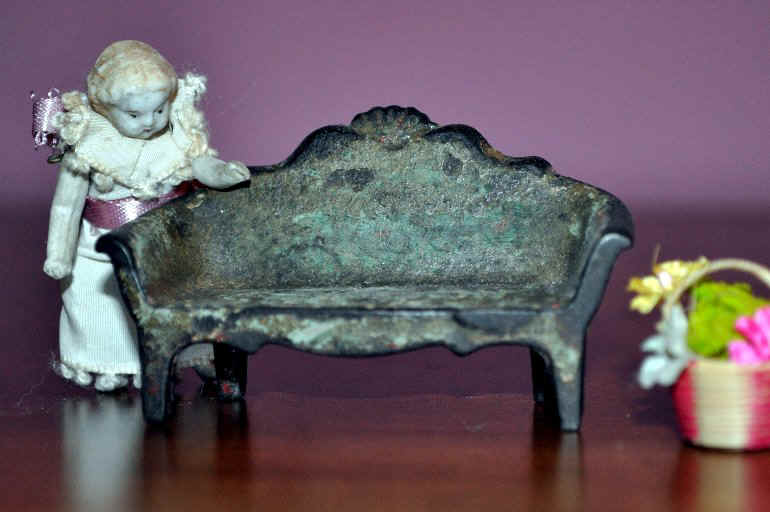 Stevens & Brown, 1872, continued; above, small scale, sofa, 3 inches long, in the same form as the one below except the latter is pierced, made possible by its larger size (4½ inches long); many Stevens & Brown pieces of furniture were painted in cheerful colours and sometimes included stencilling, especially on chairs and tops of tables; (there are examples of Stevens & Brown furnishings in other articles on this website)
<![if !vml]>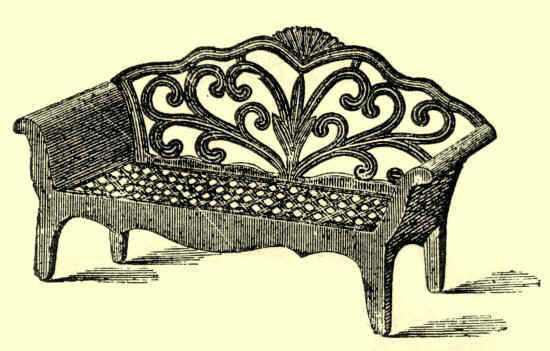 <![endif]><![if !vml]>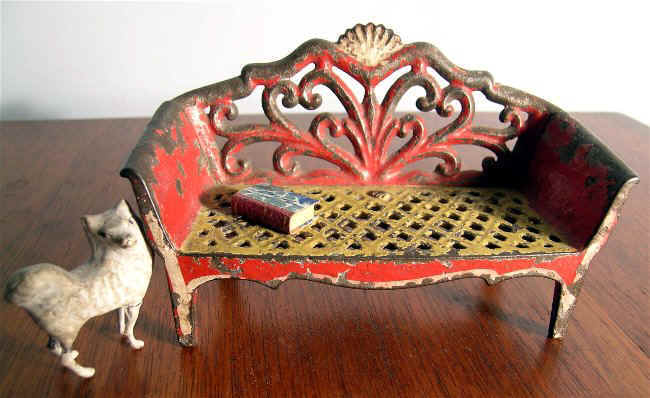 <![endif]>
<![if !vml]>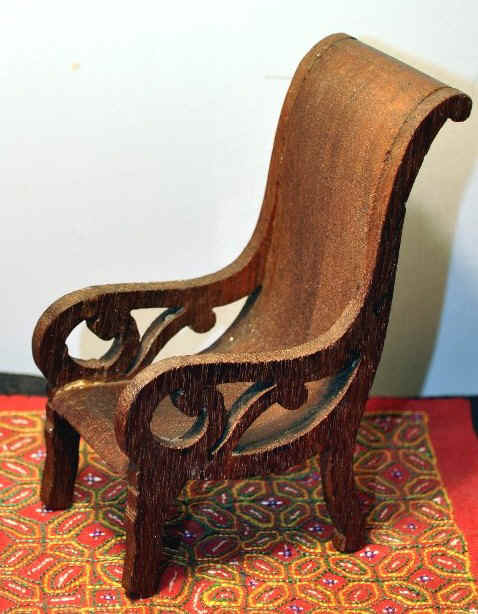 <![endif]>
Wood high-back armchair with the heavier scrolls associated with Empire style, possibly American, c1870s, 5 inches high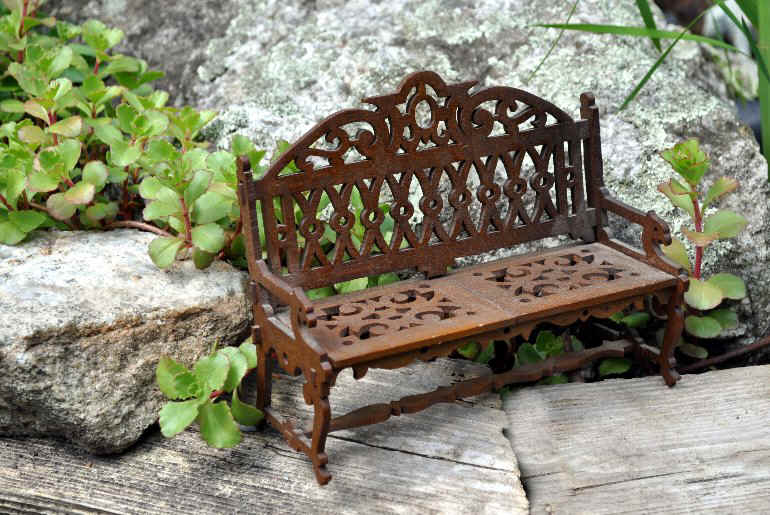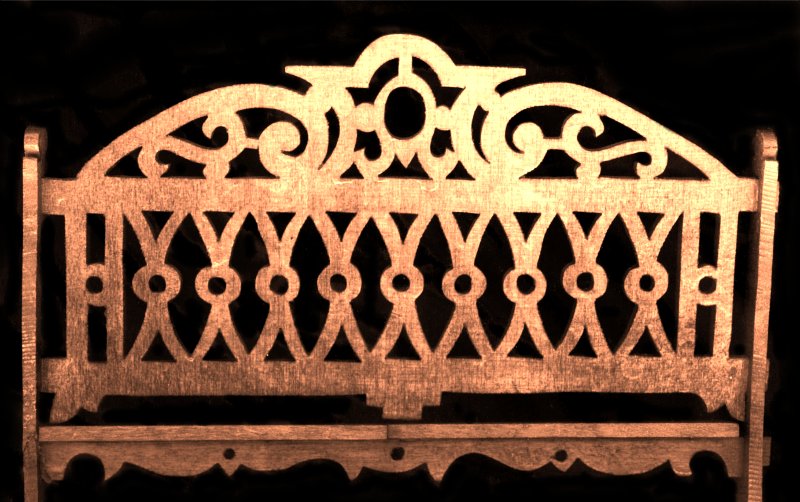 German garden bench in fretwork, c1870s-'80s, 3½ inches high
<![if !vml]>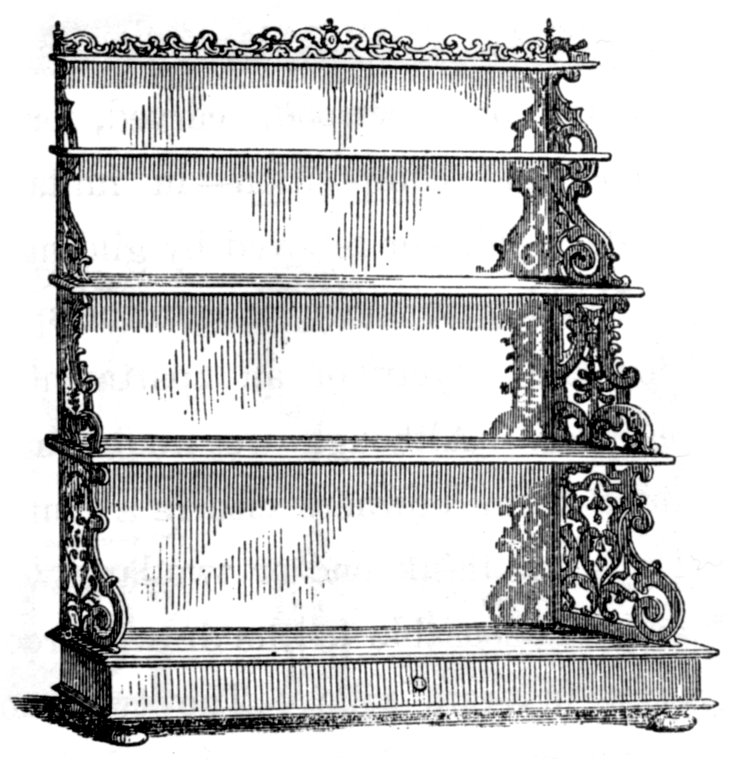 <![endif]>
Example of Rococo Revival fretwork incorporated into a real French étagère illustrated in A.J. Downing's American book, The Architecture of Country Houses, in 1850.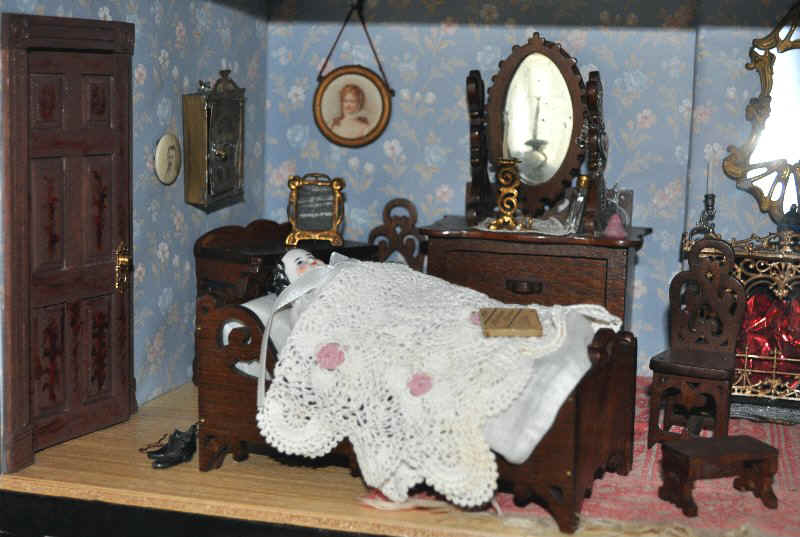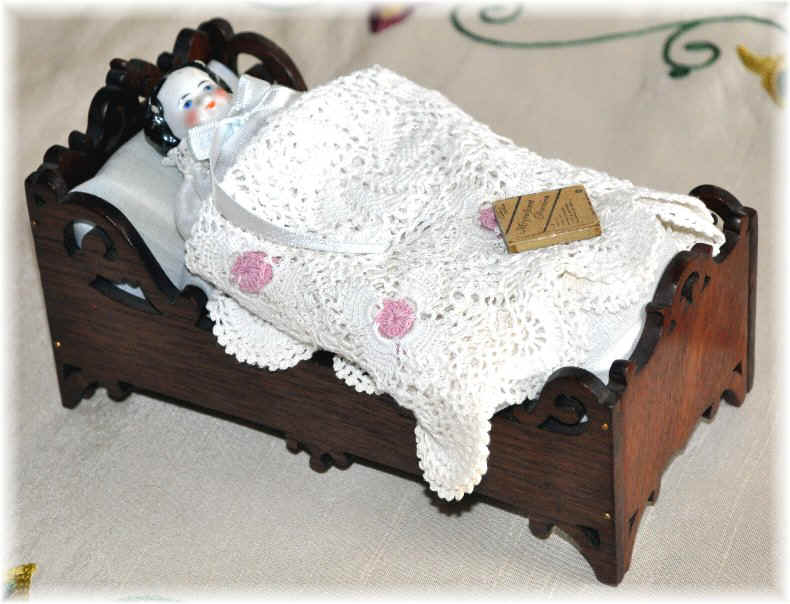 <![if !vml]>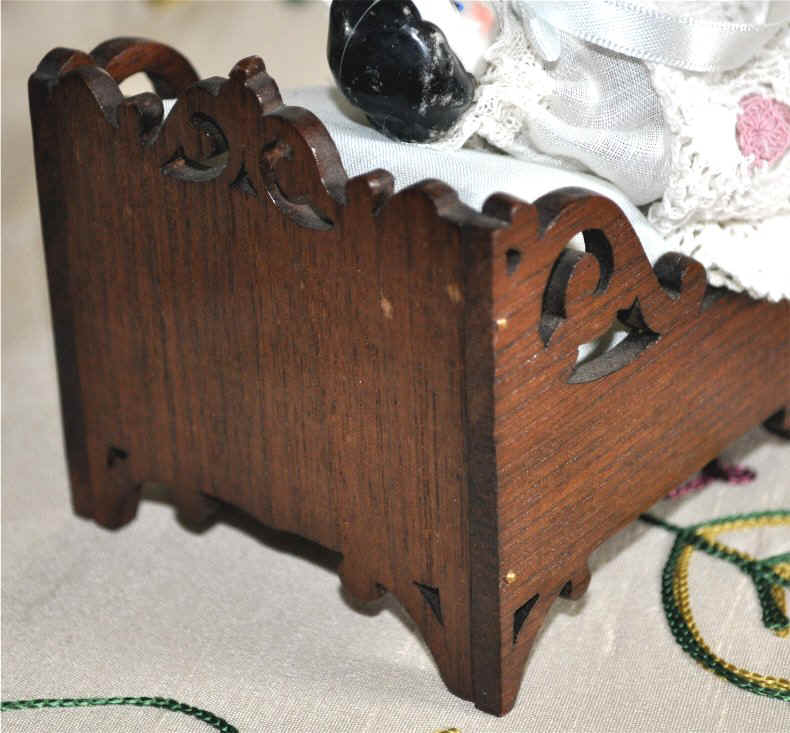 <![endif]>Set of dollhouse furniture (bed, 3 chairs, tea-table, footstool, chest of drawers with mirror, and washstand) made in the 1870s in the USA; documented as a gift in 1890 but made for the donor, Mrs Hall Curtis of Massachusetts, when she was a child. She was an Endicott of Salem, Mass. Another set was made for her sister. Solid dark wood nailed together with decorative brass-headed nails. Fretwork in the Rococo Revival style. Bed just over 6 inches long.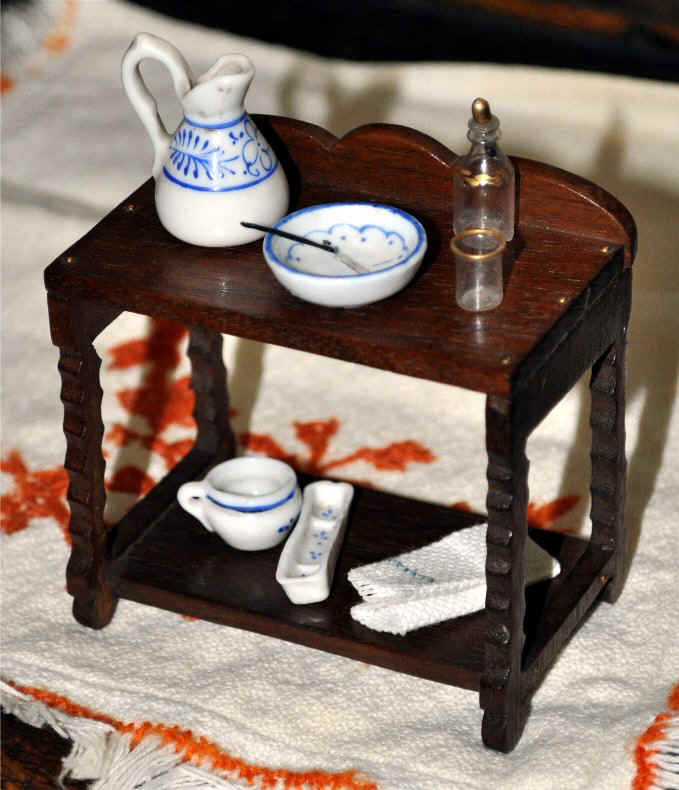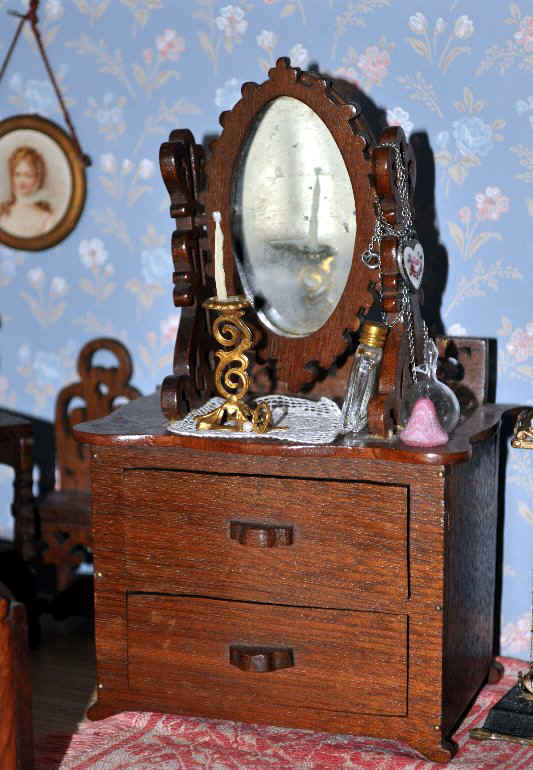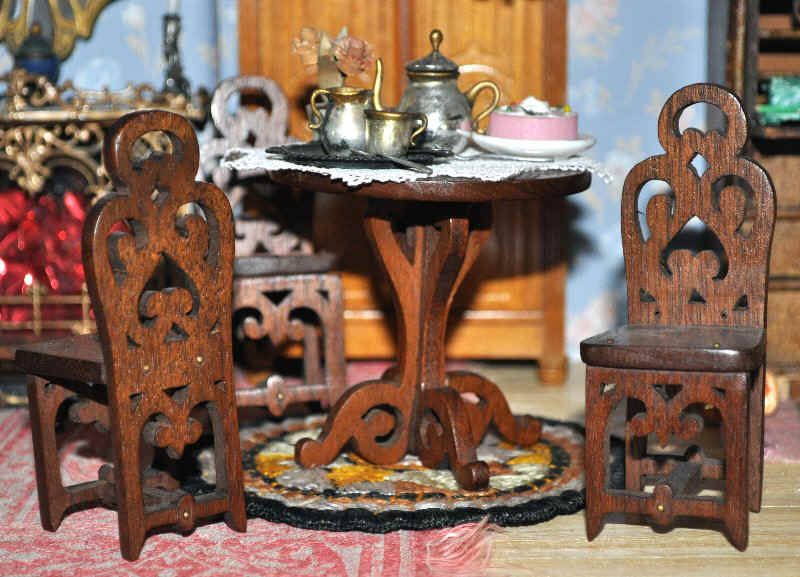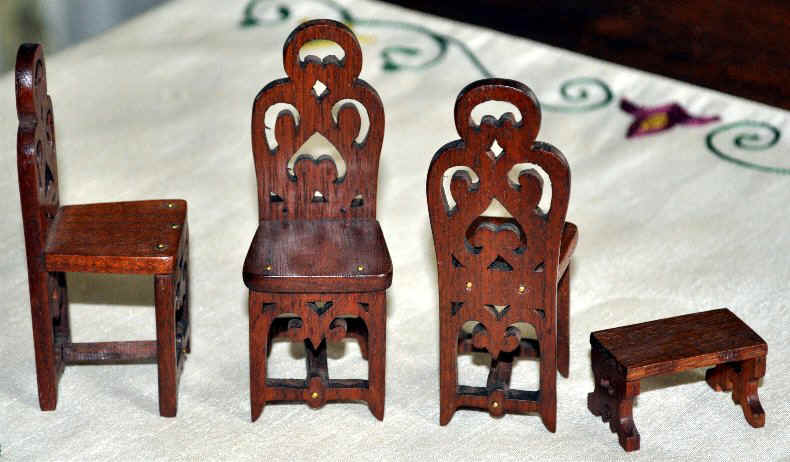 (this is the end of  the 1870s American set)
<![if !vml]>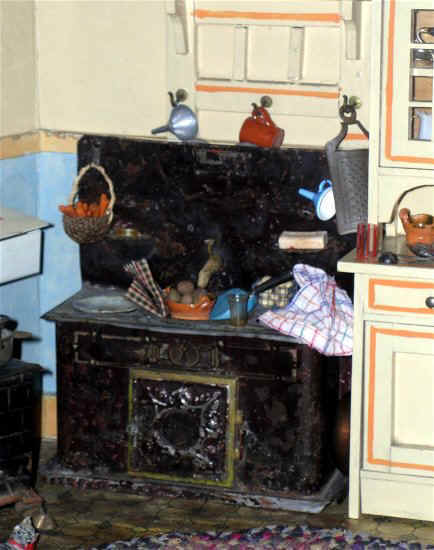 <![endif]><![if !vml]>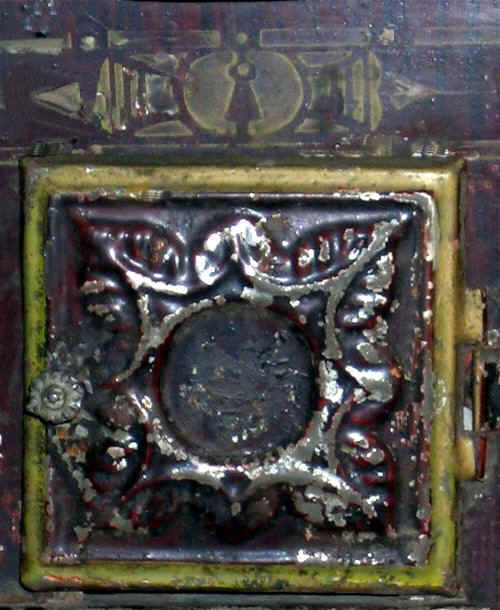 <![endif]>
This false-grained tin sink is patented as 1886; stencilled gold detailing, back splash with two small curved and fluted shelves and a faucet; counter top with recessed dishpan flanked by circular plates. 6 inches long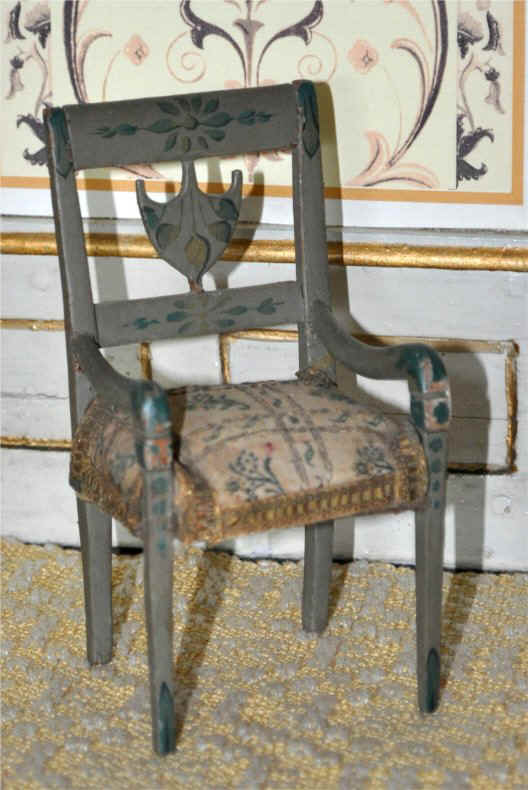 The tin sink above is easy to date because it is labelled but this armchair is one of the many dollhouse items forcing the collector to guess at its history -- is it a late reproduction or an early Sheraton-styled miniature? The painted ornament and cloth seat seem to have enough ageing to suggest an early origin. It is unnerving, however, that a label looks to have been deliberately removed from the wood seat bottom. 4 inches high
<![if !vml]>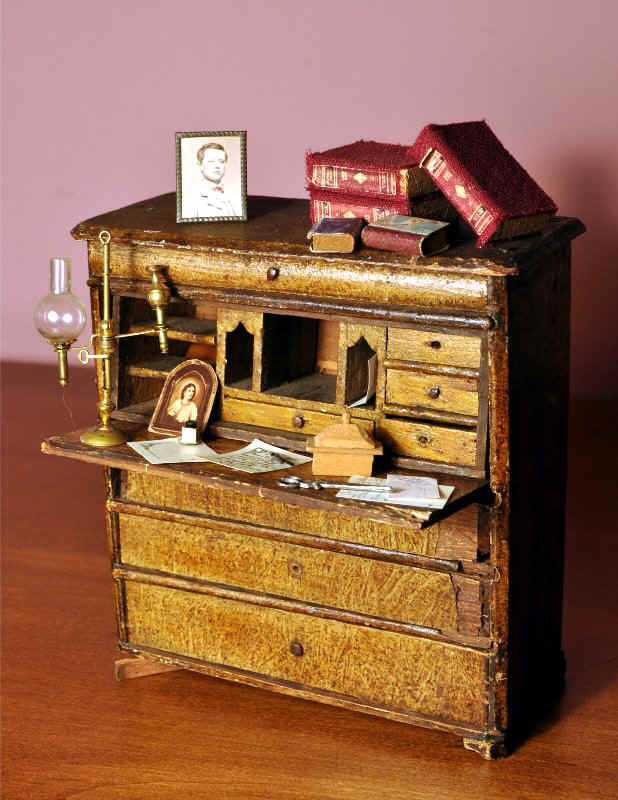 <![endif]><![if !vml]>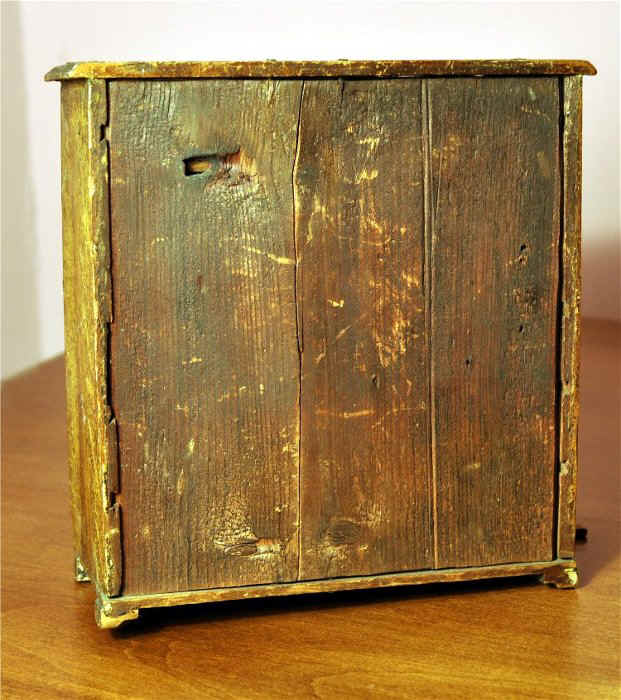 <![endif]>
Although this desk has been mistreated, it is very appealing, especially when not "under the spotlight' of the camera. In one of the drawers is a newspaper clipping dated 1877 and written in German.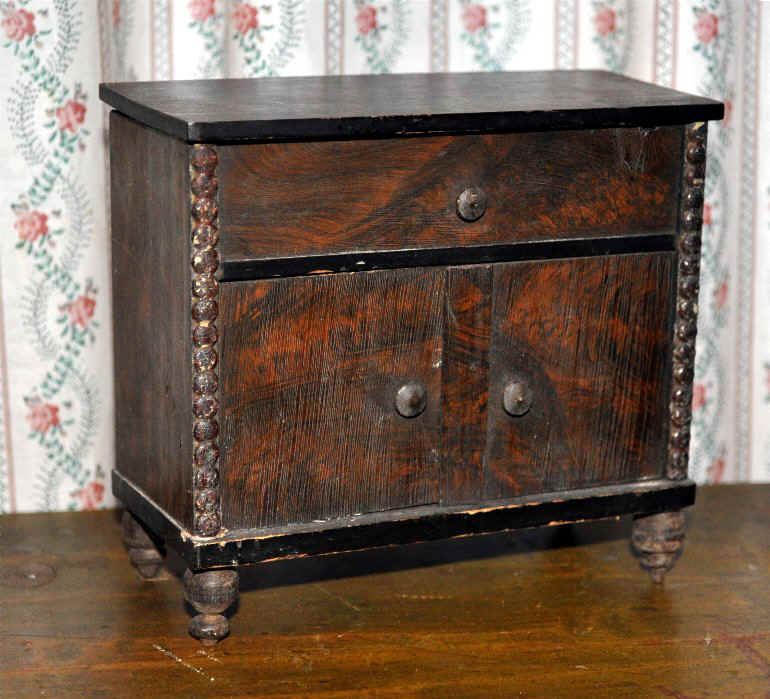 <![if !vml]>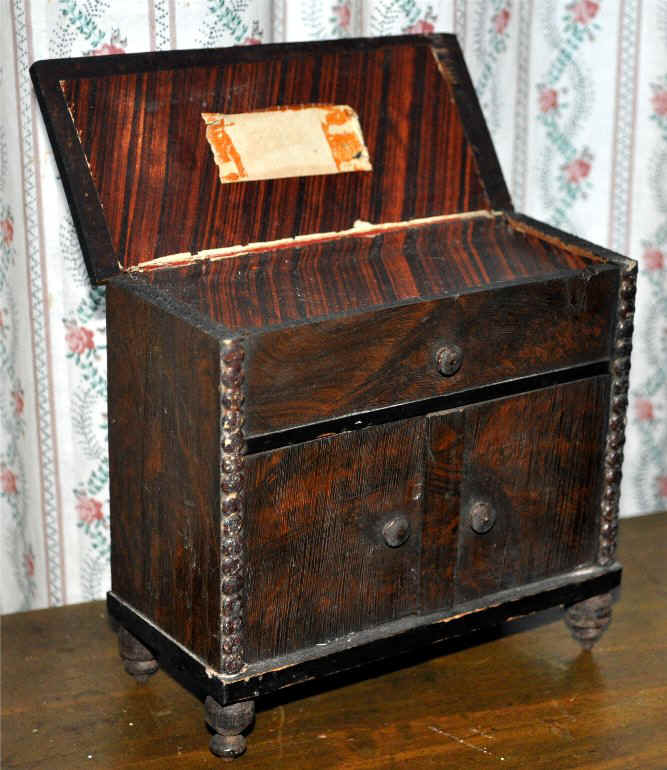 <![endif]>False-grained cupboard, 4½ inches high, with a fake drawer -- the top lifts revealing a shallow, wallpaper lined, recess. (Fake drawers were also made in real chests-of-drawers.) The beaded decoration running along the sides of the front represents an element of the Renaissance Revival style, also known as Elizabethan style, popular in real furniture in the mid 19th century. c1860s. below washstand in A.J. Downing's American book, The Architecture of Country Houses, of 1850
<![if !vml]>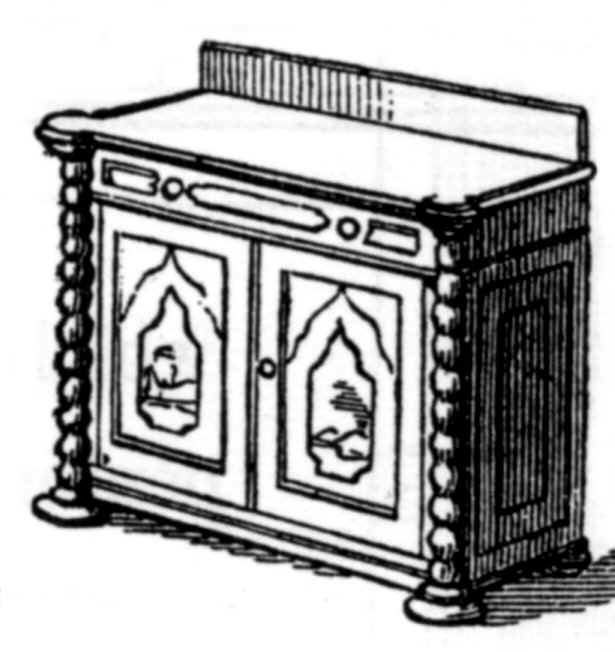 <![endif]>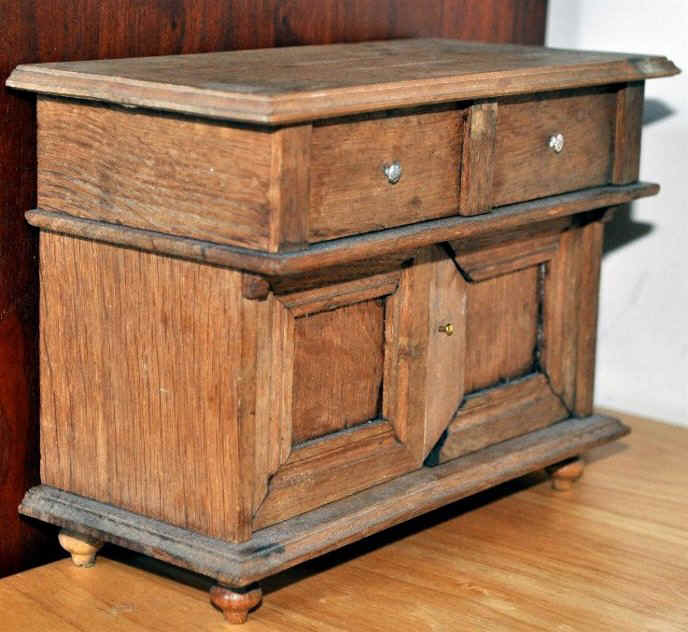 <![if !vml]>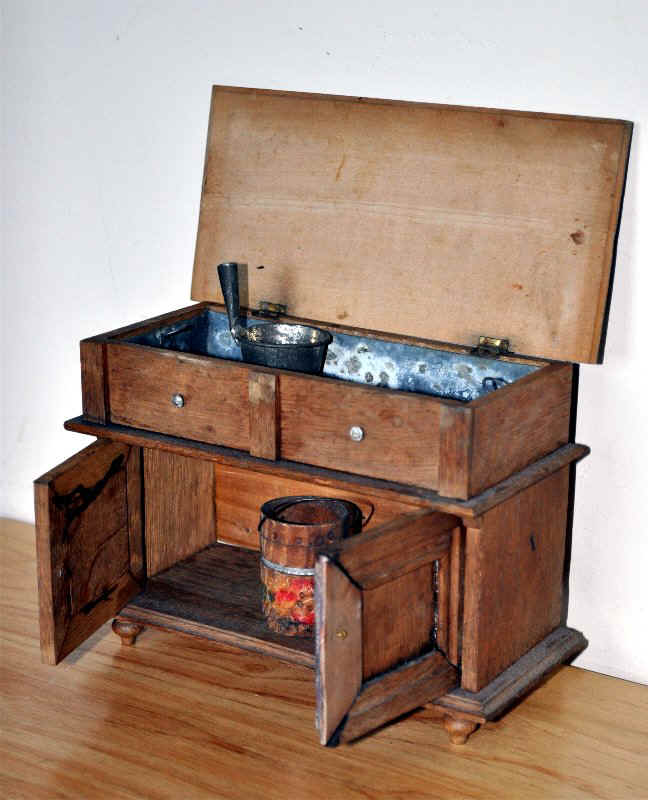 <![endif]><![if !vml]>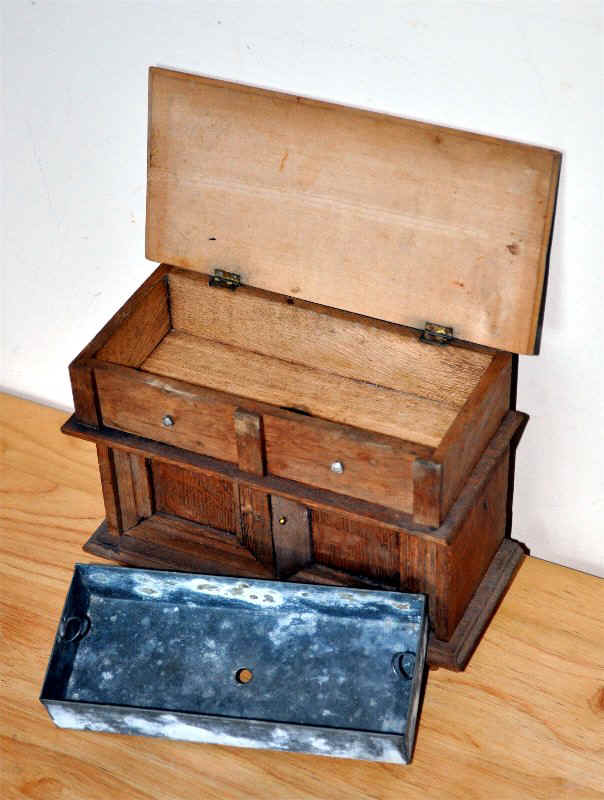 <![endif]>
<![if !vml]>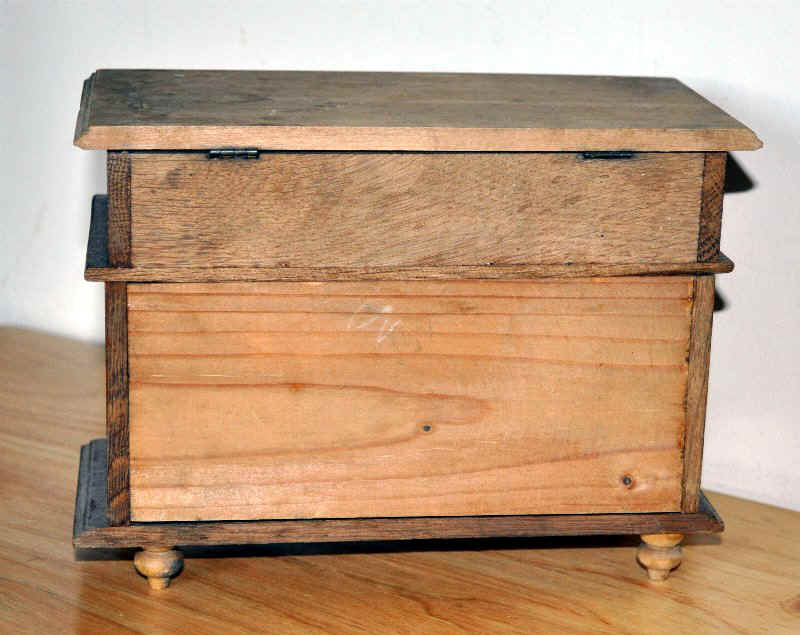 <![endif]>Oak sink with a pair of false drawers over a slightly recessed cupboard below, bun feet. The lid swings up to reveal a removable metal lining pierced in the centre with a round hole, through which water could flow into a pail below. Larger scale, 8 inches long. c1870s-'80s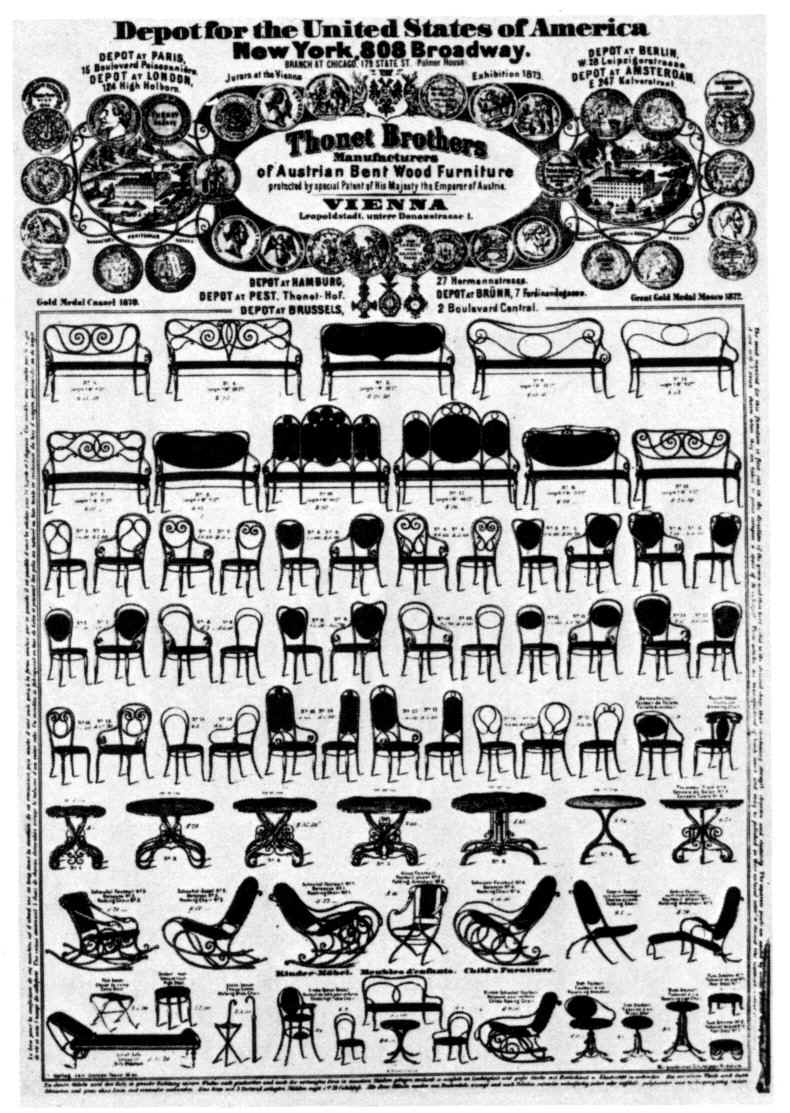 Flyer of 1873 for an American importer of (real) Thonet furniture from Austria in bent wood
<![if !vml]>
<![endif]>
1884 Pictures of English Society by George du Maurier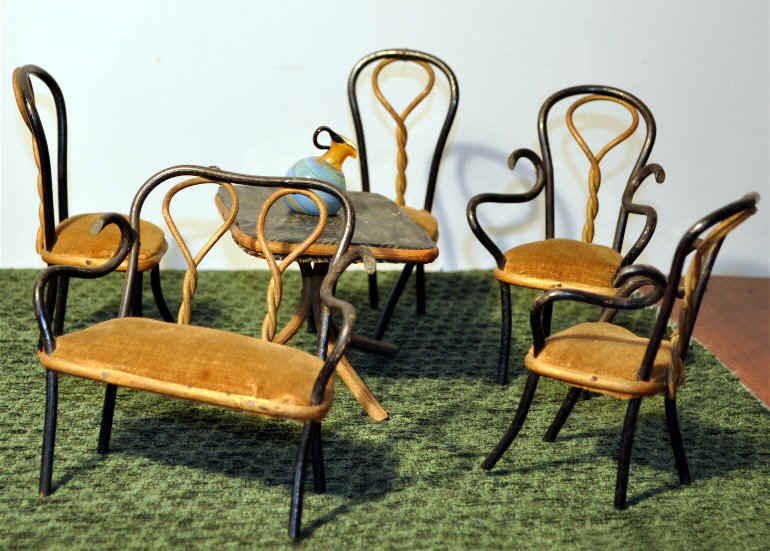 Miniature furniture, settee 4½ inches long, in the Thonet manner, c1870s-'90s (reference books usually date these sets as late as 1900, perhaps identifying them with Art Nouveau style, but they predate that style by decades; on the other hand, they continued to be made for decades).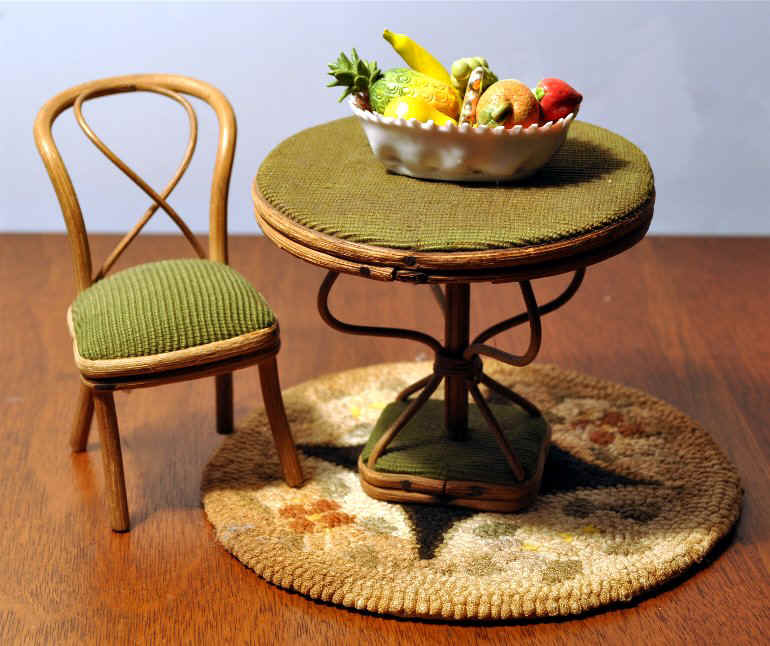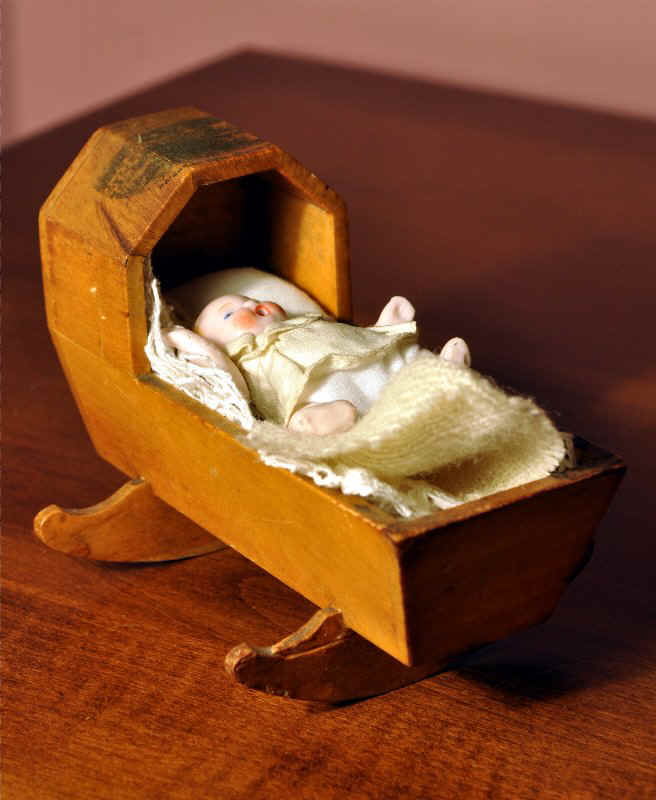 Hooded cradles are difficult to date as they are a very old form but remained popular across the decades, for example being made as late as the 1930s by the American firm Tynietoy (as a revival of a colonial idea). The hood protected the baby's head from draughts, which were particularly present when fireplaces were in use. The example on the left, an early souvenir of Newton Stewart, a Scottish town, has a black transfer print of the bridge over the River Cree on the hood. 4½ inches long. The cradle below is 3½ inches long.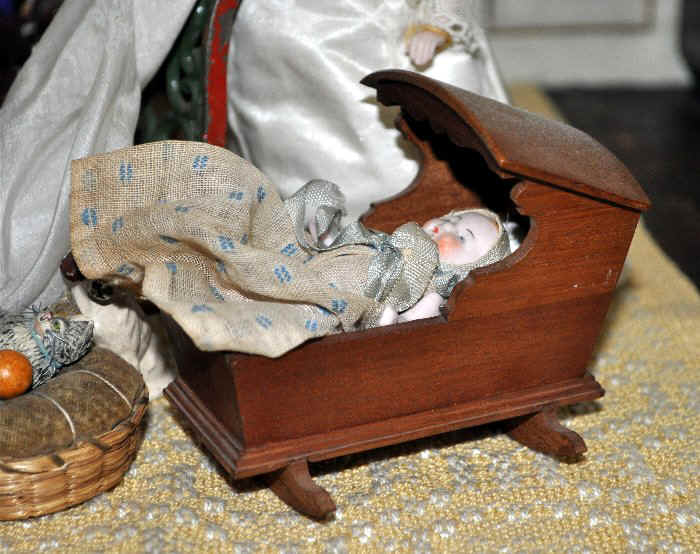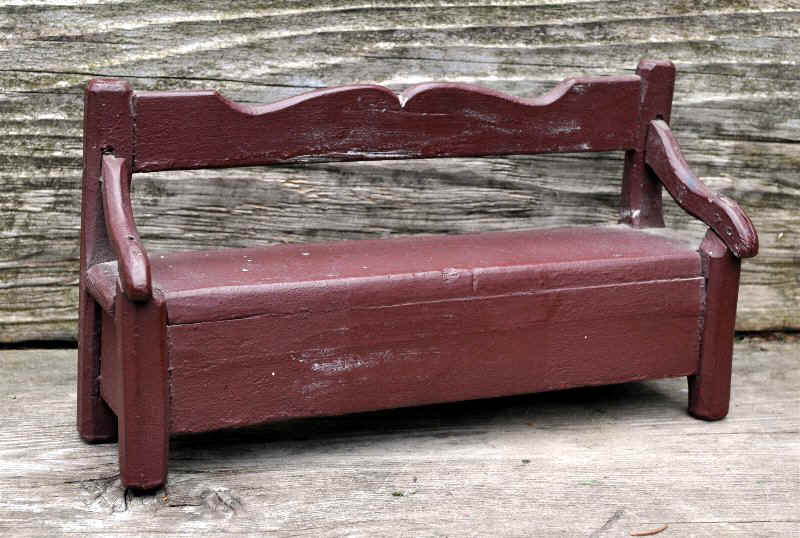 <![if !vml]>
<![endif]>
left Real banc-lit from Quebec , red paint over pine c1840; the seat falls forward revealing a bed
<![if !vml]>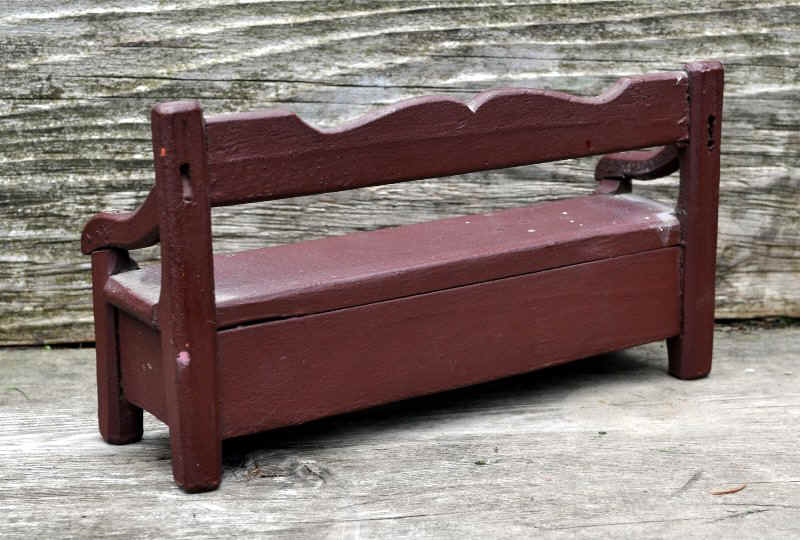 <![endif]>
To end this look at early furnishings, we turn to one of the more interesting and rare examples -- a banc-lit or bench bed made in Quebec, Canada. 8½ inches long. Hand-made from pine painted in typical dark red paint. c1850
click here to return to part one click here to return to part two
top of page home page history of dollhouses
GALLERY of IMAGES of dollhouses & furnishings dolls for dollhouses 1
references on dollhouses & miniatures