The McLoughlin Folding Dollhouse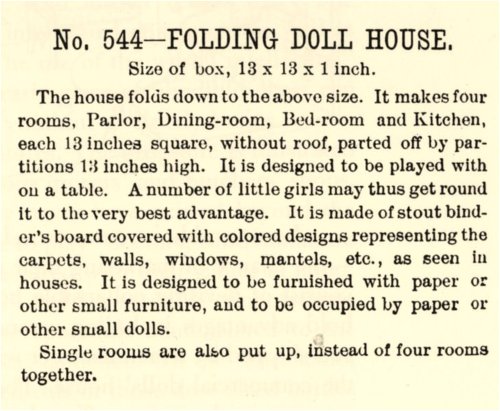 <![if !vml]>
<![endif]>
The McLoughlin folding dollhouse of 1894 illustrates the important principles characterizing toy manufacturing in the forthcoming 20th century, namely, factory production, appeal to the middle class, and ease of shipping; in this case, the four hinged rooms and corresponding floors could be collapsed to fit flat into a box (left) only 13 by 13 by 1 inches. The materials were light-weight: coloured lithography on paper glued to cardboard hinged by red cloth. Located in New York City, the company manufactured toys from the late 1850s and dollhouses from 1875 into the early 20th century. The foldin<![if !vml]>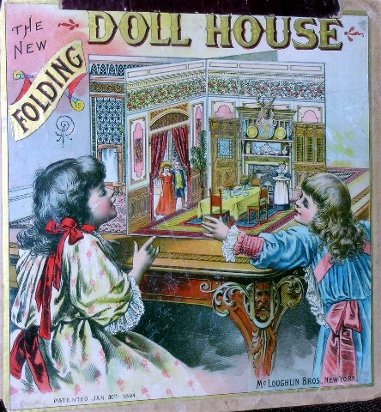 <![endif]>g rooms, which were set up on a table and allowed a number of children to deal each with his or her own room, date from 1894. Children of the day no doubt appreciated the realism and high quality of workmanship in the wall and floor finishes factors which also attract today's adult collector. For display purposes, the rooms can be placed on a square of plywood, which rests on a turntable. This allows the rooms to be turned for viewing, even if the table is placed in a corner. Although cardboard furniture was originally available as furnishings, today's collector may decide to incorporate iron and wood furnishings from the period. The walls ar<![if !vml]>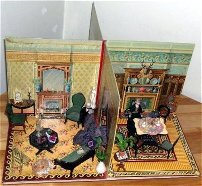 <![endif]>e 12 inches (representing 12 feet) and seem to be forgiving of items ranging from just under 1:12 scale to just over. Floor coverings are not wanted because the original floors are brilliantly designed and coloured to represent rugs, carpets, parquetry and tiles. In fact the impression is of vivid rich colours contradicting the stereotype of the "brown" decades of the late 19th century. The notion of three-dimensional objects portrayed on a flat surface will continue throughout the 20th century, for example in the steel suburban dollhouses of the 1950s. For the McLoughlin rooms, placement of tall furniture against the walls does not seem appropriate, as well as anything needing to be hung on the walls. (For more images of the folding rooms, please see section 4 of the Gallery of Images - link at bottom of this page)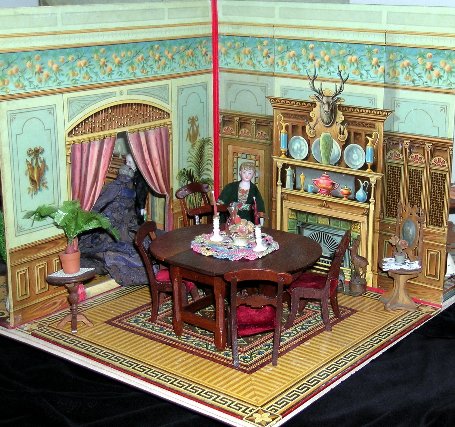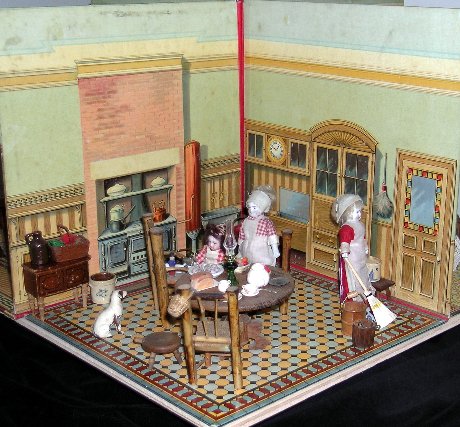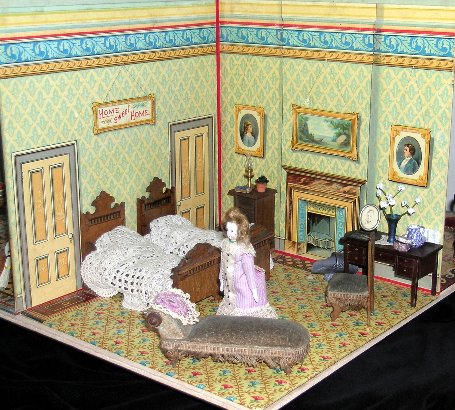 <![if !vml]>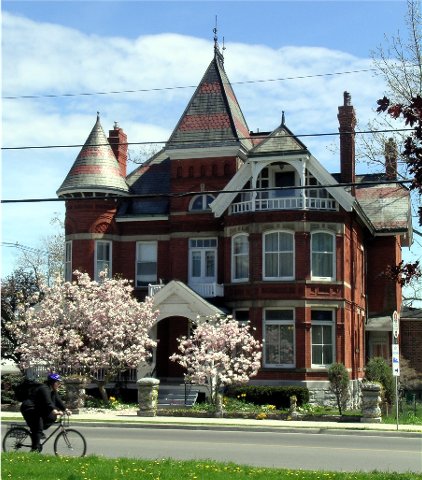 <![endif]>
This fine brick Victorian house, built in 1886 in Kingston, Ontario Canada, is the sort of residence one imagines as the outer shell of the McLoughlin rooms. Built for a successful grocer and maintained by servants, it was considered at the time the finest house in the city. One of the exciting aspects of the McLoughlin rooms is the use of full colour, whereas contemporary photographs, such as this Boston bedroom in the 1880s (below right), are monochromatic in sepia or black and white or hand-tinted.
<![if !vml]>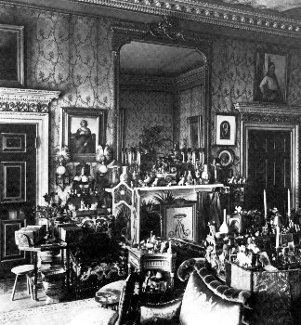 <![endif]>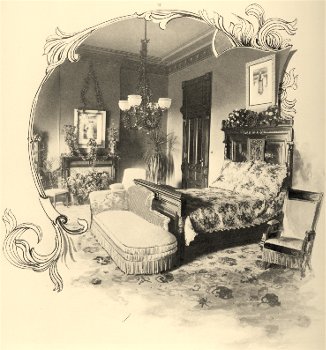 In real life, posh parlours (above) were rich with with ornaments. The McLoughlin rooms show the interest of the trendy in collecting Japanese porcelain during the 1890s; whereas, the sphere of servants was characterized by long hours and hard work in plainer surroundings. The rooms suggest how the upper class lived and the lifestyle to which the middle class aspired.
<![if !vml]>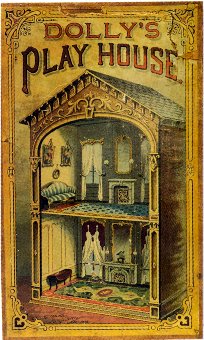 <![endif]><![if !vml]>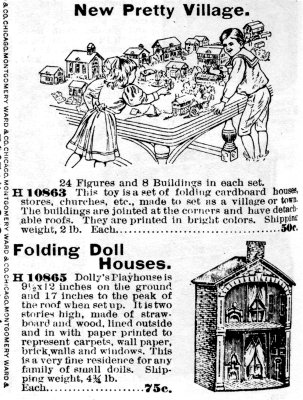 <![endif]>
The McLoughlin Company is also well known for Dolly's Play House, a two-room house made from 1884 to 1903, and advertised in the Montgomery Ward catalogue of 1903, which included their "Pretty Village," a set of folding cardboard houses.
Another collectible house is the Garden House (below) from the first decade of the 20th century. The front wall is hinged and can be let down onto a table top to reveal two interior, well decorated, rooms, as well as a formal garden. This house was later replicated by Milton Bradley (look for the name printed on the lower side). The colours of the original McLoughlin are still remarkably brilliant a century later. Detail (below right) ornamental pool in front garden.
<![if !vml]>
<![endif]><![if !vml]>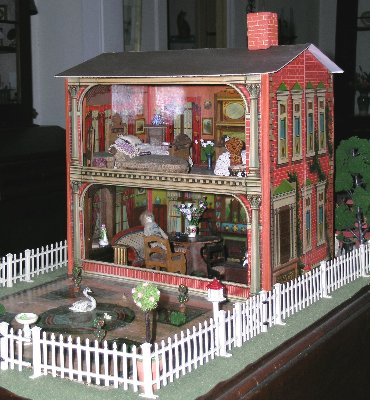 <![endif]>
<![if !vml]>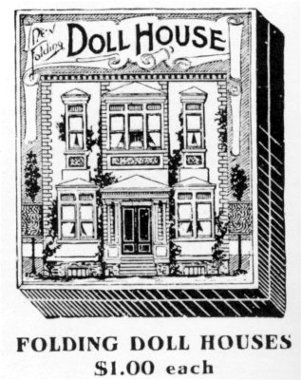 <![endif]>
The Garden House (here with replacement roof and chimney) with the front wall let down revealing the garden. The two rooms are furnished with German furniture c1900. On the right, as sold for $1 by Woodward & Lothrop in Washington in 1911; the front wall is shown in the upright position..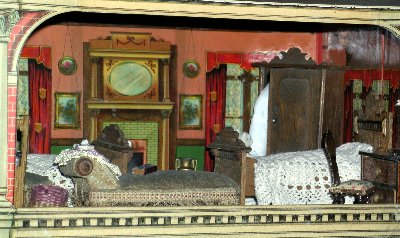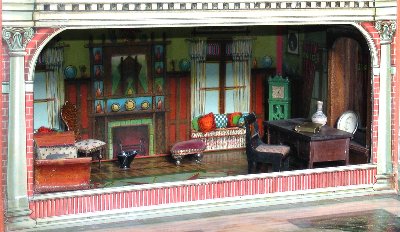 FURNISHINGS
(note: see also Gallery of Images, section 1 for more pictures of early furnishings - link at bottom of this page)
Cast-iron was of great importance during the 19th century and suited factory production. In true-scale furniture, it was mainly found in garden benches, chairs, urns and fountains, as well as interior heating and cooking stoves. Its metallic surface hardly made for comfortable seating but, with the suspension of belief often applied to dollhouse furnishings, it was and is acceptable for parlour, dining and bedroom furniture, particularly when it was formed with the high quality of design and manufacturing produced in the J.& E. Stevens factory (founded in 1843) in Connec<![if !vml]>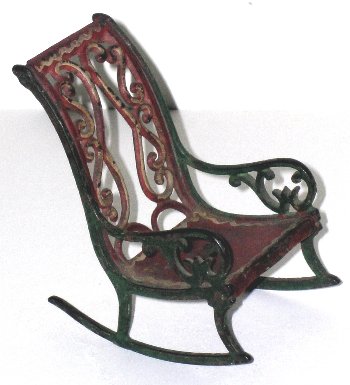 <![endif]>ticut. Green-painted iron becomes velvet upholstery with buttoning and moulded-iron becomes carved wood. The pieces were made over a fairly long time from at least 1867 to 1891, the latter by the Toledo Brand. Unfortunately, the parlour set, shown in the Stevens & Brown catalogue of 1872 (below), was reproduced in the 1960s, leading to confusion by collectors, although new pieces are usually less refined and less well finished. If one can track the provenance previous to the 1960s, this is helpful. The style shown in the catalogue pages illustrated here is Rococo Revival (reviving a style dominant in Franc<![if !vml]>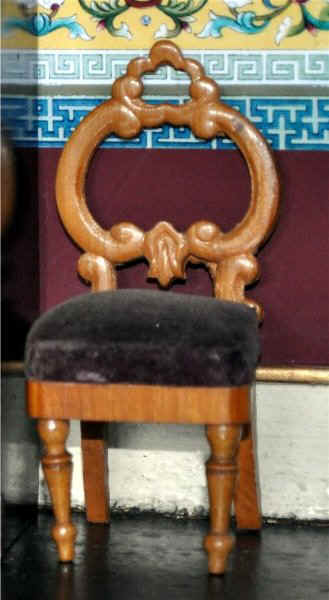 <![endif]>e in the mid 18th century) featuring S and C curves, often based on nature including vines, shells and flowers. This attractive style is also found in dollhouse furniture made of wood with some featuring fret work. The delicate aspect of this style seems to suit its miniaturization. A popular side-chair in real life and in miniature was the balloon-back (the upper part of the back resembles a circle, right) often with cabriole (serpentine) front legs; here seen (further below) pulled up to the centre table with rococo curved top and classical lyre support. The high-back sofa forms a charming up-side-down heart. Even the plainer tables have scalloping on the aprons. The hooded cradle pushes the envelop over credibility about materials with open lacework sides and ends, only achievable in metal for furniture with such a practical function.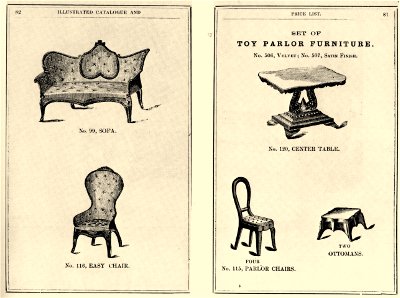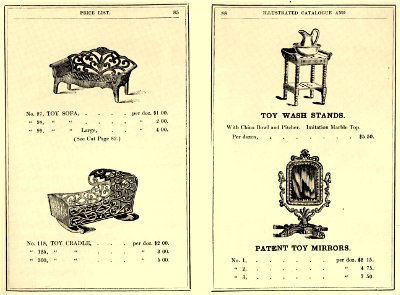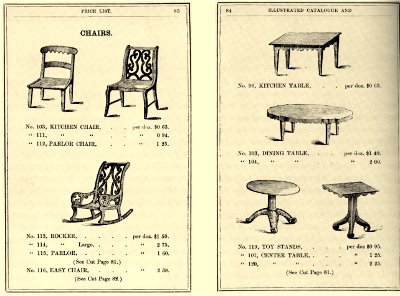 <![if !vml]>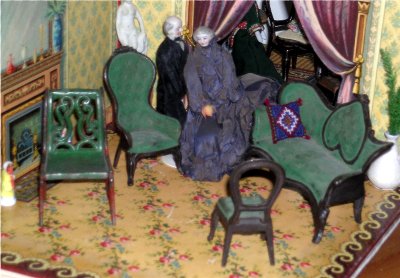 <![endif]><![if !vml]>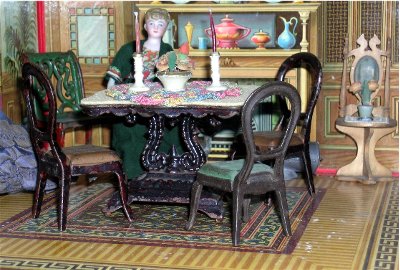 <![endif]>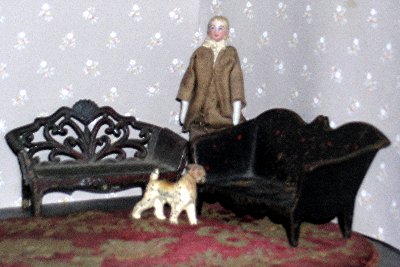 The majority of cast-iron wood stoves one finds in antique shops or web auctions, are from the early 20th century (or are reproductions!), but this unusual example (below left) is a type found in the 1880s (see Montgomery Ward ad of 1886 below right). The large iron kettle and stove-plate lifter came with it. The top rolls into two levels, the oven has a working side-door, and there is an open area in the lower front for warming pots and food. Over-sized flowers in high relief decorate the sides. It is a little large for most dollhouses at 4 inches high x 4½ wide x 4½ deep. (For more on cooking & eating, please see section 4 of Gallery of Images - link at the bottom of this page)
<![if !vml]>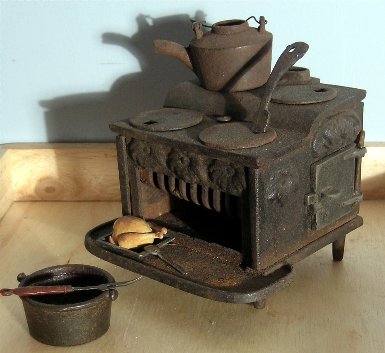 <![endif]><![if !vml]>
<![endif]>
1886
Although most real chimney pieces (mantels) were of painted or exposed wood or of marble with iron or brass inserts for coal (which was commonplace even in North America at this time older wood-burning fireplaces were retrofitted with coal-burning inserts), the temptation to mould fancy designs in iron, pewter, zinc or pressed tin or shaped brass was great, in part because metal gave them strength, Free-standing, they were subject to being handled by children. Classical detailing, such as the engaged columns in this example (below left), was popular. The oak piece (below right) incorporates an over-mantel with mirror and shelves for ornaments, a popular feature of late Victorian formal rooms (for example, in the dining-room of the McLoughlin folding dollhouse, where it is surmounted by a stag's head). Coloured tiles around the firebox and roaring flames are represented by printed paper. (Metal filigree fireplaces are discussed in the section 1910 to 1920.)
<![if !vml]>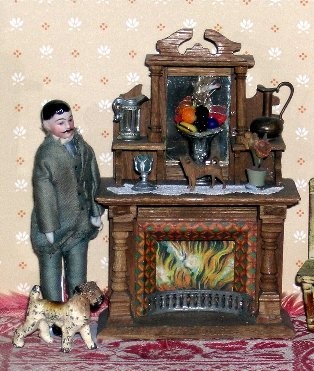 <![endif]><![if !vml]>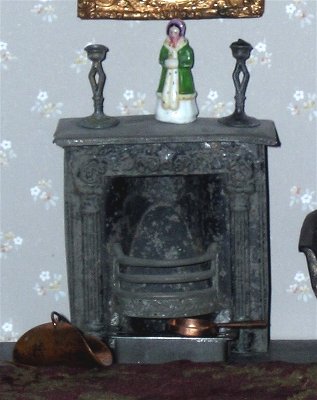 <![endif]>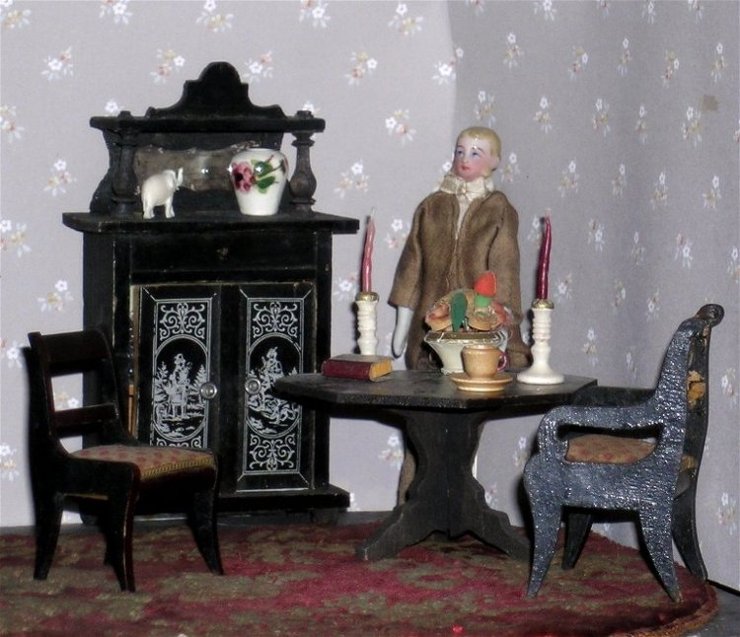 The Biedermeier decorative style in Germany occurred about 1820 to about 1840 but it is likely that much of the dollhouse furniture described by collectors as "Biedermeier" is from the second half of the 19th century (above). Germany was an important manufacturer of toys at this time. The term refers to furnishings made for the bourgeoisie in a fairly severe form reflecting classicism but lightened in appearance by inlay: dark lines set into blond wood or light lines set into dark woo<![if !vml]>
<![endif]>d such as rosewood. To gain the intricacy of inlay in some cases printed paper was glued over wood on miniature furniture. In the instance of the sideboard and octagonal pedestal table shown here (above and left), there are lyres and hunting scenes in silver perhaps applied by transfer over black with plain black paint on the unornamented but visible parts. The actual wood is light in colour and heavily grained. The chairs (see image 1886-9 below) show the klismos (derived from ancient Greek and Roman chairs) leg form (that is, four saber legs), also associated with Empire or Regency styles ("Duncan Phyfe" in USA), and popular for miniatures because the form could be sawn with ease and may include a scrolled arm. Many examples of Biedermeier dollhouse furniture were made by the Schneegas Company in Waltershausen from the 1840s to the early 20th century. (See also Gallery of Images, 5 & 6 )
The forms are Biedermeier but the decoration is<![if !vml]>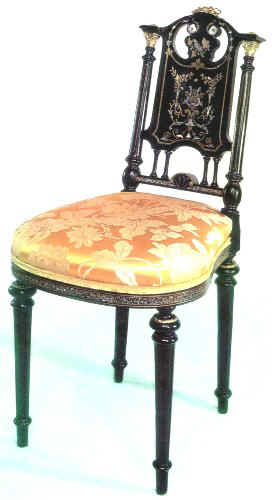 <![endif]> Boulle, named after French ébéniste A.C. Boulle (1642-1732) whose work was carried on by later cabinetmakers; his fine decorative schemes of brass, tortoiseshell & other materials contrasted well with a background of dark woods, applied as veneers over secondary wood, and sometimes referred to as marquetry (inlay is contrasting ornament set into solid wood). In England, <![if !vml]>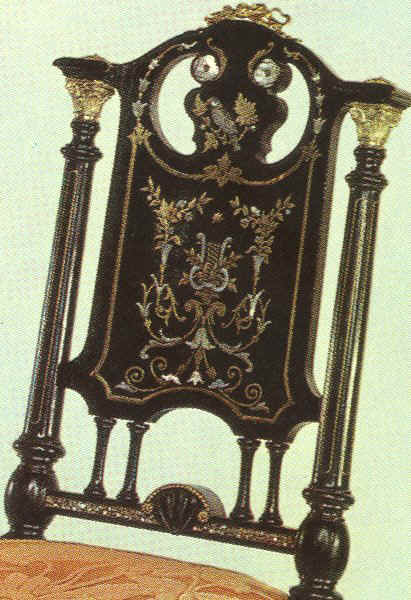 <![endif]>nineteenth-century cabinetmakers continued the tradition under the name "Buhl". The effect is gained in miniatures by transfers, printed paper and painting. And the tacks over fabric edging on upholstered furniture gained by embossed paper. Fabric coverings usually are actual fabrics. Any perceived loss by the use of imitation materials is more than made up for by the high quality of overall design and construction. They are well made.
___________________________
actual sidechair made in New York 1865-1870, marquetry, brass beading, mother-of-pearl ornament; Victorian influenced Classical style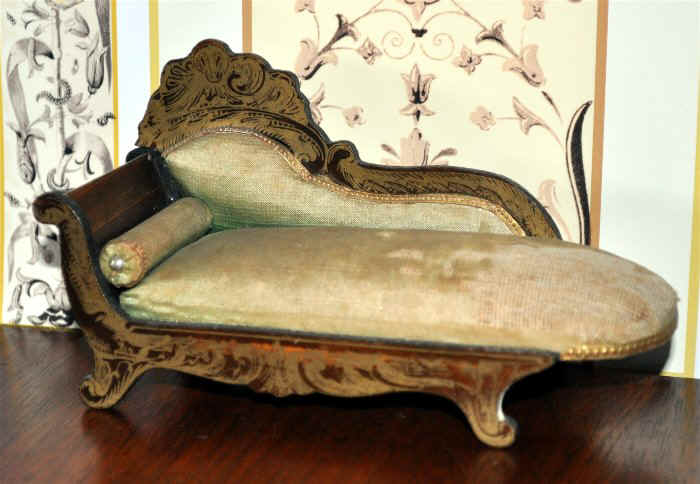 <![if !vml]>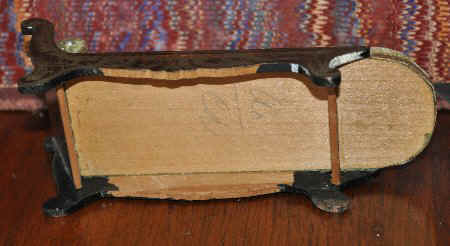 <![endif]>
chaise lounge with transfer "inlay" decoration and painted imitation rosewood over deal (a secondary wood), visible on the bottom, which has pencil markings, likely indicating the model number
<![if !vml]>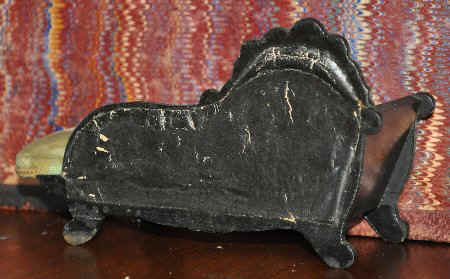 <![endif]>
just under 5½ inches long
the back is covered by a painted piece of heavy paper (on some pieces printed as if wallpaper or book end-papers)
<![if !vml]>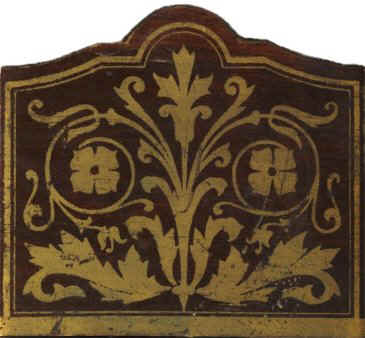 <![endif]>
right: bed footboard in gilt "inlay" on "rosewood"
below: a parlour set in "imitation ebony and gold" from Youth's Companion, 1886-89.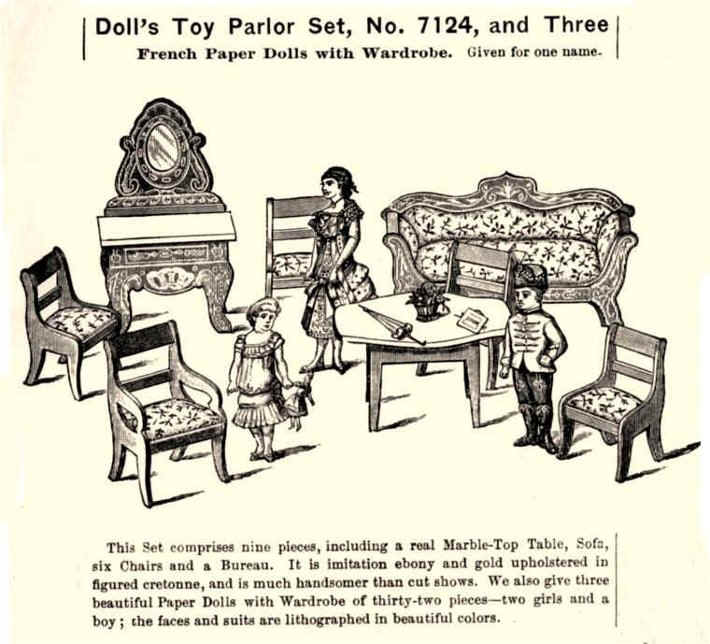 <![if !vml]>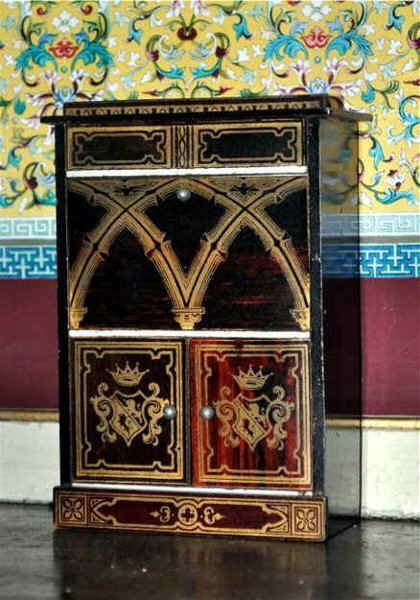 <![endif]>A dominant style in real-life architecture and to a lesser degree in furnishing in the late 19th century was Gothic Revival but it is less prevalent in dollhouse furnishings than other styles -- eclipsed by the love of Rococo Revival and to a lesser degree classicism (see Biedermeier). Its most identifiable characteristic is the pointed arch, derived from the great cathedrals of medieval Europe. Here the style is illustrated by a Boulle desk with bold, interlaced arches on the flap, which can be lowered for a writing surface. The coat-of-arms on the lower doors reminds one of decorations in manor houses.
<![if !vml]>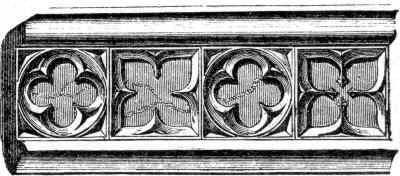 <![endif]>
The base has quatrefoil decorations derived from medieval church decorations, as seen in this band of panelling c1420.
<![if !vml]>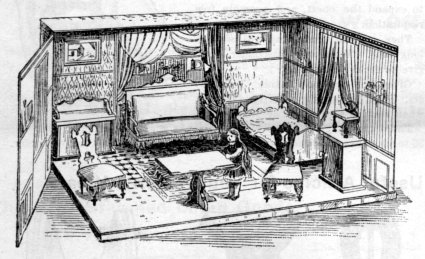 <![endif]>
left: lithographed room, 14.5 x 10 inches, and set of imitation walnut furniture with blue upholstery offered for sale for $1 in the Youth's Companion of 1890. Note the plump seats with fringes and wide, boldly turned chair legs, typical of the period. Curved ornamental upper backs on the couch and sideboard are also typical. The table pedestal is made from two thin cut-out boards fitted at right angles. The china doll with long "real hair" was included. Although the origin of this room and furnishings is not given, Germany is a reasonable guess.
(note: see also Gallery of Images, section 1 for more pictures of early furnishings, section 2 for early dollhouses, section 4 for cooking & eating: kitchens & dining rooms & section 5 for parlours - link at bottom of this page)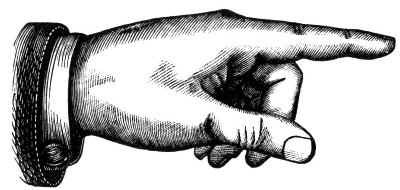 !!! -- TO CONTINUE INTO THE NEXT DECADE,
PLEASE CLICK ON 1900-1910
(this article is divided into sections to make loading the images more manageable and to allow the reader to go directly to a time period)
(to jump to a particular time period in the history of dollhouses & furnishings: 1910 to 1920 part 1: 1920s part 2: late 1920s part 1: 1930s part 2: 1930s 1940s 1950s part 1: 1960-1990 part 2: 1960-1990 )
top of page selected references on dollhouses home page
GALLERY OF IMAGES of dollhouses & furnishings