home page 1890s 1900-1920 part 2: 1920s part 2: late 1920s
part 1: 1930s 1940s 1950s part 1: 1960-1990 part 2: 1960-1990
In the United States, at least three manufacturers turned out doll house furniture in wood in forms reflecting the contemporary taste of the majority of middle-class Americans: Strombecker of Moline, Illinois; Schoenhut of Philadelphia, Pennsylvania; and Realy Truly (Morton E. Converse & Son Company) of Winchendon, Massachusetts.
Their products contrast with those of Tynietoy of Providence, Rhode Island, as the latter specialized in reproductions from various periods, the most interesting being Early American. In the 1930s, there was a growing appreciation in the USA for antiques as evidenced by Wallace Nutting's Furniture Treasury volumes I & II appearing in 1928 and volume III in 1933.
Tynietoy dollhouses an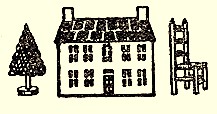 d furnishings, spanning the 1920s into the 1950s, are usually stamped with a stylized tree, house and ladderback sidechair.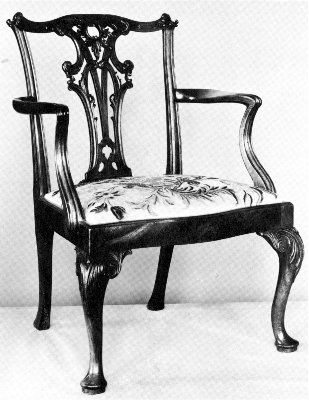 The armchair (shown below), stamped in this manner, has the Tynietoy characteristic painted (representing fabric) seat and flat shaped front legs that are a simplified version of a Chippendale cabriole leg (right, c1755 British chair) which, in real chairs, projects at an angle from the seat frame. The miniature toy chair has a transitional back from Queen Anne style (with a solid back splat) to Chippendale, which normally has piercing.
Armchair as portrayed in the Tynietoy catalogue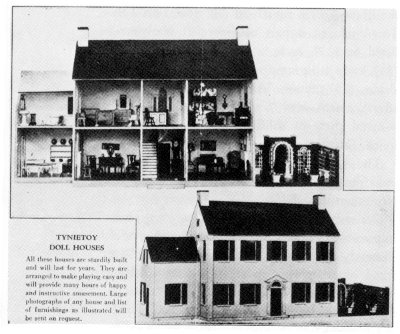 Exceptionally appealing with clever detailing, a two-storey service wing and garden, Tynietoy houses were expensive when originally sold and today are rare and highly collectible.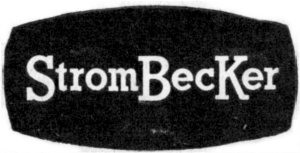 Strombecker (Strombeck-Becker) products, on the other hand, are still prevalent and frequently offered in such venues as eBay at affordable prices. One suspects that at some point this situation will change as the supply dwindles. Now is a good time to form a collection of representative examples from this company, which added dollhouse furniture in 1931 to their production of toys. Although they continued to make dollhouse items into the early 1960s, many can be dated by style. In contrast to a Tynietoy furnished wooden dollhouse selling for just over $260 (wholesale) in the 1930s, a cardboard dollhouse with 42 pieces of wooden Strombecker furniture could be purchased retail for $1.77: a different clientele was clearly intended.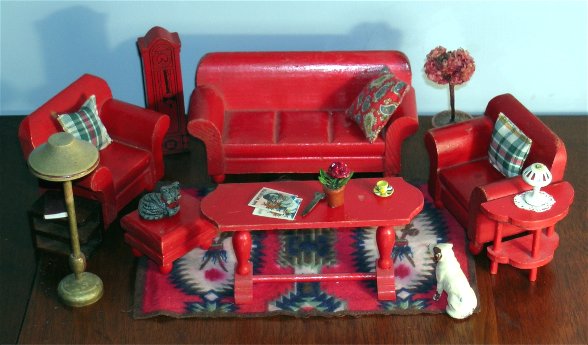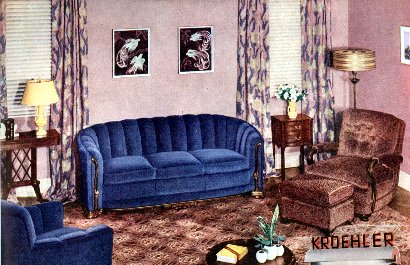 Red painted wooden living room set from 1931 with comfortable, over-stuffed armchairs and chesterfield on ball feet. This is not Chippendale! On the left, a real "living room suite" advertised in Life magazine in 1940. Heavy upholstered pieces contrast with delicate end tables with spindly turned legs. Electric lights were now standard in cities, towns and many villages. Books, magazines, newspapers, radios and phonographs entertained and informed in this pre-television era. A radio on four turned legs came with the red Strombecker set.
Strombecker made attractive and varied tables and stands. The tilt-top table (below) is stamped "Strombecker Playthings Made in U.S.A. Custom Built Genuine Walnut" dating from 1938. The six-leg table with notched corners and the magazine stand date from 1936. Perhaps the handsomest Strombecker piece is the "custom-built" Governor Winthrop secretary with its collection of colourfully bound books (illustrated further below, 6¾ in. high). Of note are the removable lower drawers with curved fronts matching the contours of the frame. Here, it is shown with a walnut dining-room side-chair dating from 1936. "Custom built" pieces were more expensive to acquire than the usual painted ones. The secretary sold for $1.25 in 1937 while an entire living room set in the cheaper line was $1.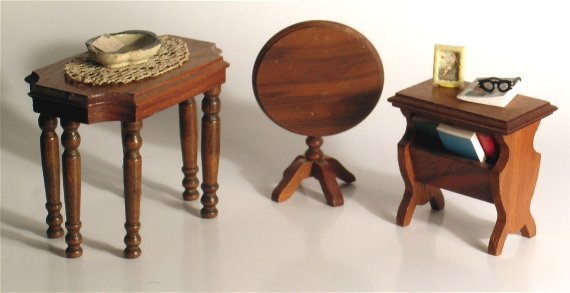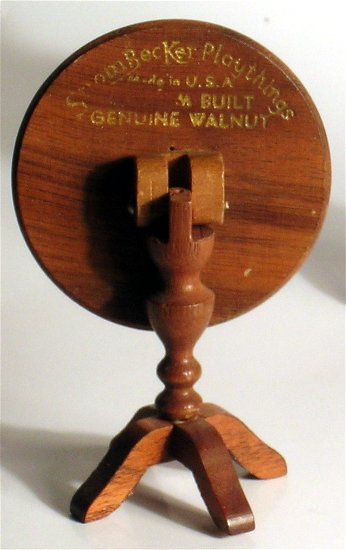 A fully equipped indoors bathroom was still a luxury on farms at this time but customary in cities and towns. This green painted wooden set with its dressing table, stool, wastebasket, hamper and medicine cabinet dates from the early 1930s.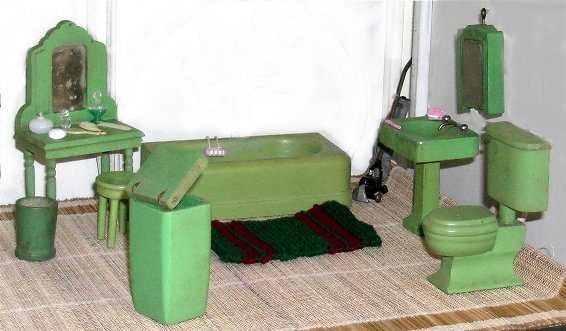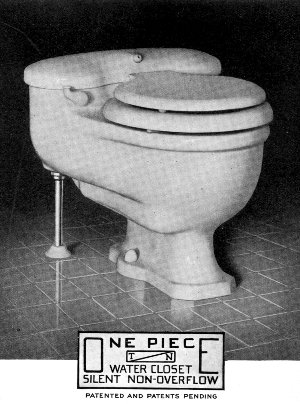 Another style of bathroom from the mid 1930s. The low back on the toilet looks odd but was a type in use at the time, as seen in the illustration on the left from a plumbing supply catalogue of 1928. The soft turquoise colour of paint is particularly attractive. The set included a stool, wastebasket and an electric heater, all in painted wood. The "built-in" tub is 3½ in. long, whereas the tub in the green set, shown above with the vanity, is just over 5 in. long -- illustrating the different scales made by the company.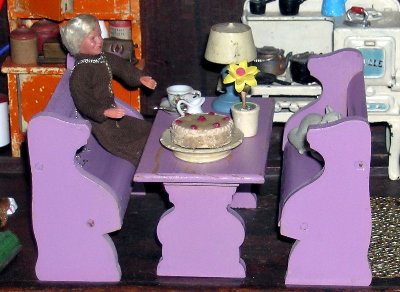 Charming breakfast nook from the early 1930s with standing bears forming the bench ends. The choice of vivid purple or "orchid" paint must have also gladdened children's hearts and eyes. A breakfast nook formed by a pair of benches facing a long table was a fashion that came and went in the 1920s and '30s, as discussed under Arcade in the late 1920s .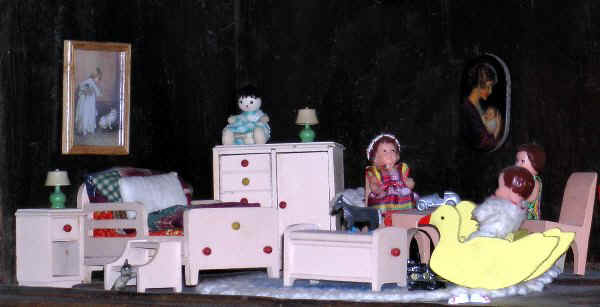 The nursery set of 1938 (above) balances practicality and child-like whimsy. Steps help the child access the bed with its half sides to prevent him from rolling off during sleep. Whimsy is provided with the different coloured ball handles on the drawers, door, storage box and foot of the bed. For $2.50 one received "a 10 piece set of wood...youth bed, step-up for bed, chifforobe, toy chest, shoofly [the yellow duck rocker], writing table, chair, lamp, clock, and night stand." Here the table and chairs are by another manufacturer.
Following the example of Tootsietoy in the 1920s, Strombecker linked up with other companies which produced light-weight dollhouses that could be easily shipped disassembled in a box. The clapboard and brick Dream House (shown below in detail from an original box and in an advertisement of 1948 from Children's Activities) came with a car, cardboard baby carriage and Scottie dog.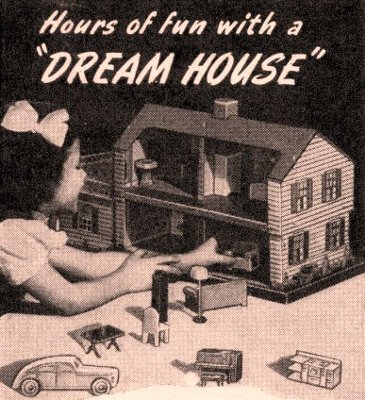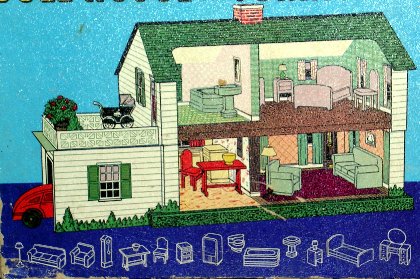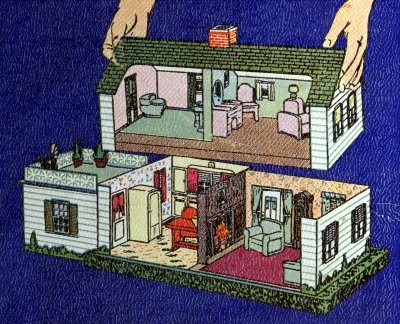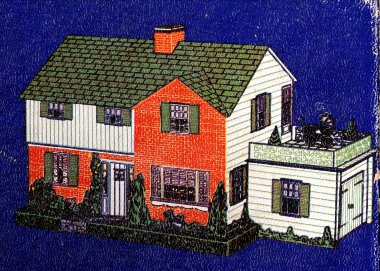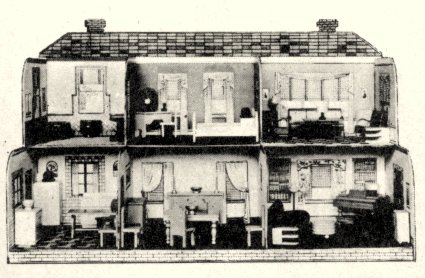 The Strombecker decorated fibre-board Play House was described in 1943 (in Children's Activities) as a new concept: the front was completely open allowing children true freedom to arrange the ¾"-scale furniture in the 6 rooms.
Schoenhut, a rival American company, produced dollhouses from 1917 to 1934 and furniture from 1928 to 1934. As well, five unfurnished or furnished apartment rooms (living room, dining room, kitchen, bedroom and bathroom) were introduced in 1930. Made of painted wood and free-stan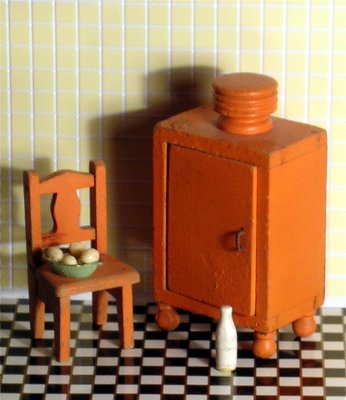 ding with hinged side walls, they could be arranged at will.
Schoenhut products are harder to find on today's market, perhaps because fewer were made -- given that Strombecker had a longer time frame as a manufacturer. Particularly after 1930, it can be difficult to tell which company manufactured a certain piece. The toy furniture box (below) shows an orange kitchen set of 1931 with the electric refrigerator, which replaced the ice box of the year before. The advertisement (further below) is from Sears in 1932. The fridge is 4½ inches high including the ball feet and top coils. The door opens.
1928 Schoenhut bathroom set finished in white enamel over wood. The curtained shower stand is unusual. In 1931 it was replaced with a three-wall stand as seen in the Sears ad (above).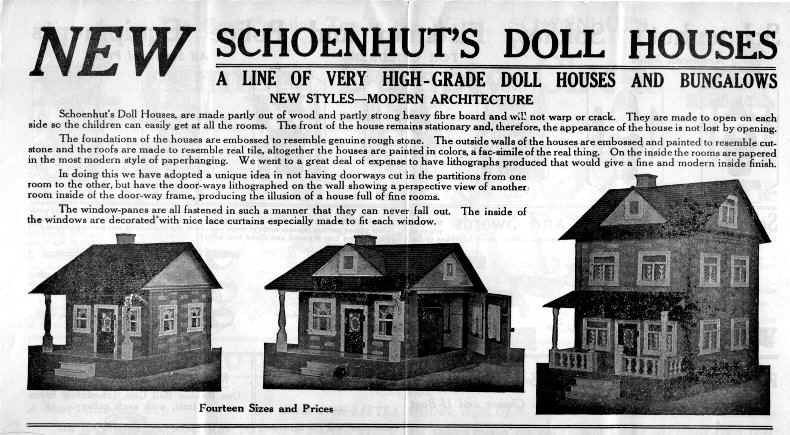 above: From a four-page flier published by Schoenhut, no date, but likely 1917 (although it may be that two-storey houses were not introduced until 1923, when they are shown in a catalogue) as this line of houses with the exterior walls embossed to resemble cut stone is described as new; made until 1927 when the type of house, illustrated below with plain painted walls, took over.
Described as new in the 1930 Schoenhut catalogue this two-storey house with attached garage is likely of wood with a fibre-board roof, embossed to resemble tiles. The exterior is finished to look like white stucco, while the interior rooms are wallpapered. Five rooms plus the stair-hall and garage gave lots of room for Schoenhut furniture, although this illustration shows only a breakfast nook set. A single chimney throws the classical balance off, as does the one wing. Other houses from the company are noted at this time as "completely wired with eight electric lamps." The wholesale price was a dozen (unfurnished) houses for $540 or $45 each. This places them in a very different category than the furnished cardboard dollhouses offered by Strombecker in 1943 for $2.50 retail!
A brief list of their dollhouses: Schoenhut made one-storey bungalows in wood and fibre-board beginning in 1917 in competition -- as they pointed out -- with imports (see illustration on this page). In 1923, it can be confirmed that two-storey houses were being made in a contemporary style. In 1927, they introduced houses with accompanying gardens, driveways and sidewalks in painted fibre-board with shrubs and a detached garage. In 1931 alternatives to the ubiquitous Colonial style (illustrated here) were added to the company line: "English style Houses" (half-timber upper storey overhanging a brick main storey), Spanish style (with a balcony) and Dutch Colonial (gambrel roof). Schoenhut stopped manufacturing dollhouses and furnishings in 1934, three years after Strombecker began to make dollhouse furniture.
(N.B. - for images of Schoenhut houses from the 1920s see Section 2 of the Gallery of Images -- link at the bottom of this page -- also, Schwarz catalogue c1920 in article on TOYS)
In 1931 another American company branched into dollhouse furniture -- Morton E. Converse & Son Co. under the trade name "Realy Truly." The firm, founded in 1877, used the term "Toy Town" in their catalogue of toys, which included two wood and fibre-board dollhouses and four sets of wood dollhouse furniture. One of the houses closely resembled one sold with Tootsietoy furniture and labelled "No. 12 Tootsietoy Doll House ©1927 D.M. Co. Made in U.S.A." (see part 1: 1920s for illustration). Note the subtle change in the form of the upper front doorway. The furniture reminds one of Schoenhut and Strombecker.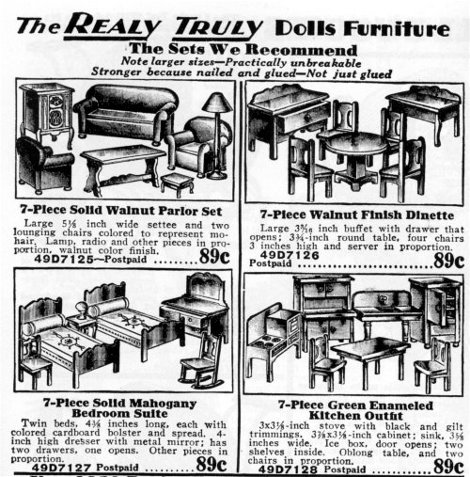 1930 Sears Roebuck
N.B. - For dollhouses & furniture scanned from A Catalogue of Toys for 1931
by Morton E. Converse & Son Co., please click here Converse
N.B. TO CONTINUE THIS HISTORY, PLEASE CLICK ON THE 1940s