photographs and drawings by Jennifer McKendry©
home page Canadian toys Nerlich toys Schoenhut toys
Modern toys have two major differences that set them apart from antique ones: plastics and children. Plastics have replaced toys of wood, papier-mâché, iron, tin, china, rubber, celluloid (an early form of plastic, invented in 1869 and appearing in toy catalogues by 1893) and aluminum (in toy catalogues c1900). Children, in the case of antique toys, are replaced by the adult collector. However, the toys were originally manufactured for children who could peruse them in mail order catalogues or in the local general store.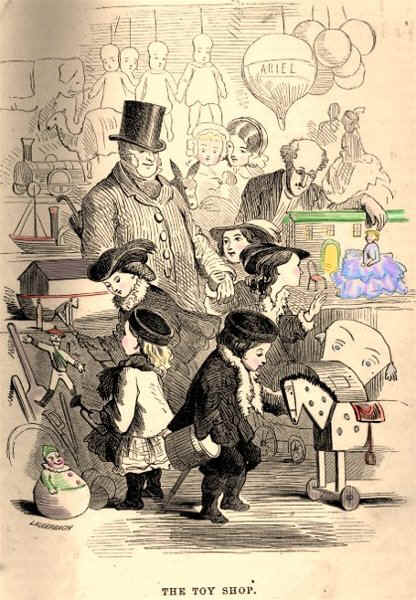 The Toy Shop, December 1860, Godey's Lady's Book, p. 516
Although by the late 19th century toys were being mass produced in factories, there was a considerable amount of hand-finishing, and it seems amazing that they could have been sold for so little by the retailer.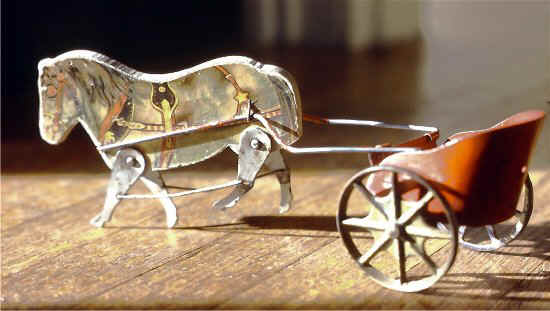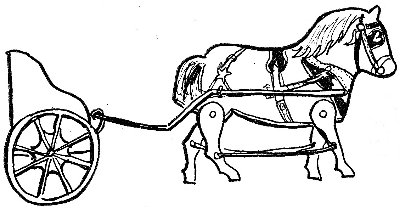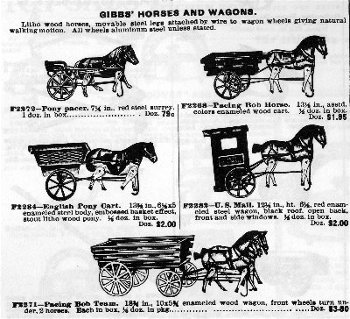 Printed in tiny letters on the side of this horse and cart is," Copyright 1910 Gibbs Mfg. Co.". This product was advertised in the 1912 Sears Roebuck and Company catalogue under Gibbs' Celebrated Quality Toys. It is described as a "Pony Pacer, Only Cents. Length, 7 in.; Height, 3½ inches. Natural pacing gait. All moving parts in metal. Nicely painted in colors. Shipping wt, 7 oz….Price 9c." The decoration on the horse's body is actually lithographed in color on paper which is then glued to either side of a thin cut-out piece of wood. Metal wires connect the tin legs which will move as the child manipulates it. Metal pieces also can be inserted into the appropriate places in the bright-red tin cart with its gold-coloured large wheels.
With a miscellaneous collection of "cheaper articles", the Marshall Field Toy Catalogue of 1892-93 included an illustration of the tin dog on wheels (below right). The tin is moulded to give the texture of his shaggy coat which is painted yellow. In his red mouth he holds a basket for his master who can pull him by a string attached through a hole in the green base with its four wheels. The overall length is 6½" and the height 5".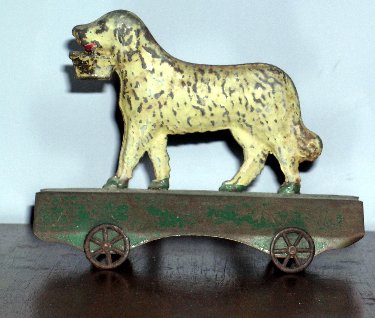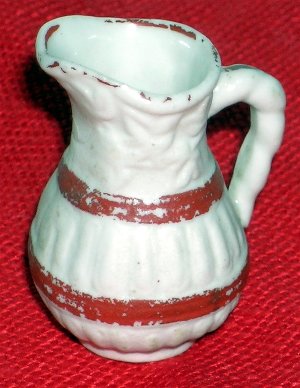 Only two inches high, this miniature pitcher is one of a pair made in Bennington, Vermont. There from 1847 to 1858 Christopher Fenton persuaded his father-in-law, Captain John Norton, who had founded the pottery in1793, to experiment in producing porcelain and Parian ware. (These were usually confined to production in Europe. ) The white jug has an unglazed moulded body with a floral and gadrooning pattern in relief. The smooth bands around the body are hand — painted in red. The handle is applied in a glazed spiral pattern.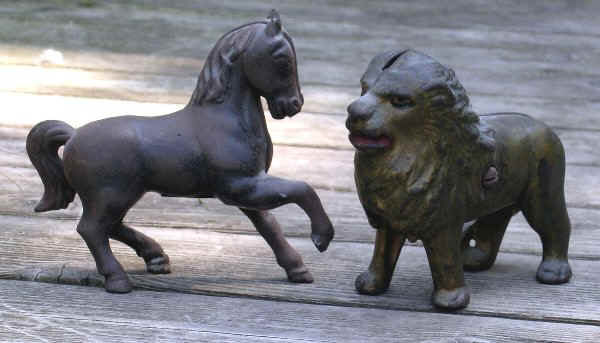 The roaring lion was the fierce guardian of the pennies saved by his master. It was advertised (below) by the American wholesalers, Butler Brothers, in 1914: "6 STYLES. IRON BANK ASSORTMENT. Wonderfully big sellers. Models that will please the wee customers.. . . 5 x 3¾, gilt rooster, camel, lion and bull dog; grey elephant with blanket and saddle; black horse, red, silver and gilt decorated. Asstd. 1 dozen in box Doz. 85c. Gro. $9.75." Original banks are shown here but these have been reproduced in the last decades and a buyer is forced to be suspicious of many examples now on the market.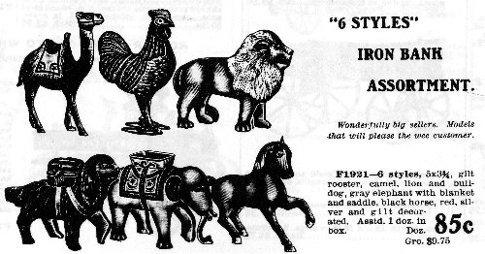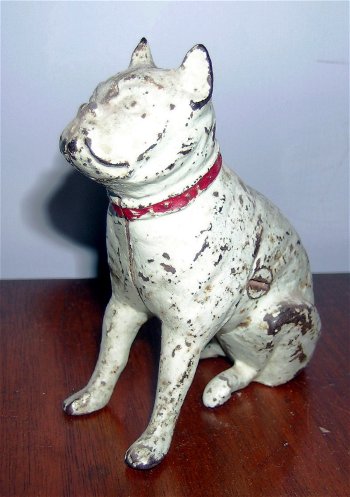 From 1894 to 1914 the catalogues push horses on wheeled platforms. These were probably made in Germany, one of the most prolific centres of toy manufacturing. A typical description is given in the 1914 Butlers' Brothers wholesale catalogue: "IMPORTED PAPIER MACHE HORSES. Modelled dapple bodies, wood legs, woolly manes and tails, bridles, coloured saddles or bands. On 4 wheel Platforms. . . 7 x 6½ - 1 dozen in box. . . doz. 82c" or "6 x 6½, asst'd. dapple grey, black and bay horses, white fur manes, hair tails, enamelled bridles, saddles, felt blankets, varnished platforms, 1 dozen in box.. . doz. 95c." In this period the toy horse is feeling stiff competition from the automobile which will eventually supersede it, as toys tend to mirror the changes in adult society.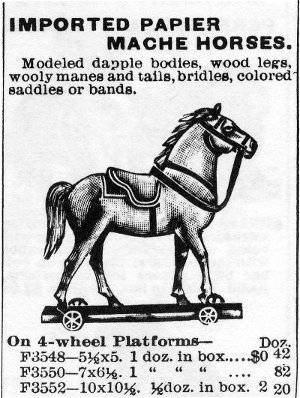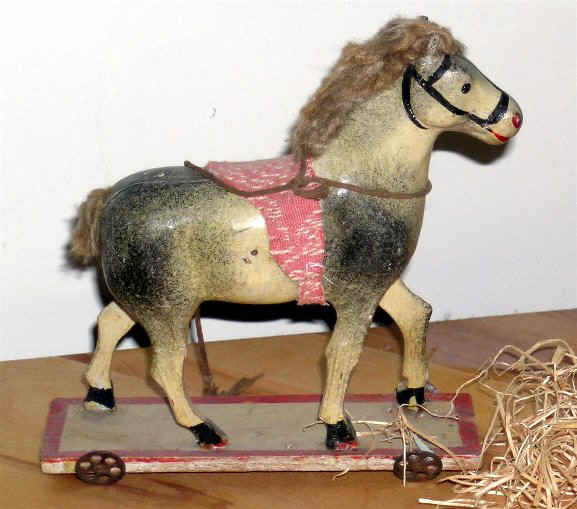 Dollhouse furniture generally avoided imaginative caprices and stuck to imitating real furniture. Hence, the 6¼ inch sofa is a carefully scaled model of a popular Rococo revival adult-counterpart. Every button is pressed into the green upholstery; however, in this case, cast carefully in iron. The sofa is part of a large parlour set, patented in 1867. (See also an article on the history of dollhouses and their furnishings 1890-1990 on this website - link at bottom of this page.)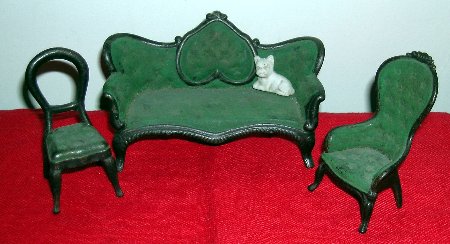 (An original set is shown above but collectors should be aware that this set, including a table and stool, was reproduced c1960s.)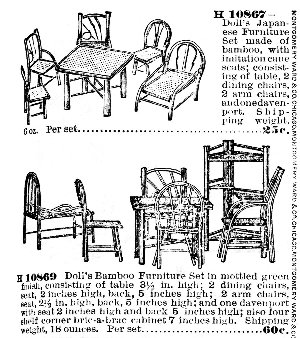 The Montgomery Ward and Co. catalogue of 1903 advertised the four-inch high armchair: "Doll's Japanese Furniture Set made of bamboo, with imitation cane seats; consisting of table, 2 dining chairs, 2 arm chairs, and one davenport, shipping weight. 6 oz. Per set . . . 25c."
below The chairs, davenport and table are from three different sets, c1900. The maid taking her break is made from bisque, c1870, with her original uniform (likely German); the dog is painted metal (likely German); the flower pot is wood c1930; the swan rug is needlepoint from Quebec, c1870; the dollhouse is "the Bobbi," an Artply kit, New York, c1970s.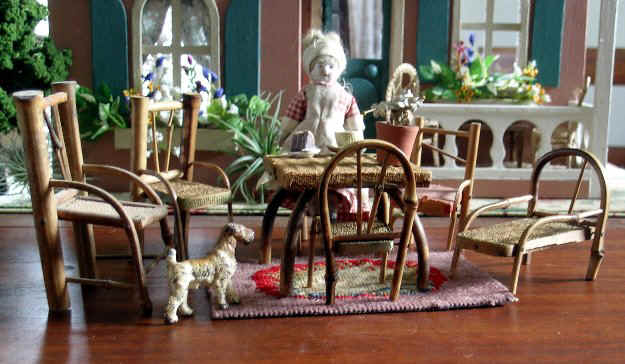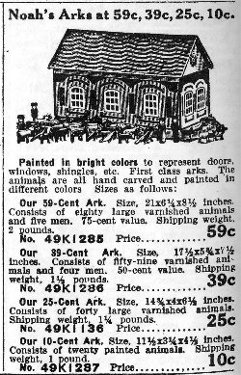 This Noah's Ark has lost the craftsmanship quality of 19th century ones. The sides are poorly nailed together and the decoration crudely stencilled on the sides. The boat concept had been reduced to a thin board, pointed at each end. The animals are tiny and too poorly shaped to stand by themselves. However, what could one expect for l0 cents? The 1912 Sears Roebuck and Co. painted a more glowing picture: "Painted in bright colors to represent doors, windows, shingles, etc. First class arks. The animals are all hand carved and painted in different colors. . . . Our 10- cent Ark. Size, 11½ x 3¼ x 4½ inches. Consists of twenty painted -animals. Shipping weight, 1 pound. Price . . . l0c."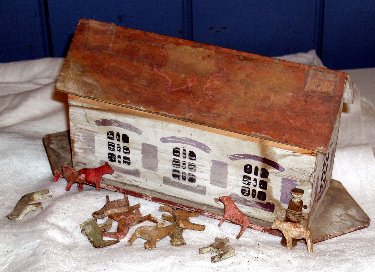 As we move into the 21st century, there is an increasing interest in "modern" plastic toys manufactured from the mid 1940s. Now a half century or more in age, mass-produced toys take on a nostalgic interest for collectors who may have played with them as a child. There are also the factors of wanting something that is no longer made and completing a collection.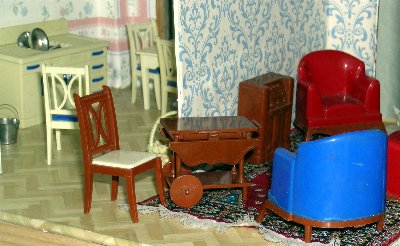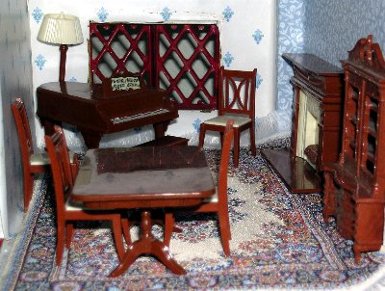 Reliable Plastics Company, Toronto, made this dollhouse "hard plastic" furniture in the early 1950s. (Side-chair 2 inches high.) While some designs were particular to the Reliable Company, others - especially kitchen and bathroom items - were made from the moulds of the American Ideal Company by special licensing agreement. Ideal made plastic dollhouse furniture from 1947 into the early 1950s.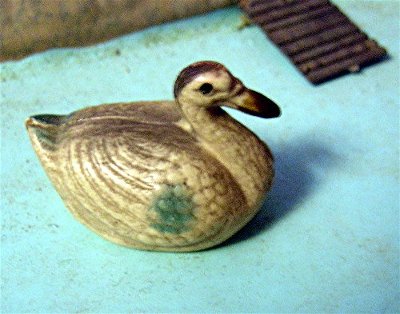 Celluloid Toys
Plastics, developed for popular use after World War Two, replaced celluloid -- a thin brittle material in widespread use after about 1890. This moulded and painted goose and swan are typical examples from the early 20th century. The floating baby swan, sold in a set of six costing 39 cents in the 1919 Sears Roebuck & Co. catalogue, is 1½ inches long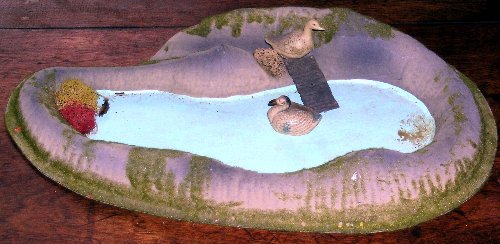 .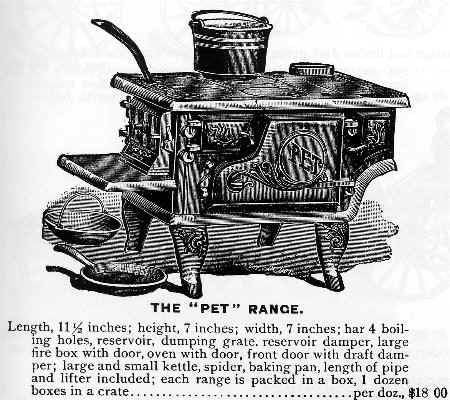 Cast Iron Wood Stoves for Cooking
Advertisement (Marshall Fields) from 1892 showing the Pet, probably made by an American manufacturer, either Ideal or Kenton, 7 inches high.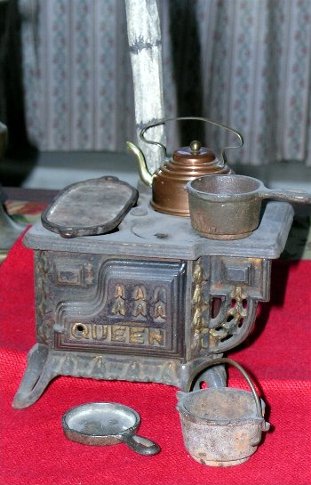 Many toy stoves, cast in iron, have survived but the collector has to be wary of reproductions.
The Queen (left), 3 inches high, shows the patina of wear and age with remnants of the original paint picking up certain details. A version, usually finished in flat black paint, was reproduced in the 1960s, along with many pots and pans, seen in the upper left corner of this advertisement (below) from the 1970s for reproduction toy stoves (including a combined bank and stove "cook with gas" in the bottom left corner).
1970s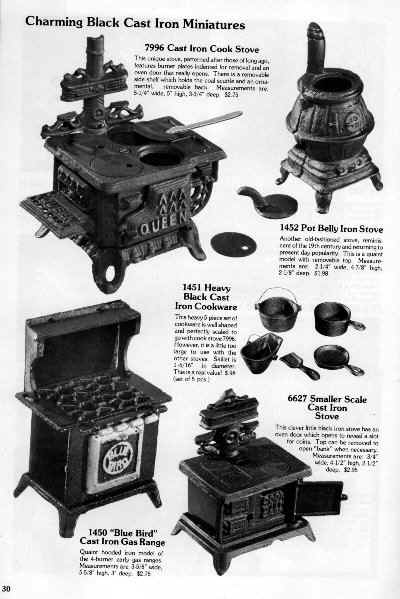 below left Typical toy stoves - the Jewel (made in Detroit) - from the 1892 Marshall Field catalogue, USA. Toy wood stoves were still being advertised in the 1930s despite the growing popularity of gas and electricity models. Below right a wood stove, the Eagle (by Hubley), from the Sears Roebuck catalogue of 1926. Sizes range from 11.25 in. high to 6.65 in. with decreasing elaboration in the smallest version.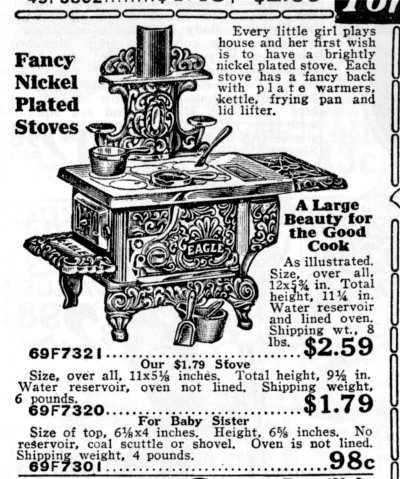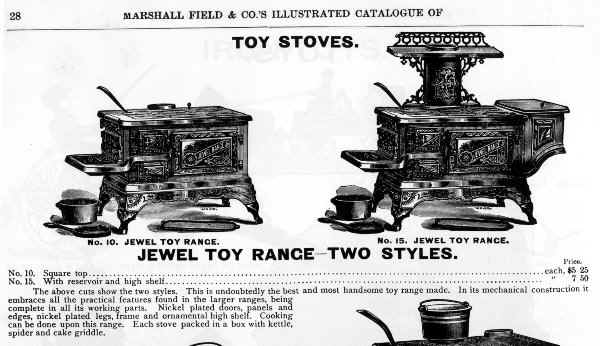 1892 1926
Below: The white enamelled, iron Eagle Gas Stove, as shown in the Sears Roebuck catalogue of 1926, Chicago, USA. The most elaborate version was illustrated, 9.25 in. high, whereas a simpler version, photographed with the oven door open and closed, is only 4.25 in. high. The stove maker was Hubley Manufacturing Company of Lancaster, Pennsylvania. The bottom of the copper kettle is made from an English farthing dated 1924. The bucket is painted wood, likely Strombecker of Moline, Illinois, early 1930s.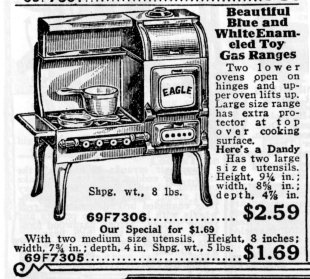 1926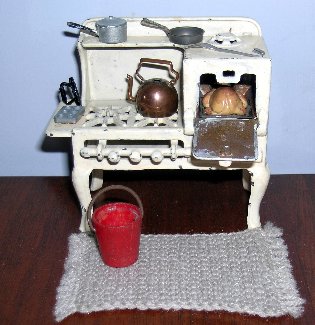 1930 Butlers Brothers catalogue