section 6: sleeping, washing, dressing: bedrooms 1880s to 1920s (and the nursery)
images & photography: Jennifer McKendry ©
home page GALLERY of IMAGES 1 GALLERY OF IMAGES 2
GALLERY OF IMAGES 3 GALLERY OF IMAGES 4 GALLERY OF IMAGES 5
GALLERY OF IMAGES 7 GALLERY_OF_IMAGES_8 INDEX of GALLERY
THE BEDROOM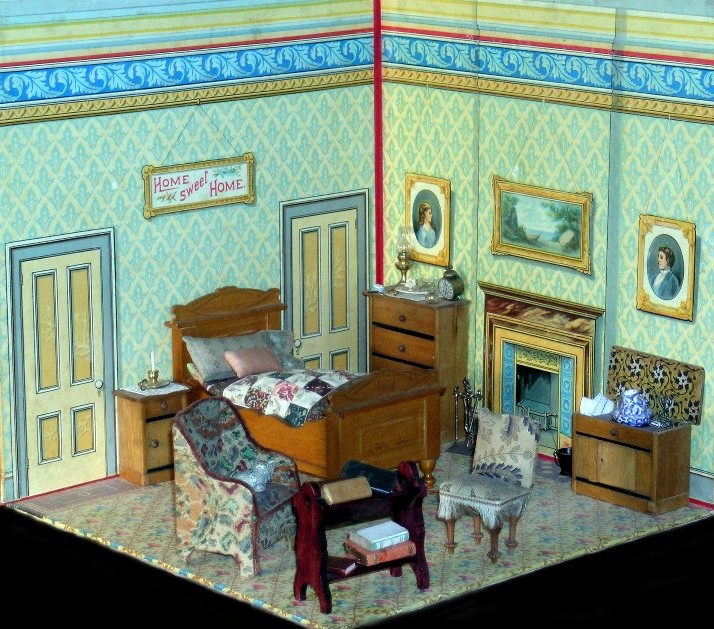 <![if !vml]>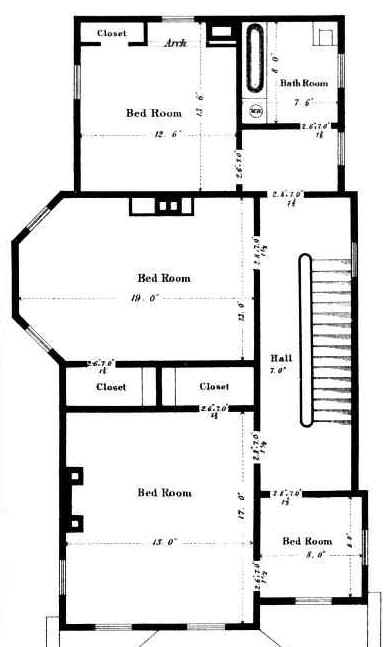 <![endif]>above 1894 the American firm McLoughlin produced a set of 4 rooms with lithographed walls showing the furnishings and decor enjoyed by the urban upper classes; the main bedroom was elegantly decorated and furnished; by the 1890s, bathrooms, large closets and/or dressing rooms were standard in well-to-do houses (right) but were not necessarily incorporated into dollhouses; German furnishings c1880s-c1910s
<![if !vml]>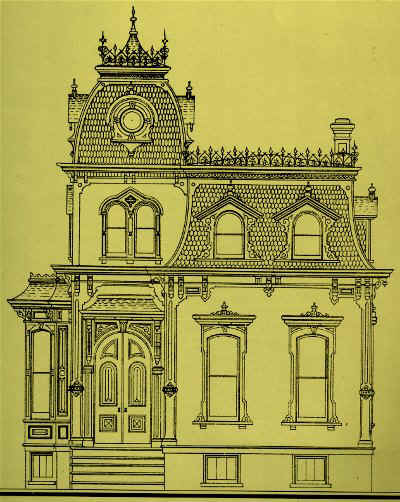 <![endif]>
1878 typical, upper middle-class, American houses; bedroom floor level including closets and a bathroom; Bicknell's Village Builder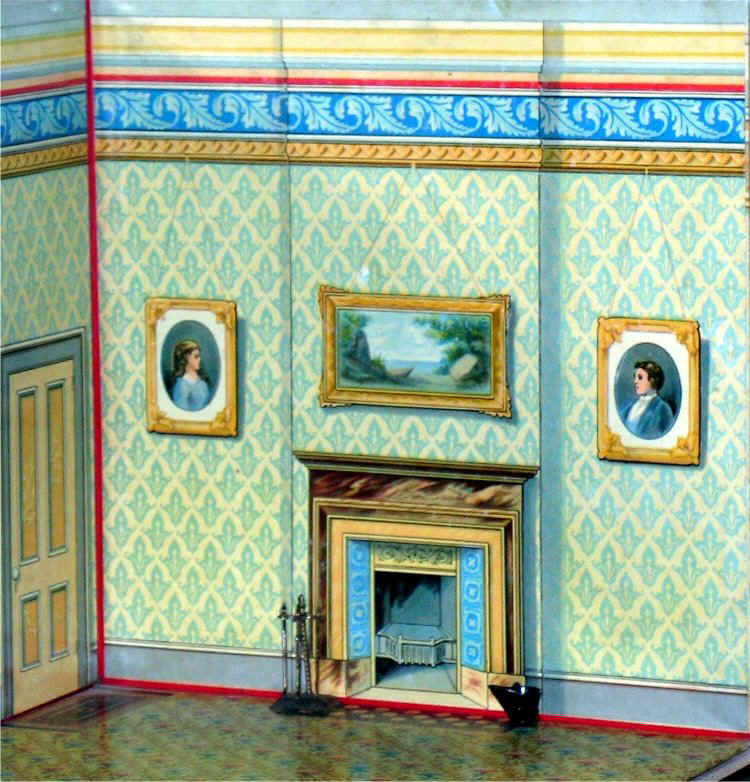 tall ceilings, pronounced cornices, wall papered walls (12 inches high representing 12 feet); coal-burning fireplaces, in this case, with a vivid marble surround and colourful tiles; gilt-framed paintings -- a Romantic landscape flanked by ancestral portraits, emphasizing the importance of the family and the significance of lineage (note: the red tape is part of the rooms' hinging system)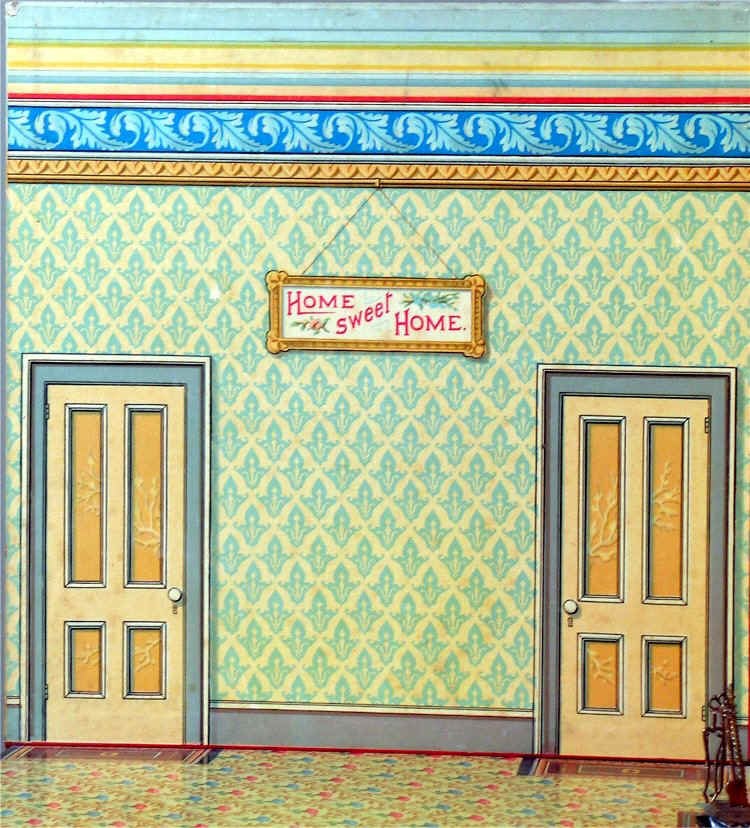 specially painted, panelled doors probably into closets or dressing rooms; branch motifs wander across the upper, as well as the lower panels, as if glimpsed beyond the dividing stiles; a framed motto hangs from a visible cord at the level of the door tops in order to allow room for a tall headboard of a bed or a dressing table or chest of drawers with a mirror
woven carpeting with individual rose and blue flowers positioned within a diaper pattern formed by vines; small Oriental rugs are placed in front <![if !vml]>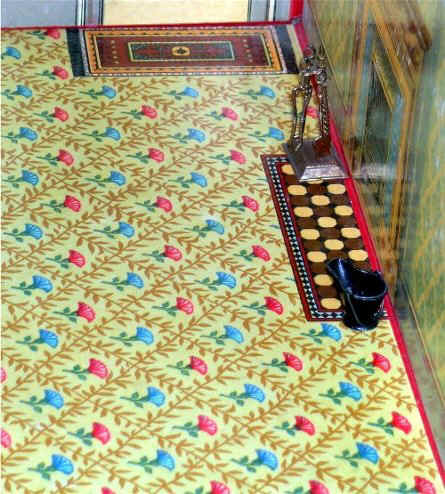 <![endif]>of each door; tiled hearth -- of a sort British designer Charles Eastlake might have approved, below are samples made by Maw & Co. and illustrated in Eastlake's Hints on Household Taste 1878
<![if !vml]>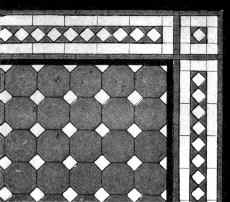 <![endif]>
<![if !vml]>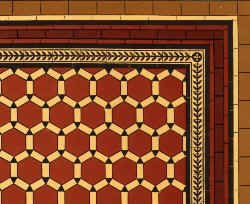 <![endif]>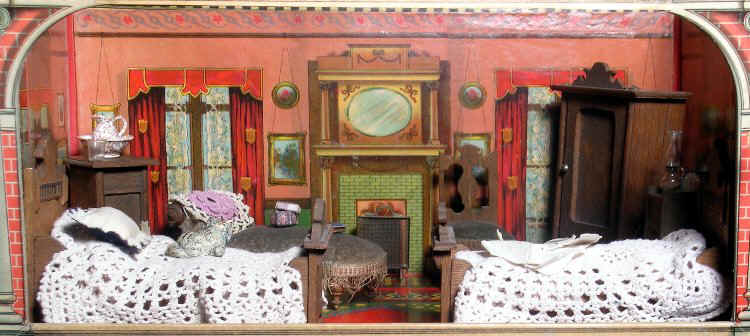 c1900 bedroom of McLoughlin's Garden House with a set of German furniture
<![if !vml]>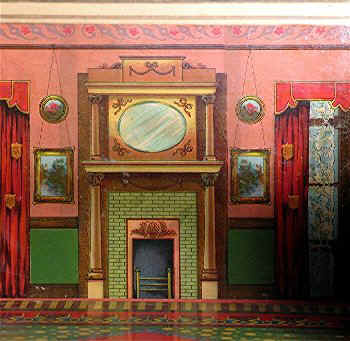 <![endif]><![if !vml]>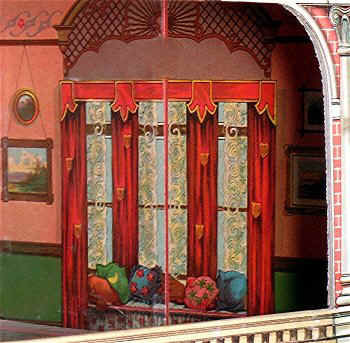 <![endif]>
<![if !vml]>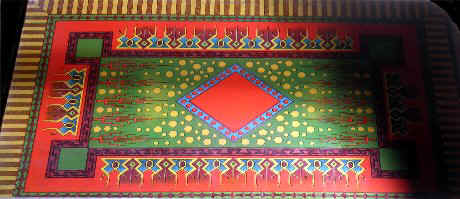 <![endif]>The walls and curtains of the room are strongly coloured in red and greens repeated in the Oriental carpet; the latter's exotic aspect is reinforced in the strange screen in the arch over the end wall's bay window and in the pillows and window seat -- as if expecting reclining members of a harem -- in contrast with the very Western neoclassical fireplace and mirrored overmantel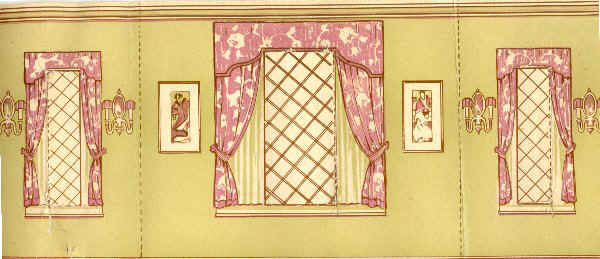 <![if !vml]>
<![endif]>1921 By the time of this bedroom from the 1920s, colours have been toned down, furnishings are derived from the classical style of the late 18th century and lighting made more even with electrical wall fixtures and bedside lamps (toy cardboard 4-room apartment, New York, 1921-23)
Below 1872 furniture from Stevens & Brown, Cromwell, Conn., USA
<![if !vml]>
<![endif]>
<![if !vml]>
<![endif]>
<![if !vml]>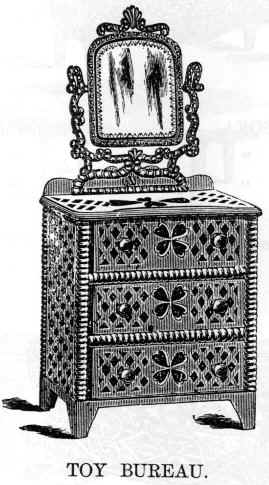 <![endif]>
Painted cast-iron bureau (available with or without a mirror and in a variety of sizes), sidechair and cradle (below); these push the limits of credulity when one considers the bureau and cradle would have been made from solid wood in real life, but this is more than made up by the charming designs.
The bureau's mirror is attached by a screw to the shaped crest of the chest's back plate, and is impressed "PATD FEB 8 1867" on the back of the shell and scroll cresting. If the crest of the back plate has no hole for the screw, the chest was made without a mirror.
<![if !vml]>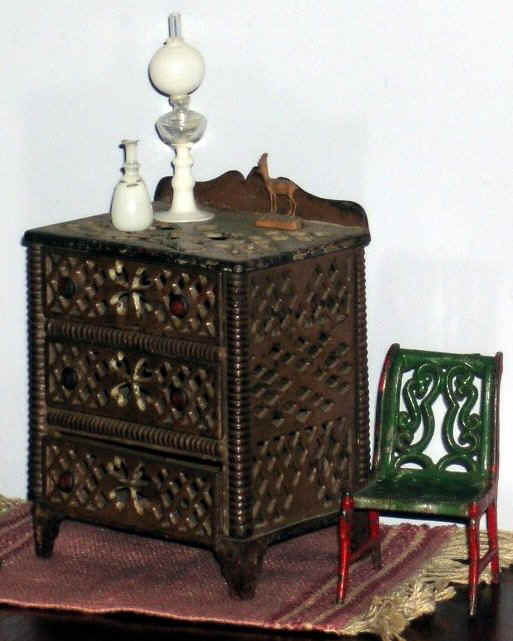 <![endif]>
incorporating hearts, lattice-work and scrolls; spooling (Elizabethan Revival) on the corners, however, was found on real bureaux of the period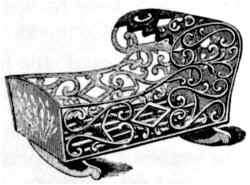 <![if !vml]>
<![endif]>
small, painted, cast-iron bed with scrolled ends attributed to Stevens & Brown; Empire style; just over 4½" long
below 1872 tin set of bedroom furniture by Stevens & Brown; painted in oak grain; displaying the busy spooled and scrolled forms associated with "Victorian style" or more specifically a revival of Elizabethan or Tudor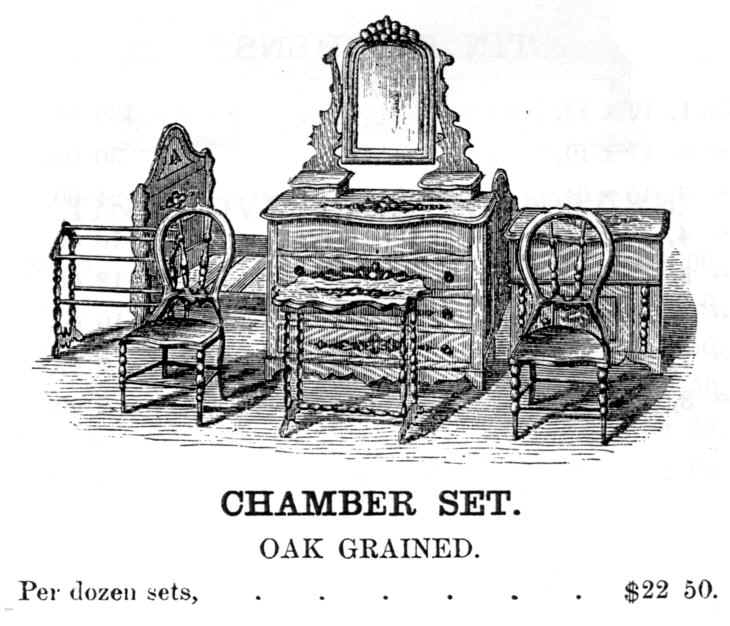 above this 1872 American "Chamber Set" included a bed, chest of drawers (bureau) with mirror, small table, 2 sidechairs, washstand and towel rack
(END OF STEVENS & BROWN FURNITURE)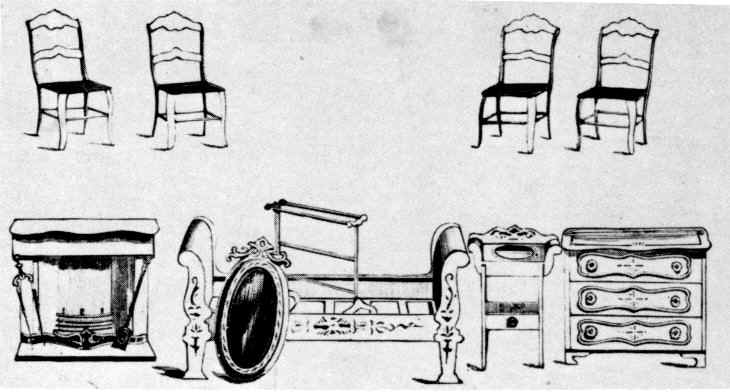 this 1874 "Chamber Set", also of painted tin, included 4 sidechairs, a mantel with tools and a grate, sleigh bed in the Empire style, wall mirror, towel rack, washstand and chest of drawers; catalogue of Althof, Bergmann & Co., New York; likely German in origin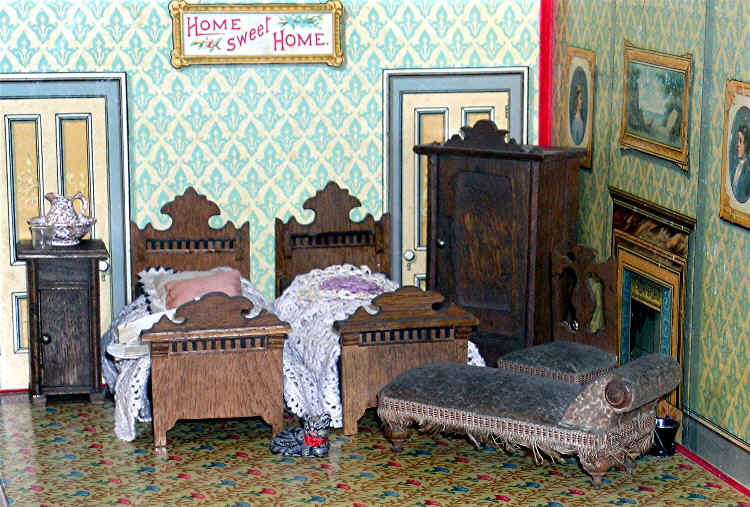 c1880 set of oak bedroom <![if !vml]>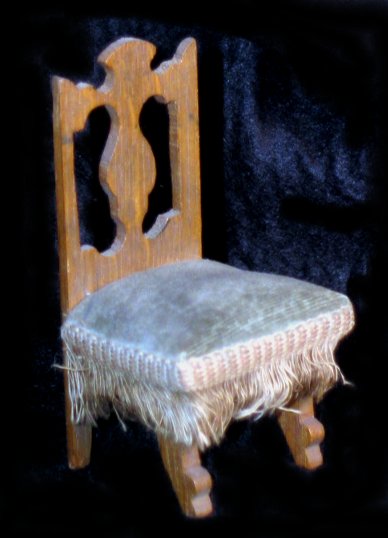 <![endif]>furniture: bedside cabinet, pair of single beds, wardrobe (missing finials at top corners), sidechair and chaise lounge, likely German
the sidechair, 3½" high, has a dull blue, flocked velvet seat trimmed with a fringe; the front legs are scrolled in an odd pattern
the chaise lounge has a single scrolled end with a wood decoration (representing the end of a round cross-piece) and squat legs with very wide turnings tapering to tiny feet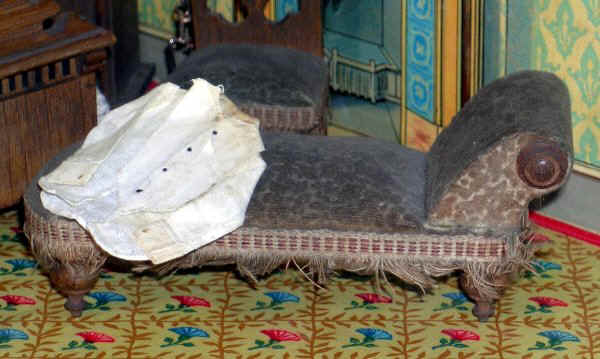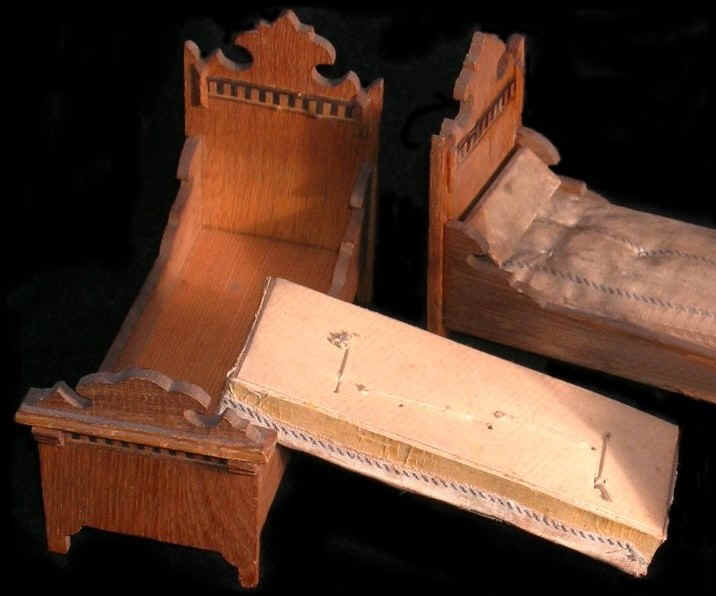 the beds, each 5½" long, have their original mattresses and triangular bolsters, made of cardboard and covered with striped linen; the mattresses are stuffed with wood shavings and tacked through with heavy thread; the head and foot boards have handsome crests with very thin wood strips representing inlay made of dark and light coloured wood; the side rails are scalloped where they meet the end boards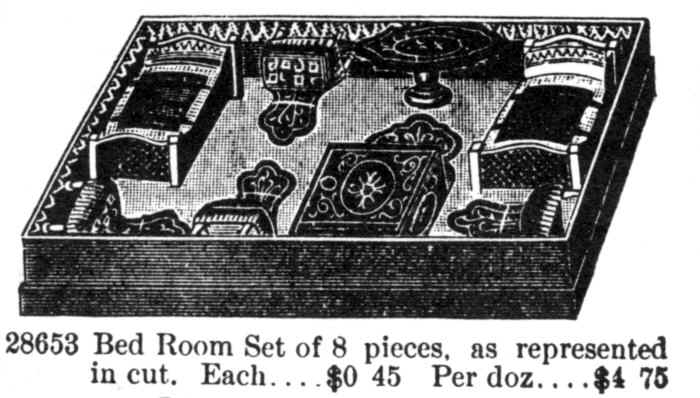 <![if !vml]>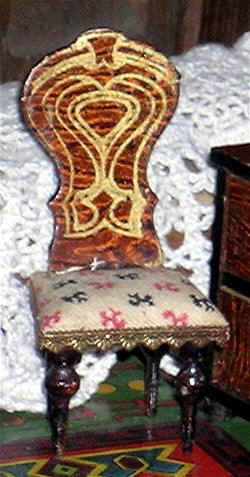 <![endif]>1889 this bedroom set has 8 pieces, including 2 beds, a cabinet, 4 sidechairs and a table with a six-sided top and turned centre pedestal, possibly with lithographed paper coverings in the Biedermeier style; it shows how such items were tacked onto the bottom of a fancy cardboard box when being presented for sale; Montgomery Ward catalogue; likely German in origin
sidechair with false-grained back and gold lines representing inlay; metallic, thin, pressed seat trim; legs with wide turnings and tiny feet
<![if !vml]>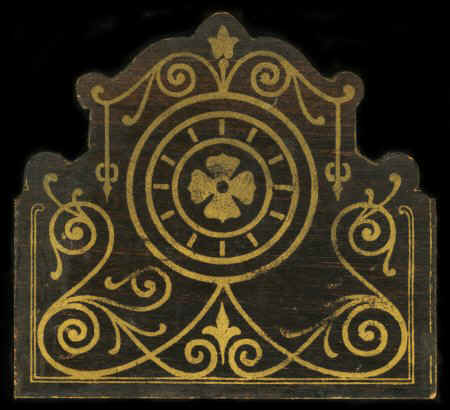 <![endif]>
c1890 headboard of the Biedermeier bed shown below; imitation gilt "inlay" on "rosewood" (Boulle or Buhl marquetry); the actual wood is a lighter colour with a large grain; bed 7¼ inches long, 5½ inches high
detail showing one of the side-rails below overall picture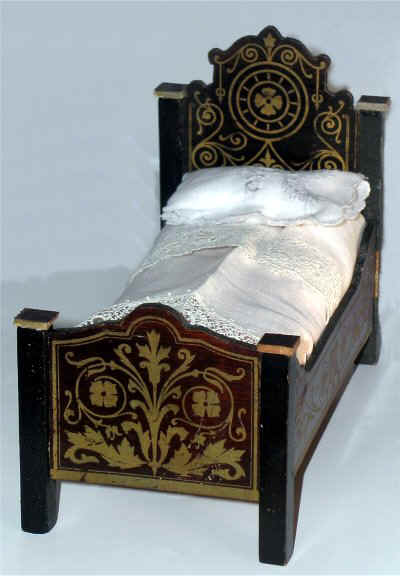 (See also History of Dollhouses 1890s )

c1900 bed with Art Nouveau impressed designs in the cresting of the head and foot boards; golden finish on wood; sold by the Schwarz toy store in Philadelphia; attributed to the maker Schneegass, Germany; old pillows, modern hand-made quilt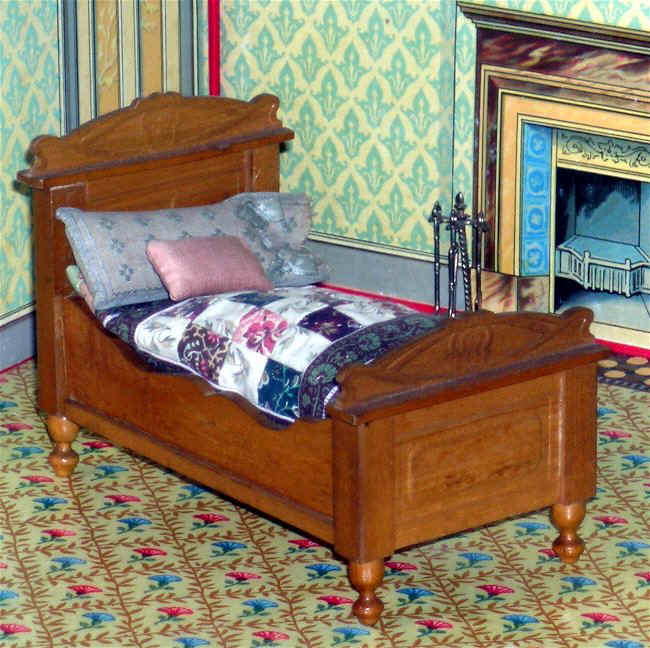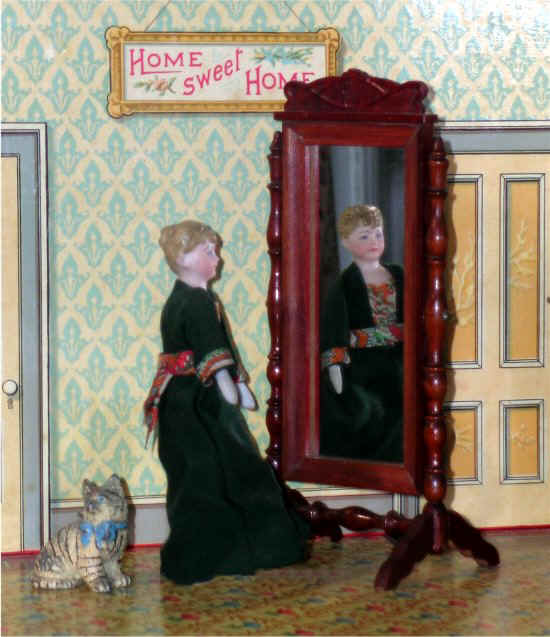 c1900
cheval glass with impressed Art Nouveau design on cresting; red stain finish on wood; attributed to the maker Schneegass of Germany
German lady with blond hair in a bun; original dress
painted metal tabby cat
<![if !vml]>
<![endif]>
<![if !vml]>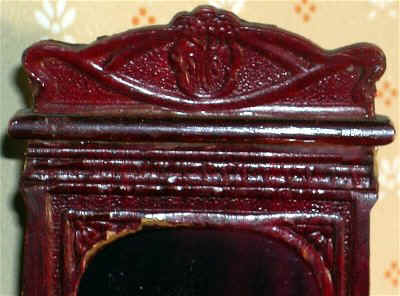 <![endif]>
c1900
chest of drawers and mirror decorated with impressed Art Nouveau design on cresting; red stain finish on wood; attributed to the maker Schneegass of Germany
German man in original suit
<![if !vml]>
<![endif]>
Bedroom set by Schneegass of Waltershausen, Germany, c1900; the bed is only 5 inches long and may represent a youth's bed – the original printed fabric scene shows a mother and children at prayer; the end curtains and bedspread are lace-trimmed blue satin; the sensuously cut-out wood is treated as Boulle marquetry
<![if !vml]>
<![endif]>
<![if !vml]>
<![endif]>
Art Nouveau (also known as Style Moderne and Jugendstil) strongly influenced European architecture and the decorative arts from c1888 to c1914 -- as seen in the Hotel Tassel (left) of 1893 by Victor Horta in Brussels --  featuring asymmetry, attenuated foliage, vines, tendrils, curves and a lack of obvious historicism.
<![if !vml]>
<![endif]>
<![if !vml]>
<![endif]>
below The side-chair belongs to the set; original upholstery; newly dressed, early, articulated wood doll with bun and ringlets
<![if !vml]>
<![endif]>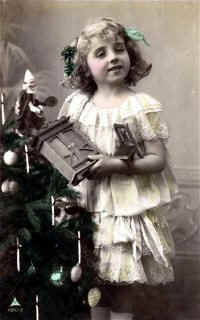 above c1910 undated French postcard and detail showing toy side-chair and wardrobe, the latter with attractive door panels in Art Nouveau style, pierced work in cresting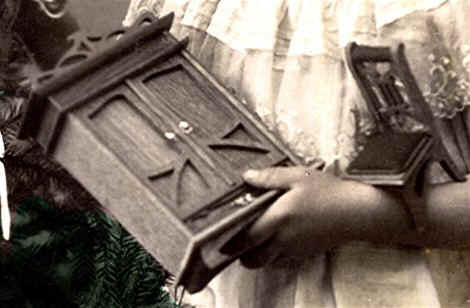 <![if !vml]>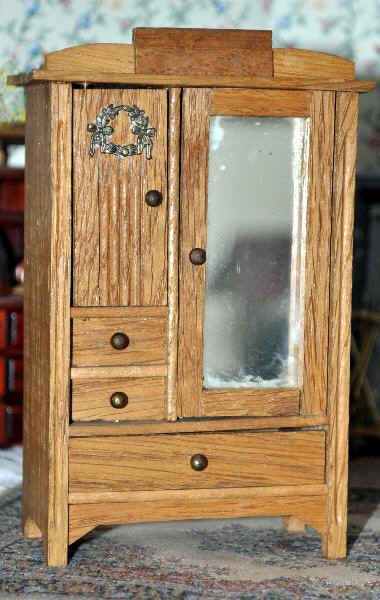 <![endif]><![if !vml]>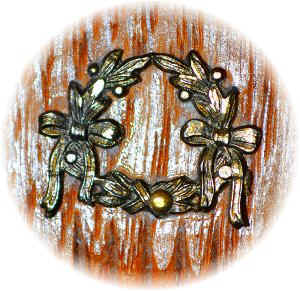 <![endif]>
c1910-c1920 oak wardrobe with a metal mount in the form of a wreath made of laurel leaves and berries, tied with ribbons and bows; the laurel was sacred to Apollo, patron of poetry and music; classical in style, pegs for hanging clothes behind the mirrored door
WASHING AND SUCH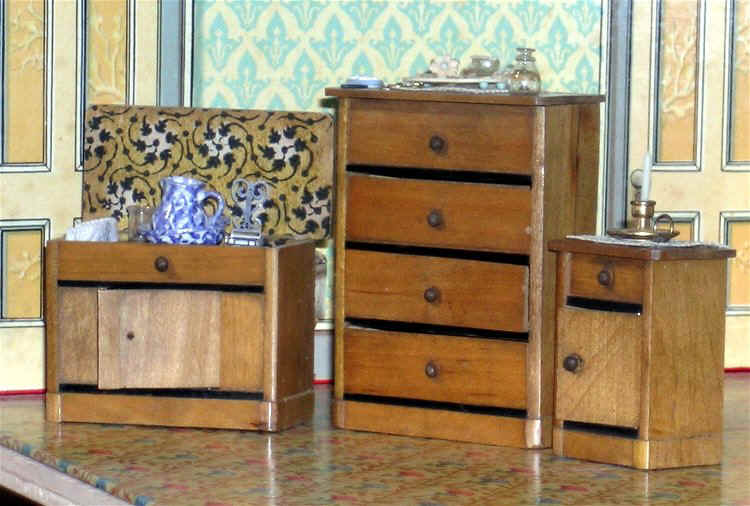 <![if !vml]>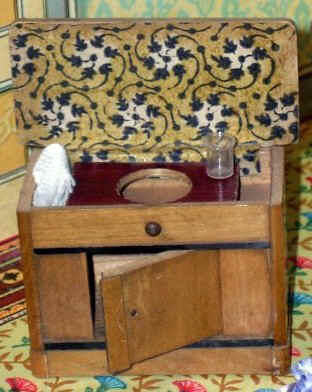 <![endif]>
c1900 an austere set relying on straight lines emphasized by black bands (representing ebony) and solid bases; the swirling wallpaper lining the inside lid of the washstand comes as a surprise, with an interior piece cut-out to receive the basin from a toilet set ; only 1¼" deep, all the drawers open in the chest of drawers
<![if !vml]>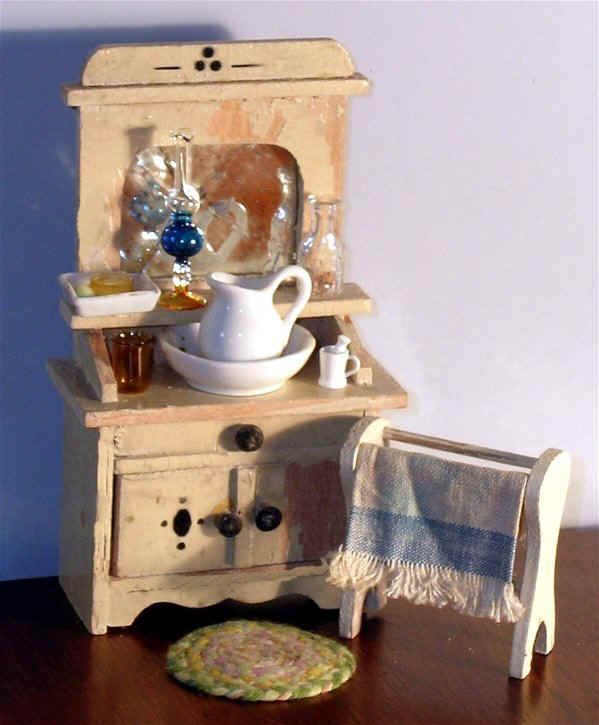 <![endif]>
right washstand, 6½" high, from a set of painted wood bedroom furniture; rack with early towel
<![if !vml]>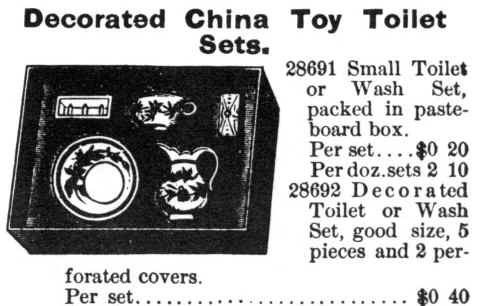 <![endif]>
1889 advertisement from Montgomery Ward catalogue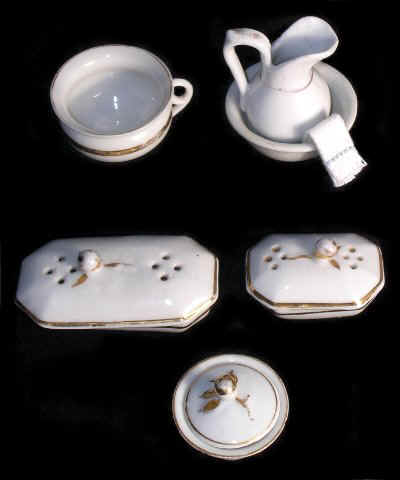 c1880s although too large in scale for most dollhouses, this toy toilet set shows the range of items found in expensive sets, including perforated covers for the soap and toothbrush dishes; unmarked, likely English in origin; gilt decoration added freehand as borders and in the form of leaves and stems for the 3-dimensional "roses" or knobs; longest lid 3" in length; (basin substituted from another set)
plumbing was unreliable and bathrooms often inconveniently located and chilly in the winter; toothbrushing and spot washing at a washstand in the bedroom, along with the convenience of a night chamber pot, continued well into the first three decades of of the 20th century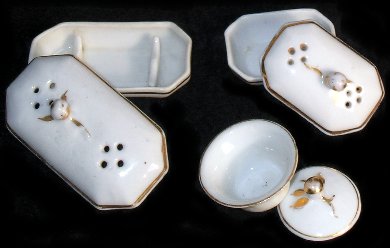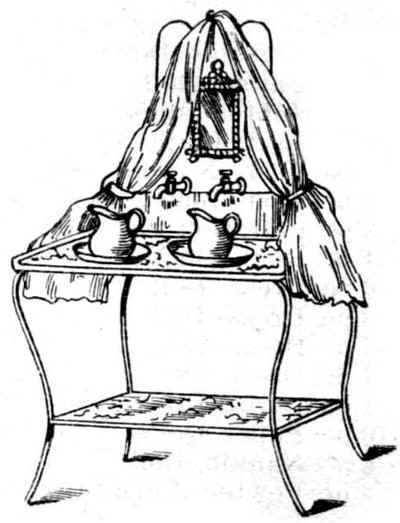 above 1905 tin washstand, 6 inches high; his and hers? -- two faucets for two jugs and basins; the draped material is perhaps toweling; Wiemann & Muench catalogue, Milwaukee, Wisconsin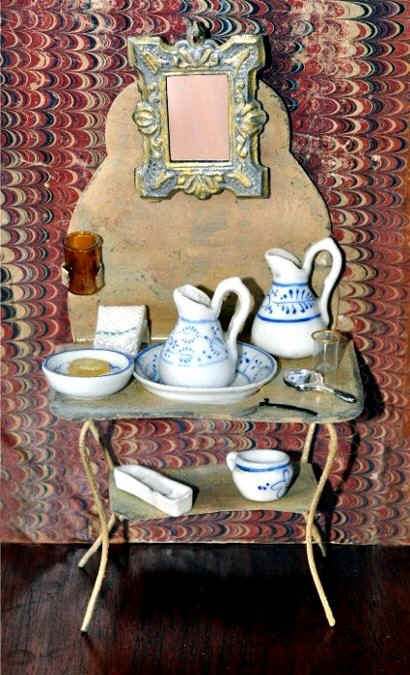 right c1905 tin washstand, 7 in. high to top of old (but not original to this stand) tin mirror, with blue-onion wash set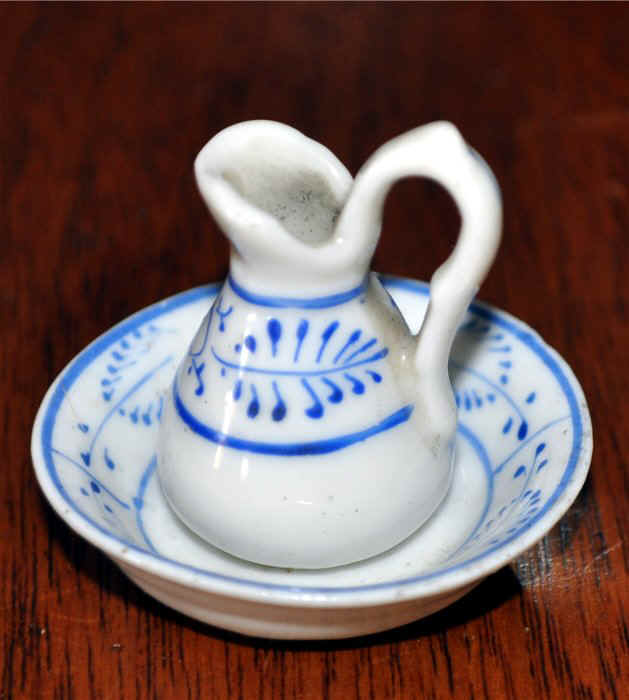 blue-onion china washset, German, jug 1½ in. high, see basin below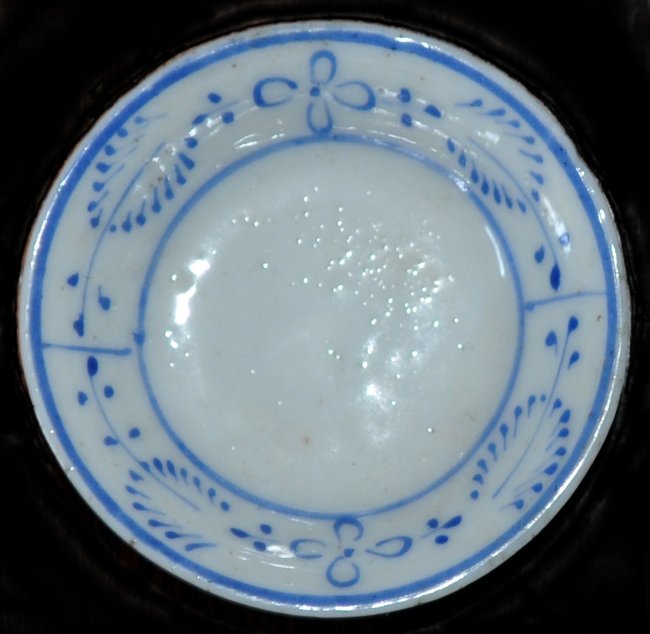 blue-onion, hand painted, wash basin, German, just over 1½ in. in diameter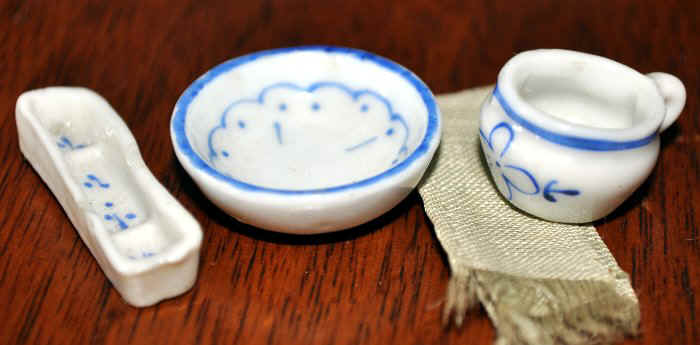 pieces from a blue-onion washset including chamber pot ½ in. high
<![if !vml]>
<![endif]>
<![if !vml]>
<![endif]>
Set of six pieces of a wash-set in its original cardboard box (3¼ in. dia.) with its padding, made in Germany, but stamped as sold by "J.C. Gilkes, Toy & Fancy Bazaar, 92 & 93 Broad St, Reading" (England). Never played with and retaining its original price tag. This was likely Joseph Charles Gilkes, born in Basinstoke Hants in 1855 and dying in Reading in 1940. He was living there by 1901.
<![if !vml]>
<![endif]>
<![if !vml]>
<![endif]>
<![if !vml]>
<![endif]>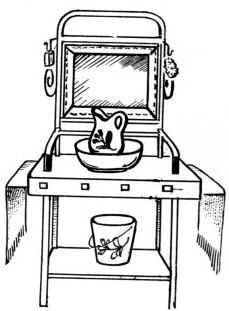 1914 metal painted and enameled washstand; complete with mirror, soap, sponge, towels, jug, basin and bucket; just under 9" high; Marshall Field catalogue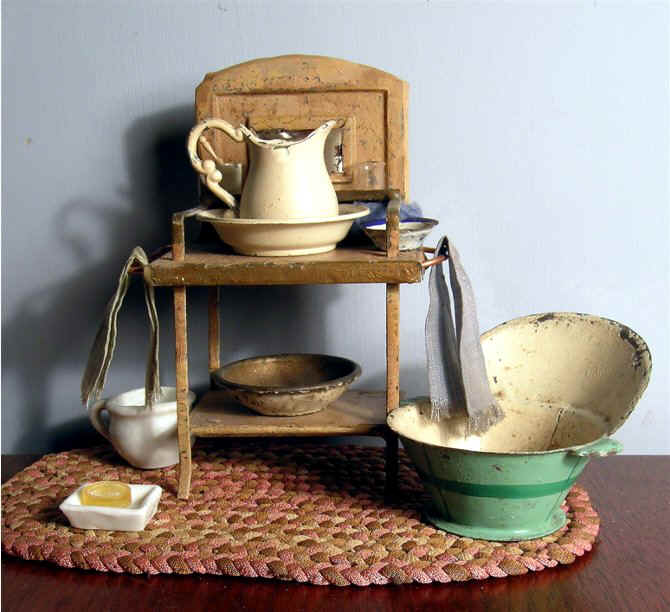 Above Painted tin wash stand, c1914, and with pieces from various sets; the tin basin on the lower shelf is original to the wash stand, which is 4½" high and has a mirror on the back splash plate; painted tin hip bath; china soap dish and chamber pot; braided mat; early towels
Below Painted and moulded metal (zinc?) jug and basin for washing (jug 1¼ " high)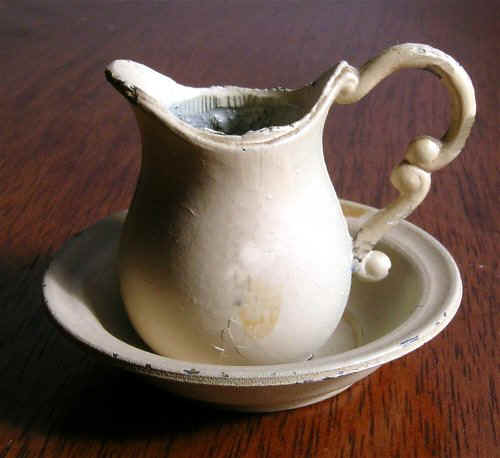 Below Tin jug, basin and soap dish, painted cream with blue trim (jug 1¼ " high)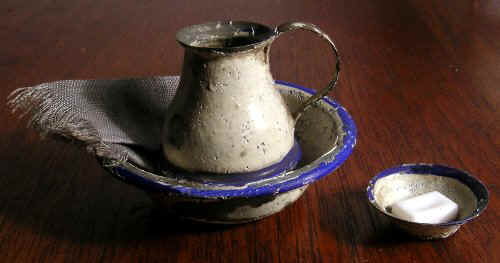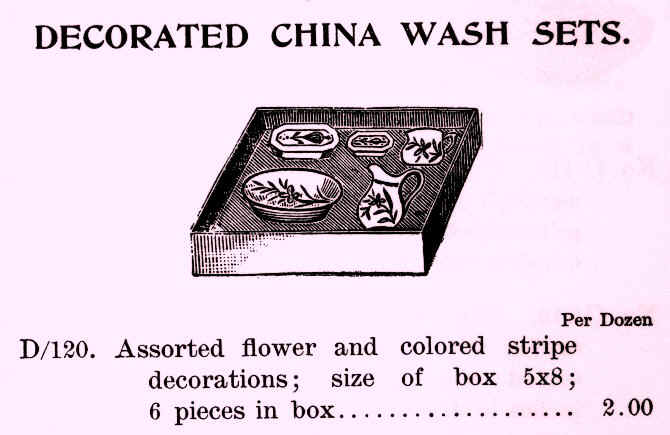 1893 Carl Stirn catalogue, New York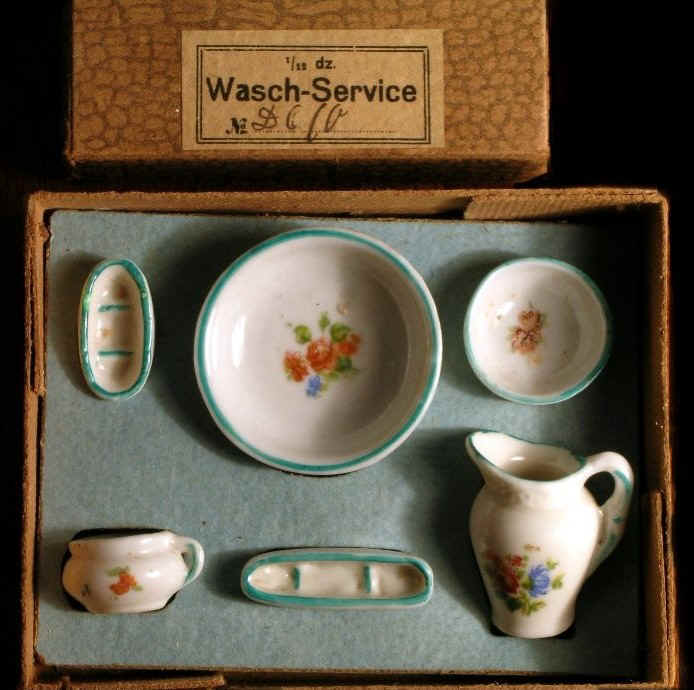 German china wash set in its original cardboard box, 4¼" x 3½"; basin 1½" dia.; it is difficult to find wash sets in a small enough scale to suit a dollhouse; displayed on a painted tin wash stand (below left)
<![if !vml]>
<![endif]><![if !vml]>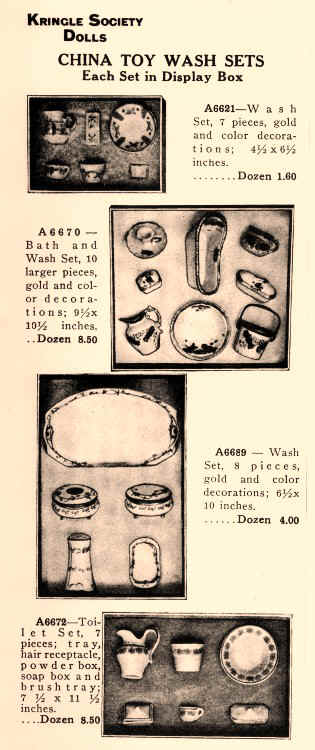 <![endif]>
1914 Marshall Field catalogue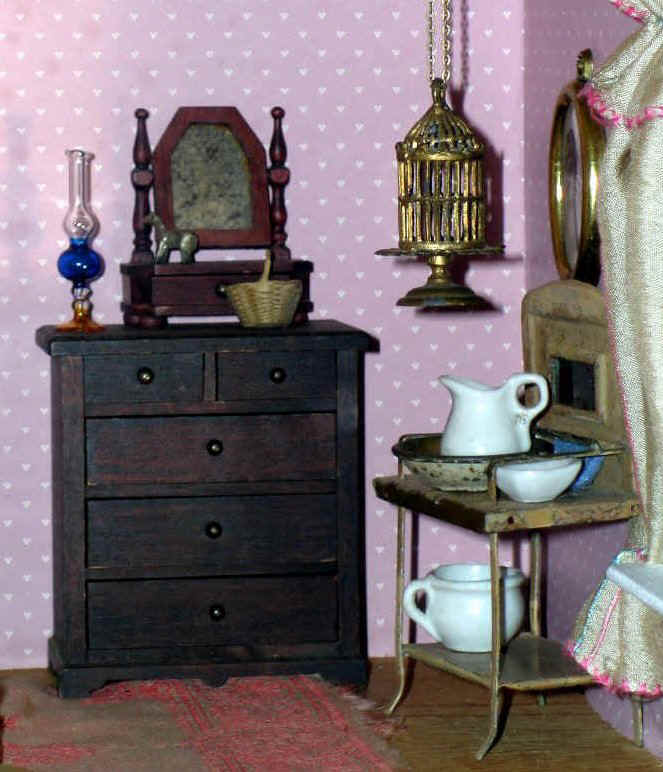 c1910 "red stain" chest of drawers with separate swing mirror; chest with paper label "Germany"
<![if !vml]>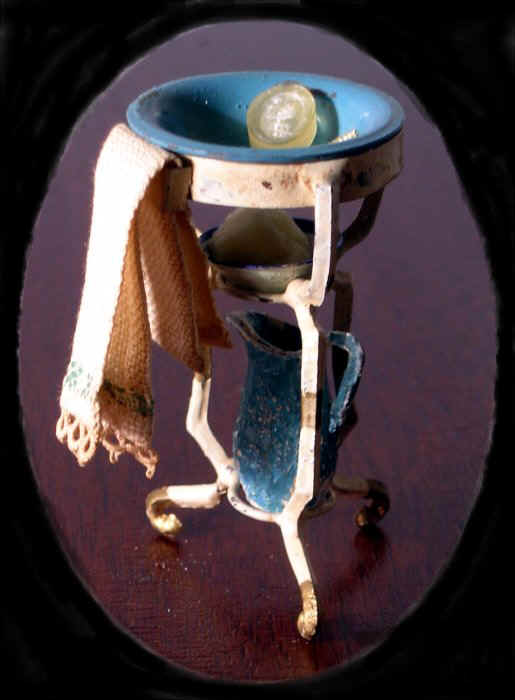 <![endif]>c1914 metal washstand painted white with gold accents; three legs with inward scrolled feet; rings to hold a washbasin, soapdish and jug; the blue enamel washbasin and jug are original; the soapdish is old but not original to this set; the embroidered towel with lace trim is original and hangs on a towel bar; the sponge is original, while the Pears soap is modern artisan; the stand is 2¾ inches high
<![if !vml]>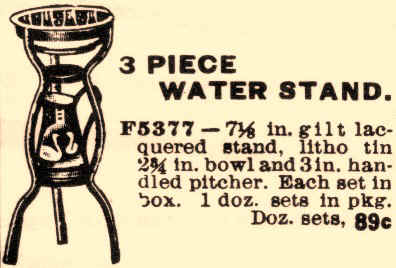 <![endif]>
1914 ad in Butler Brothers catalogue for a doll-size (over 7 inches high) "water stand" including a pitcher and bowl
<![if !vml]>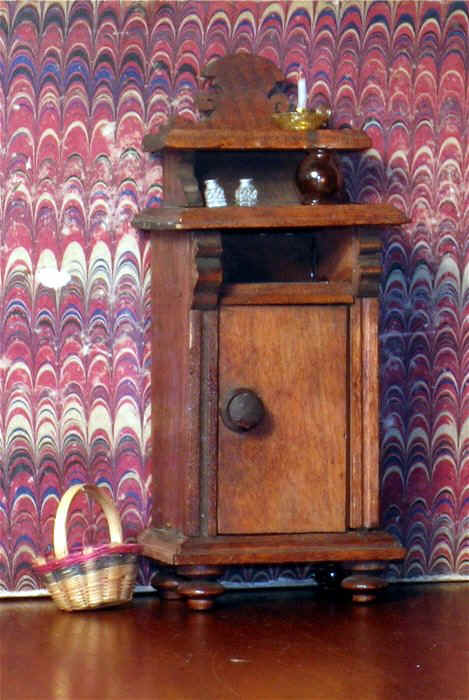 <![endif]>
c1880 washstand, 4¾" high, likely German
below back (right foot original); detail of crest further below
<![if !vml]>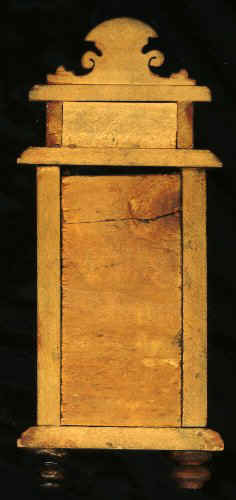 <![endif]>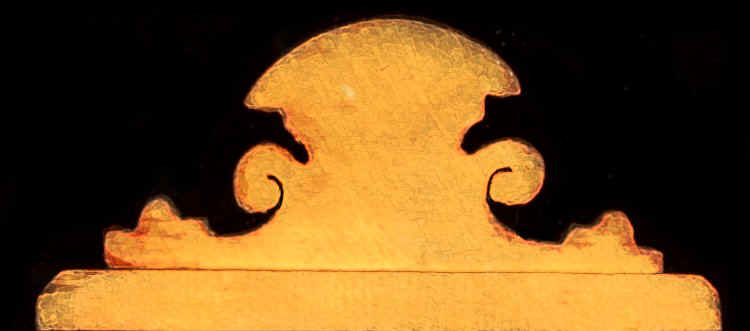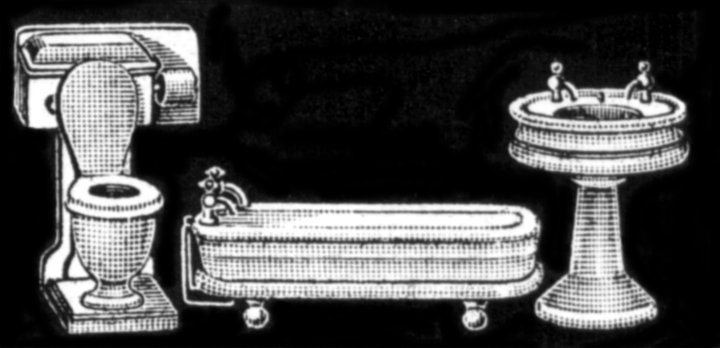 <![if !vml]>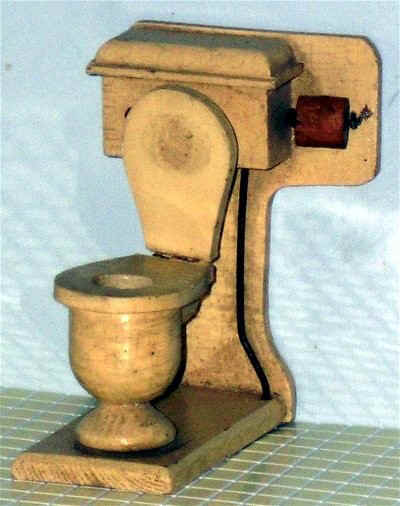 <![endif]> 1921 in the 1920s, bathroom fixtures finally became a standard offering in dollhouse furnishings (particularly in metal by Tootsietoy and Arcade - see History of Dollhouses, link at bottom of this page); something of the novelty is captured in the rhetoric of this 1921 Sears Roebuck ad (above) for a white enamel, wood set: "Has your doll house a bathroom?"; the set has metal faucets; tub about 6" long; toilet (right) about 4½" high with metal pipes and a toilet paper holder, which permits the "roll" (made from unpainted wood) to spin
<![if !vml]>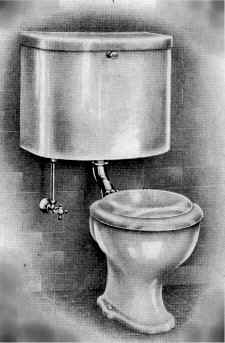 <![endif]>
<![if !vml]>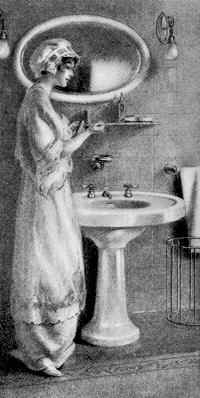 <![endif]>
pedestal sinks and free-standing tubs on feet are typical at this time, as seen in these images from a real plumbing catalogue <![if !vml]>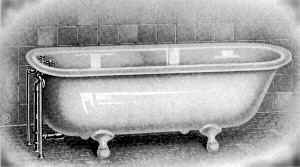 <![endif]>of the Robertson Company in Toronto, Ontario, pre 1920; however, tubs sitting flush on the floor are also illustrated and will soon take over, as built-in appliances and counters are a growing trend in the 1920s and '30s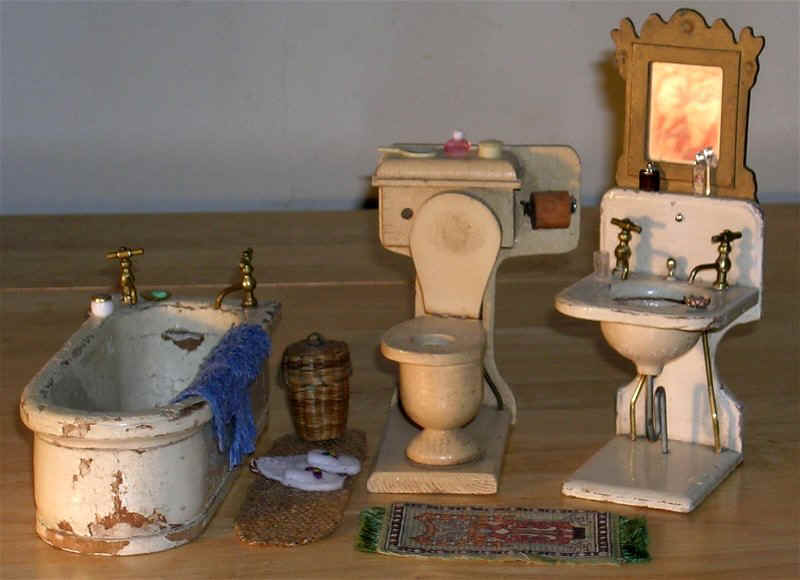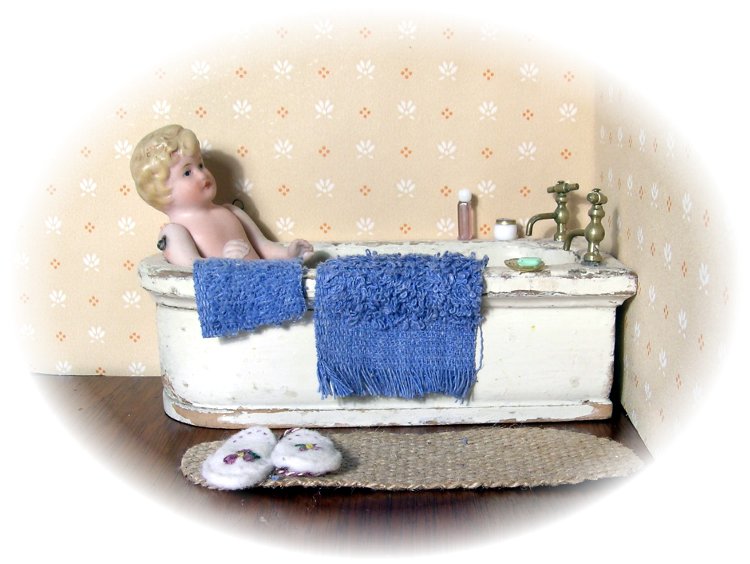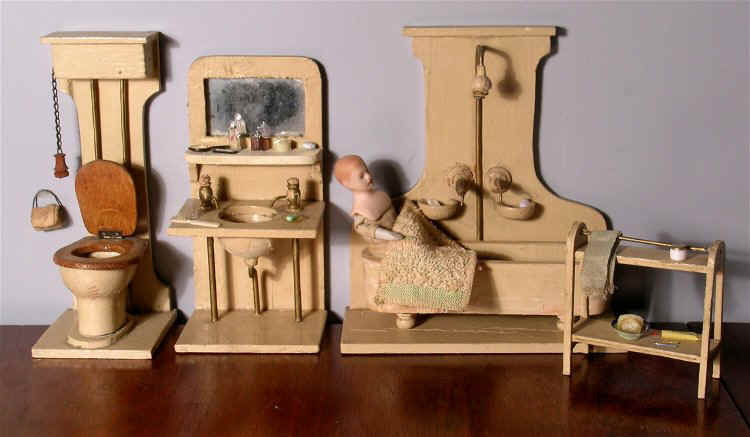 <![if !vml]>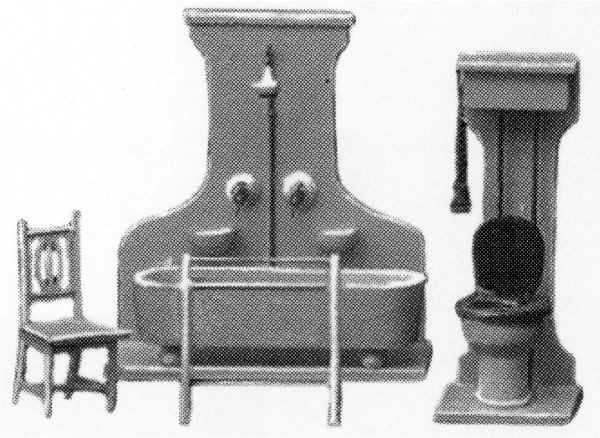 <![endif]>Four-piece bathroom set -- toilet, sink with mirror, tub on ball feet with shower, and towel rack -- made of wood and painted cream with gold accents and gold on "pipes"; exposed oak toilet seat and cover; the tub is independent of the shower part
Shown in the Gottschalk, Germany, catalgues from 1921 to 1925; thereafter, it was discontinued in favour of porcelain fixtures; seen with a sidechair, which appeared in the catalogues as early as 1912; in this 1924 view, the towel rack is in front of and parallel to the tub making the two pieces difficult to distinguish
<![if !vml]>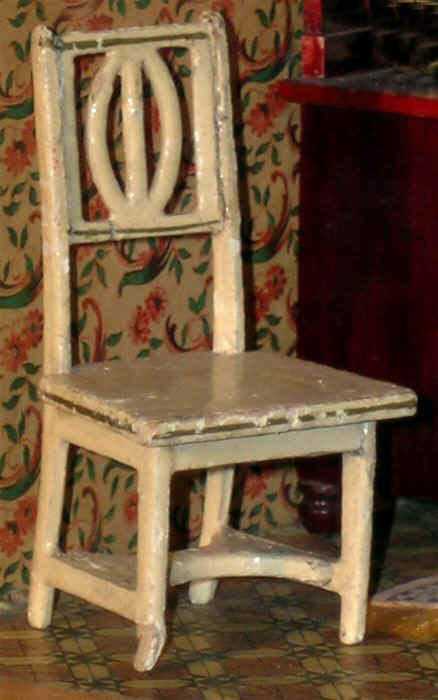 <![endif]><![if !vml]>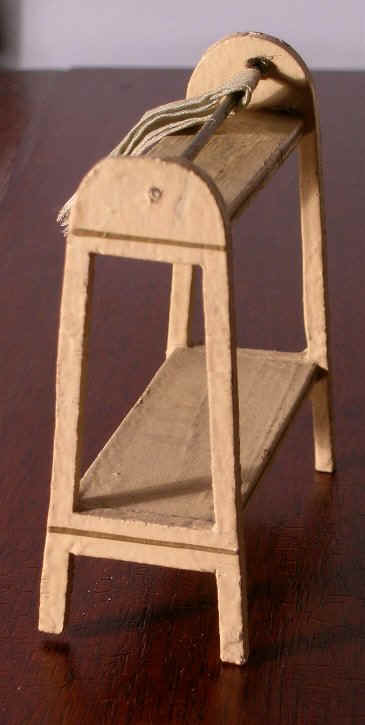 <![endif]>
below the towel rack, toilet, sink with mirror, tub and shower are squeezed into this Gottschalk dollhouse of 1921; the pieces took up a lot of space with their wall and floor sections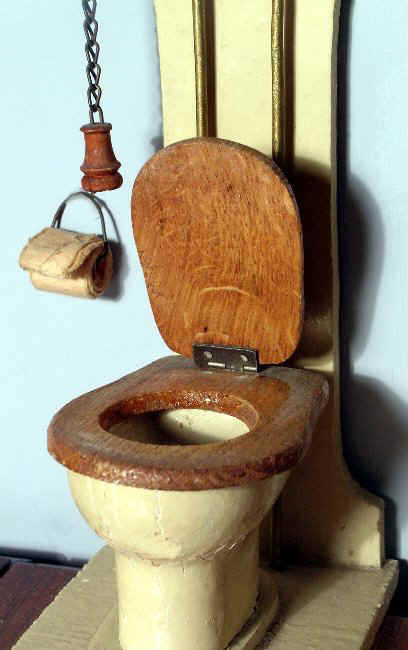 the toilet paper roll and wire holder are old but not original to this set; in the 1920 illustration below for a real toilet (James Robertson Co., Toronto) with a wall tank, the second pipe exits the partition a short distance below the tank to supply it and thus allowing the rest of the pipe to be out of sight; the visible pipe drains water from the tank to the toilet basin when the chain is pulled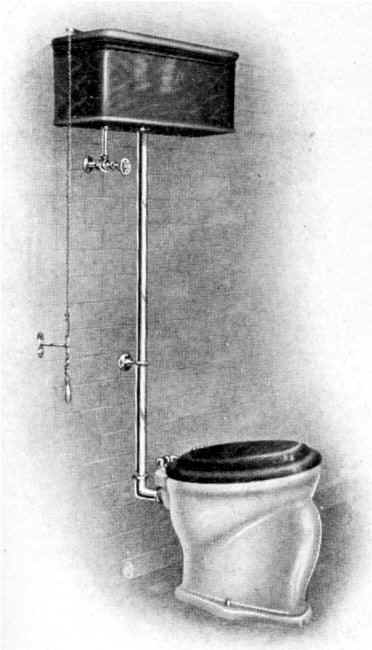 <![if !vml]>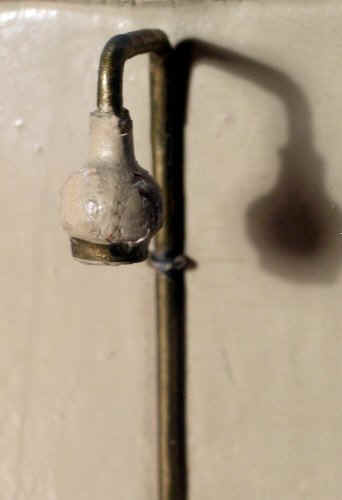 <![endif]><![if !vml]>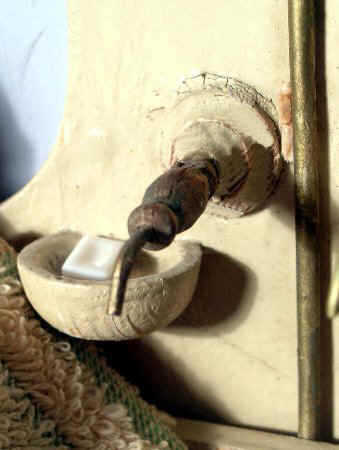 <![endif]>
shower head (turned wood painted cream and gold) and faucet (which is missing the metal upright handle visible in the catalogue illustrations); the pair of curved soap dishes are charming
<![if !vml]>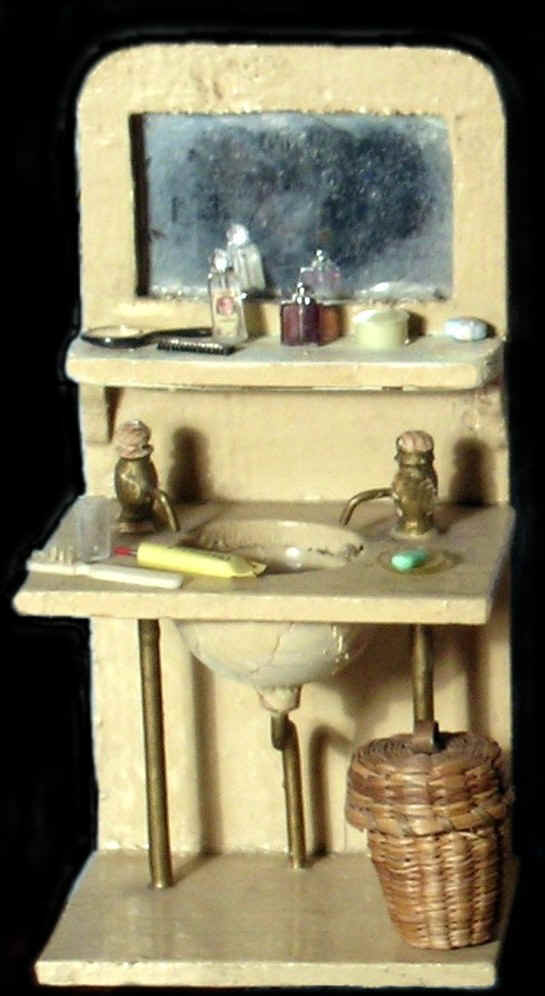 <![endif]><![if !vml]>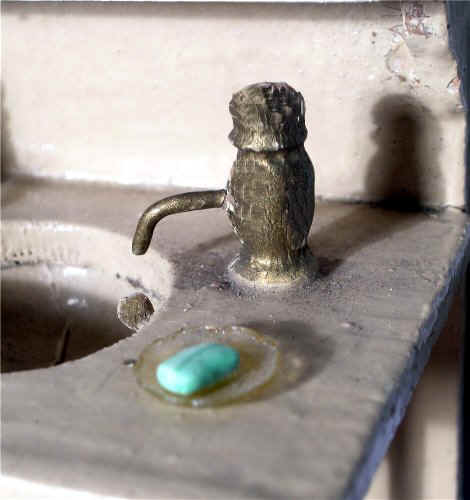 <![endif]>
sink with a detail of one of the faucets (turned wood painted in gold with a metal spout); note the knob to release the drain plug (the latter is not actually present); in this example, the shelf is a replacement but the pair of supporting brackets is original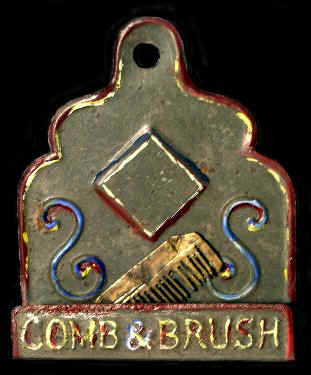 tin comb & brush holder for the wall; when the tin was new and shiny, the diamond likely acted as a mirror; 2¼ inches high
THE NURSERY
<![if !vml]>
<![endif]>
above painted metal baby's tub; attributed to Maerklin of Germany; fleur-de-lis faucet to drain tub, which rests on collapsible X base, with pail;  German maid in original uniform and baby; early linen towel
<![if !vml]>

<![endif]><![if !vml]>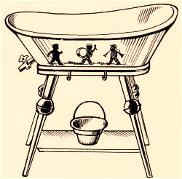 <![endif]>
 left 1914, large metal painted bathtub on stand; 10" long; Marshall Field catalogue
<![if !vml]>
<![endif]>
right 1924-26 Three metal tubs on legs, Der Universal-Speilwaren-Katalog,
 left 1924-26 Simple tub on wire legs, fleur-de-lis tap, Der Universal-Speilwaren-Katalog, compare with example below
<![if !vml]>
<![endif]>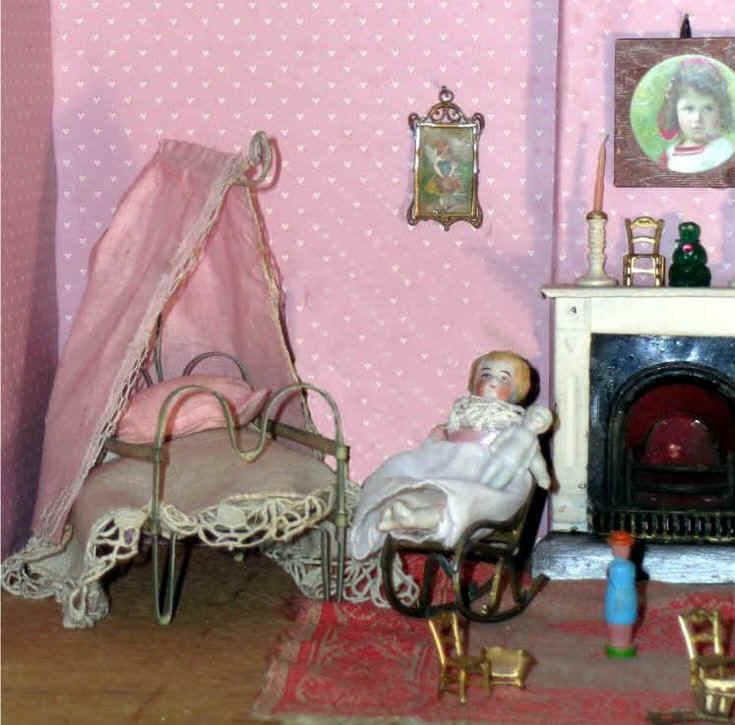 c1910s painted metal half-canopy child's bed with original drapery; little girl (in recent dress) on metal rocker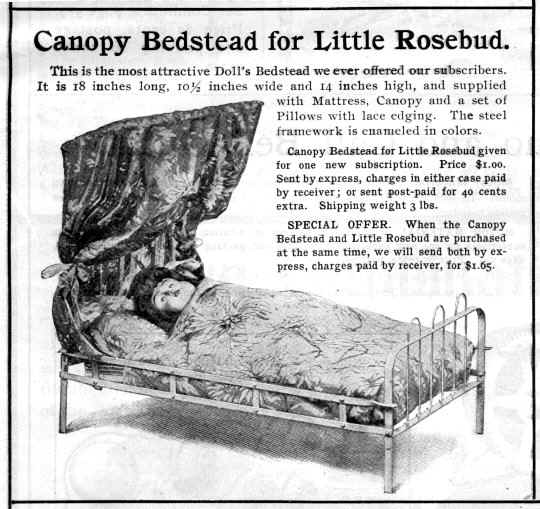 1901
although far too large for a dollhouse, this metal 18" long bed with a half-canopy shows how beds were dressed, including tie-backs for the curtains, which reach only to the mattress level; there is an upwards slanted, rectangular, open frame on which the draperies hang (such a frame is visible on the1922 doll's bed below sold by Sears Roebuck, lengths ranged from 14 to 30"); behind the metal headboard is more drapery (the head cloth); the bedspread (counterpane) is tucked in to allow the side rails to show; Youth's Companion
<![if !vml]>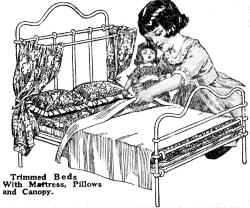 <![endif]>complete canopies and curtains on high post beds were no longer practical once central heating was available; the half canopy was a token remembrance of a past era, during which textiles were highly valued as part of a family's assets
right 1922

1905 baby carriage in pewter representing wicker; Wiemann & Muench catalogue, Milwaukee, Wisconsin
<![if !vml]>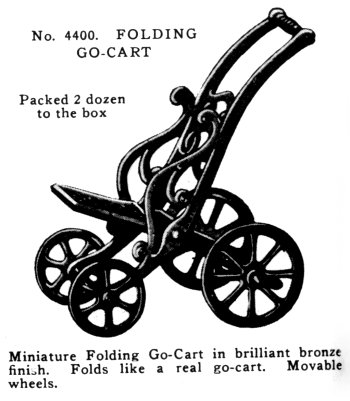 <![endif]>
right 1925
folding go-cart (stroller) in bronze finish over metal by Tootsietoy, an American firm; Tootsie catalogue # 46 by Dowst Brothers, Chicago
below 1925 folding metal go-cart, 3" long in open position; bisque little girl (2¾" high, original clothes) and pup, both marked Germany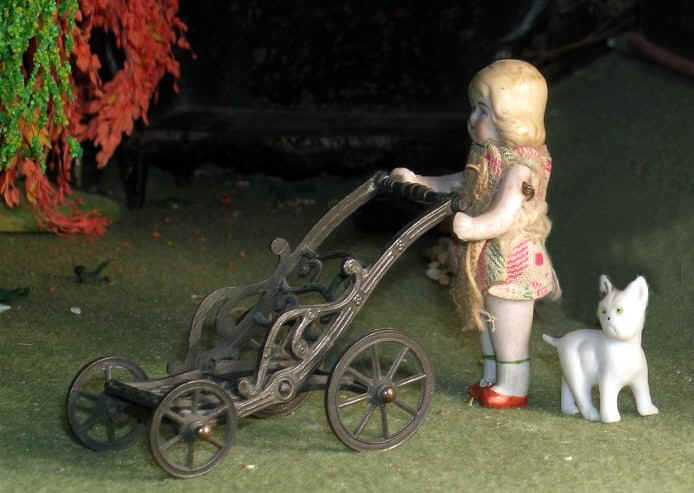 <![if !vml]>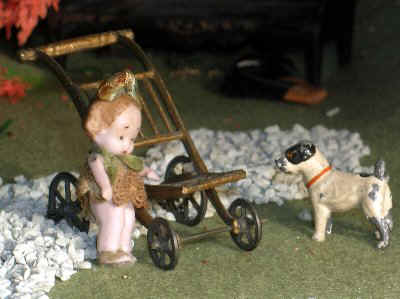 <![endif]><![if !vml]>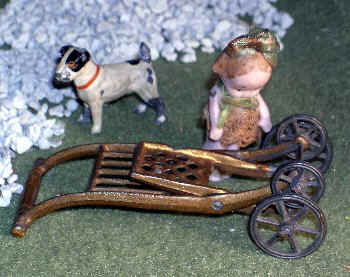 <![endif]>
c1920s folding go-cart, bronze finish over metal, 2½" long in open position, (not marked with maker's name or country); bisque toddler in original clothes and hair bow, 1¾" high; painted metal dog
MORE BEDROOM FURNITURE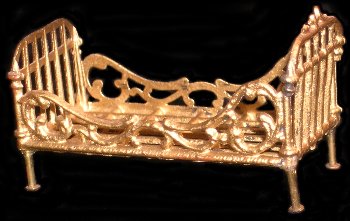 <![if !vml]>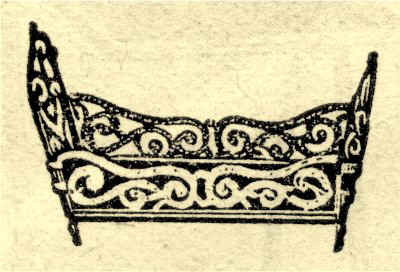 <![endif]>
c1900-c1920s, painted, soft metal Penny Toys; "brass" bed by Simon & Rivollet of France, 2½" long; some pieces are marked France; bisque girl with moulded bonnet and original cloth dress, 2" high
1905 pewter bed in Wiemann & Muench catalogue, Milwaukee, Wisconsin
<![if !vml]>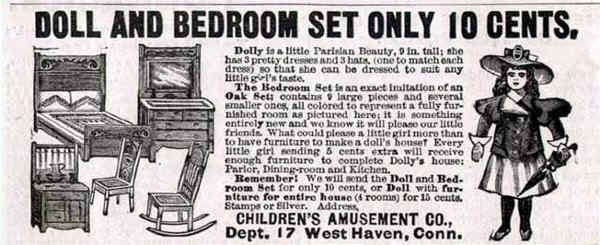 <![endif]>
1903
oak bed with a tall head board

1905 oak bedroom set (Montgomery Ward catalogue) including 2 sidechairs, a table and a rocking chair; the chair backs will evolve into a type popular into the 1920s but here the chairs retain the older form of turned legs and fringe trim; the chiffonier has the old fashioned, wide, turned feet; the table with a base composed of two flat, cut-out, thin, spliced pieces of wood continues in the next decades -- compare with the advertisement below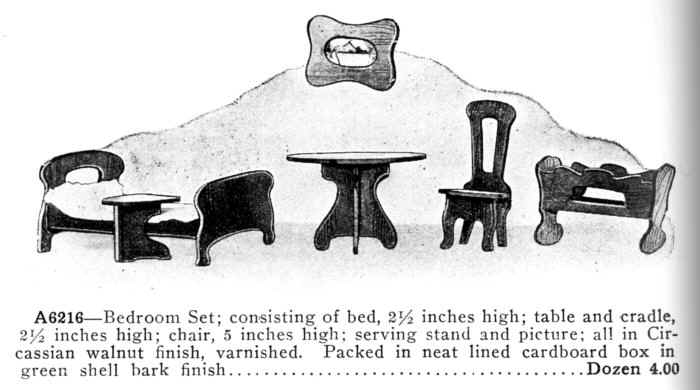 1914 bedroom set in varnished walnut finish including a picture, cradle and "serving stand" (fitting on the bed); the fringes and turned legs or feet have been abandonned in favour of sawn wood; Montgomery Ward catalogue
<![if !vml]>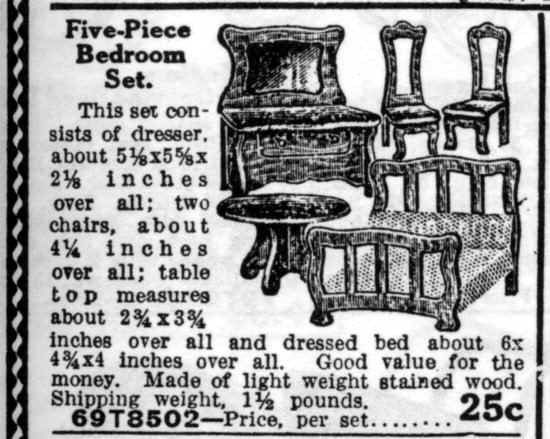 <![endif]><![if !vml]>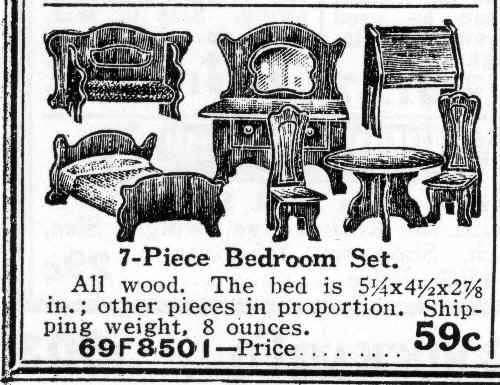 <![endif]>
1919 on left and 1921 on right, which includes a sofa and desk; both Sears Roebuck catalogues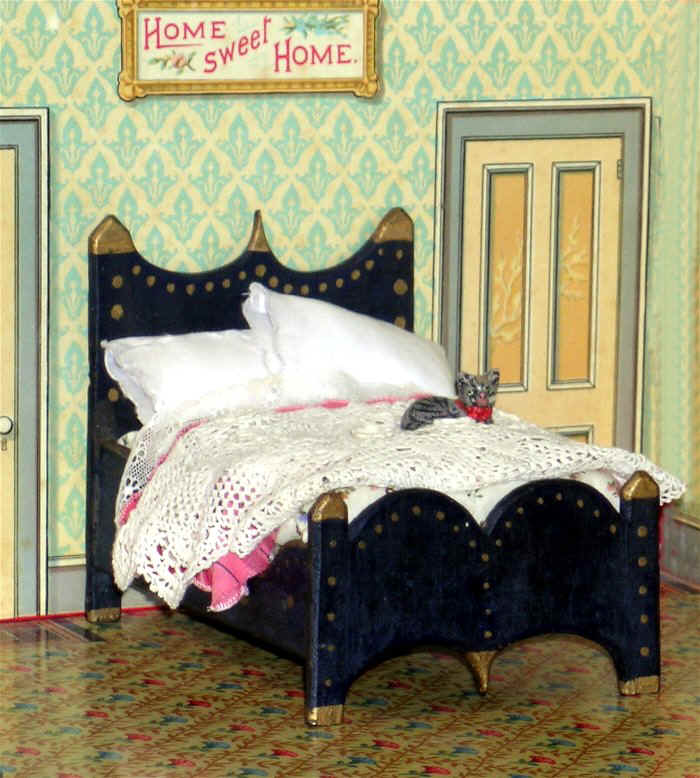 unusual painted wood bed with pronounced curves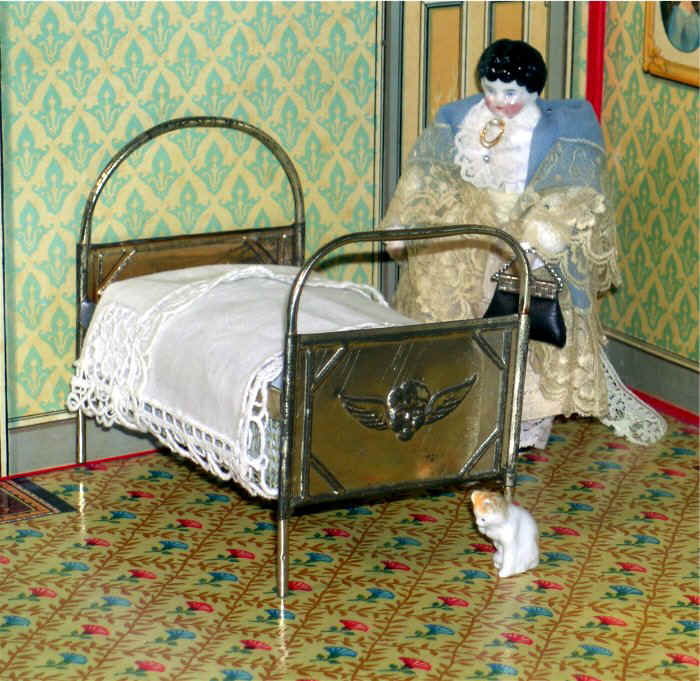 metal bed with cherub head on end board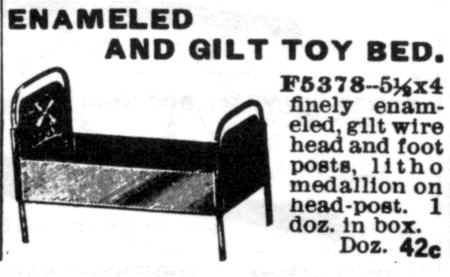 1914     Butler brothers catalogue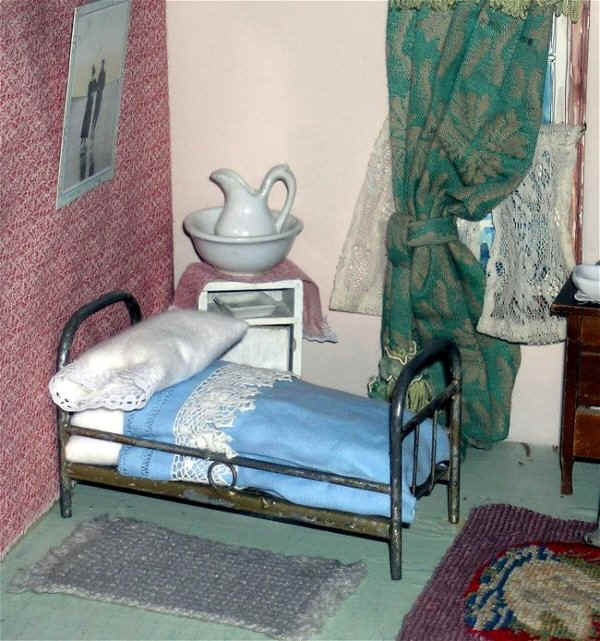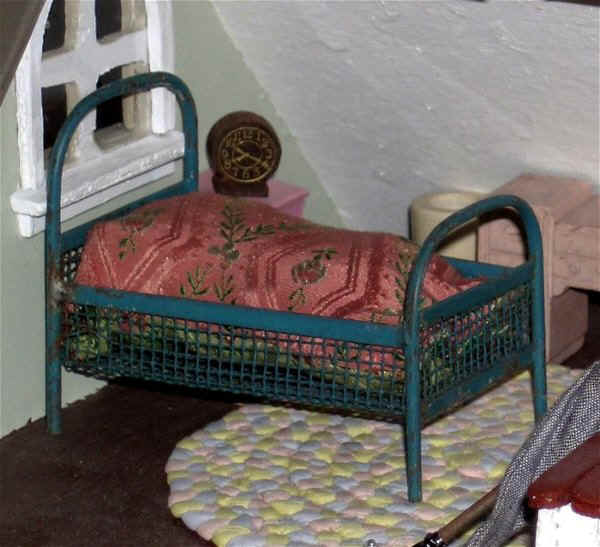 <![if !vml]>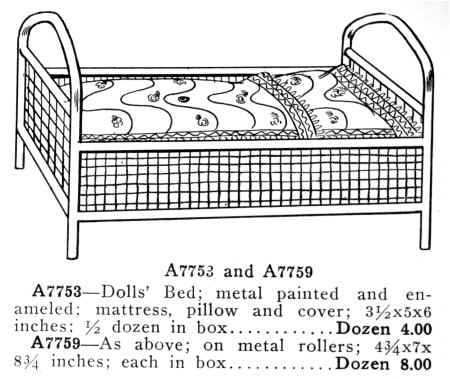 <![endif]>
1914
painted metal with mesh mattress support; Marshall Field catalogue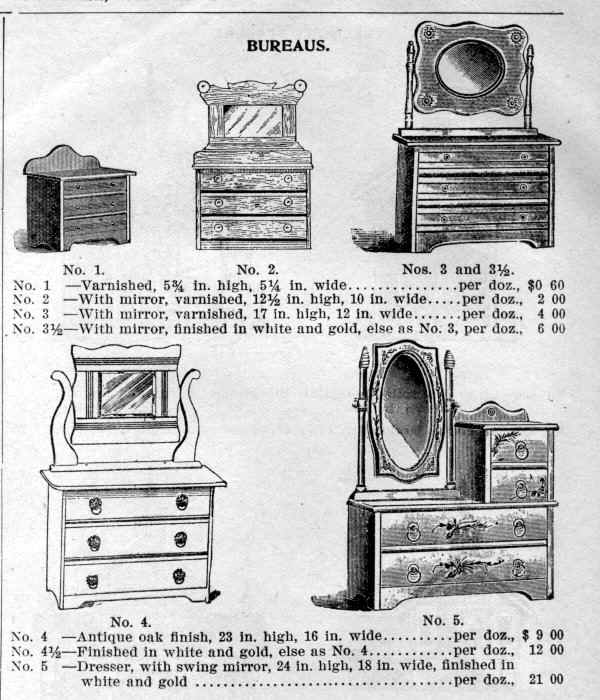 1905 although only one of these chest of drawers is small enough to fit into a dollhouse (upper left corner), they are a good indication of styles then popular; despite the use of curves and scrolls, there are also straight lines, sometimes appearing like reeding, as on the lower left chest's mirror, extending to the edges of the boards, as seen in Charles Eastlake's Hints on Household Taste of 1878; Wiemann & Muench catalogue, Milwaukee, Wisconsin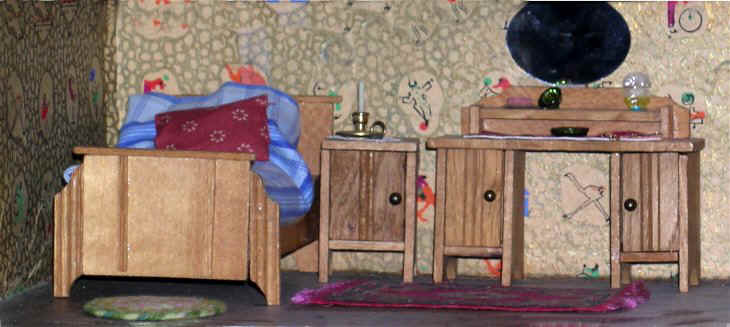 c1920s; "Made in Germany"; note use of parallel straight lines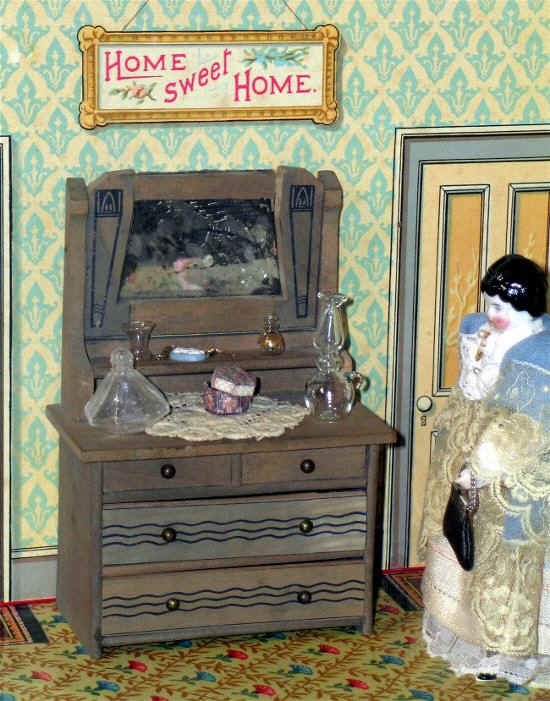 <![if !vml]>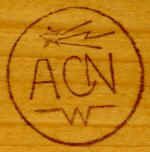 <![endif]>
stamp on back; (top horizontal board replaced); part of a set (see also The Parlour in section 5); 6" high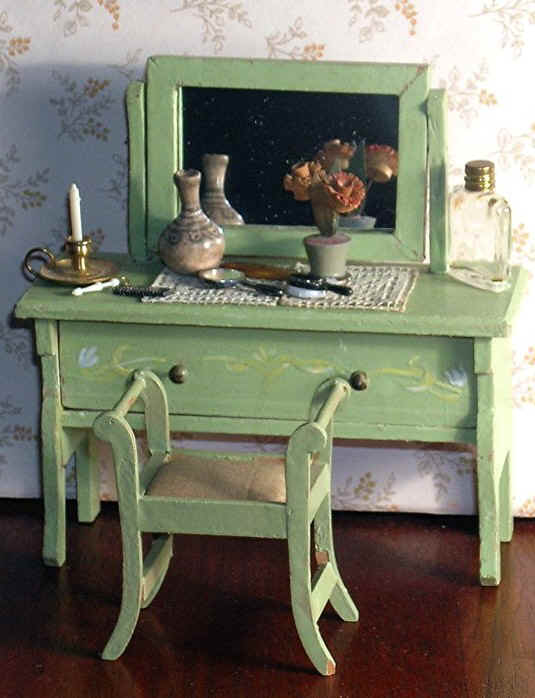 c1910-20 dressing table and stool, marked "Germany", painted green with impressed floral design on drawer, swing mirror
<![if !vml]>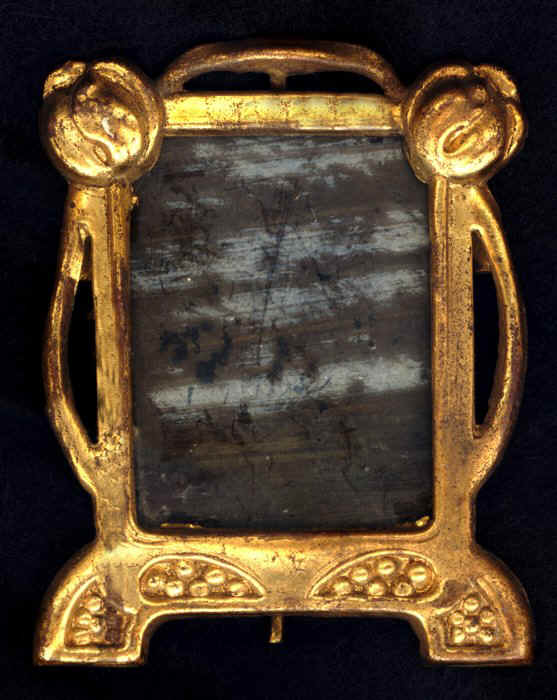 <![endif]>
<![if !vml]>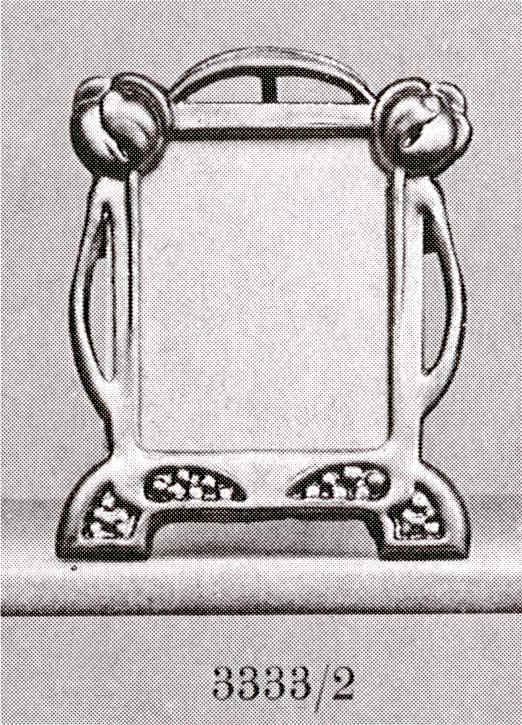 <![endif]>
ormolu mirror by Erhard & Söhne, Germany, shown in an undated catalogue but likely early 20th century; stylized tulips at top corners; 1½ inches high
<![if !vml]>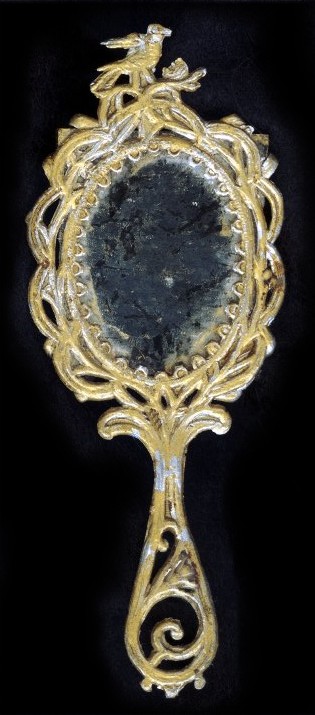 <![endif]><![if !vml]>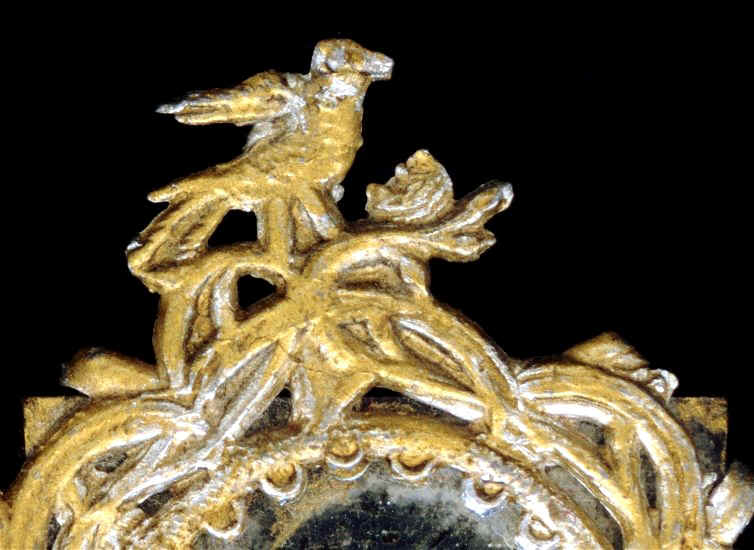 <![endif]>
hand mirror, painted metal, origins unknown, early 20th century; bird fluttering at top; 2½ inches long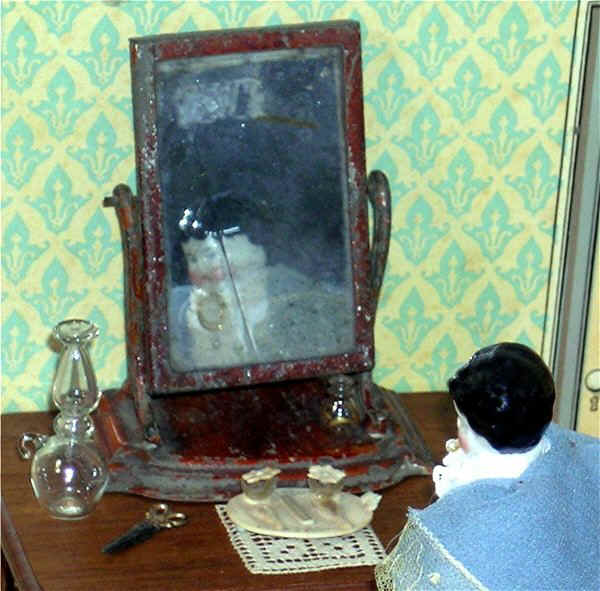 false-grained over tin; 3¾" high; signed on bottom but difficult to read
PLEASE CLICK HERE TO CONTINUE TO THE NEXT SECTION OF THE GALLERY OF IMAGES (everything else! such as sewing, accessories….)
 top of page home page history of dollhouses
dolls for dollhouses 1 lights for dollhouses
references on dollhouses & miniatures GALLERY of IMAGES 1
GALLERY OF IMAGES 2 GALLERY OF IMAGES 3
GALLERY OF IMAGES 4 GALLERY OF IMAGES 5
GALLERY OF IMAGES_7 GALLERY_OF_IMAGES_8 INDEX of GALLERY