section 4: cooking & eating: kitchens & dining-rooms 1880s to 1920s images & photography: Jennifer McKendry ©
home page GALLERY of IMAGES 1 GALLERY OF IMAGES 2
GALLERY OF IMAGES 3 GALLERY OF IMAGES 5
GALLERY OF IMAGES 6 GALLERY_OF_IMAGES_7 GALLERY_OF_IMAGES_8
INDEX to GALLERY History of Dollhouses article
cooking: THE KITCHEN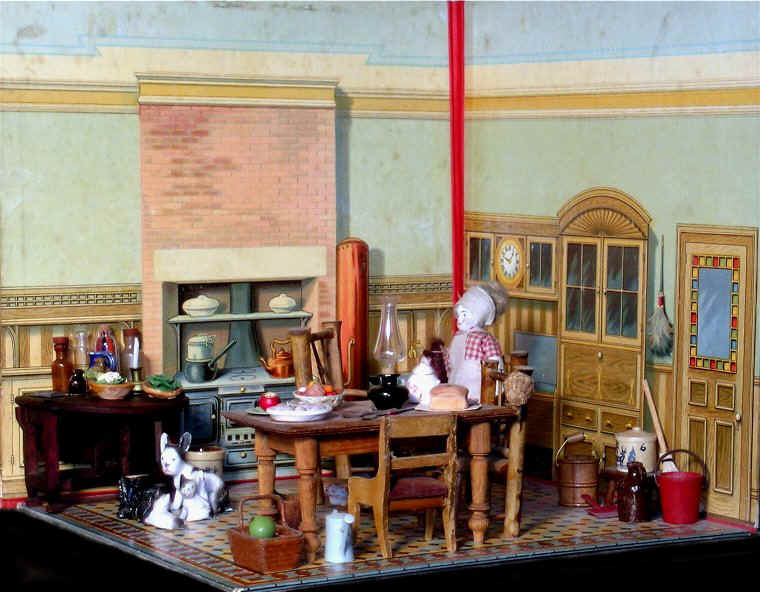 1894 the American firm McLoughlin produced a set of 4 rooms with lithographed walls showing the furnishings and decor enjoyed by the urban upper classes; even the kitchen -- the realm of the cook and maids -- was handsomely appointed, including an attractive tiled floor, striped wainscoting topped by a shelf supported on iron brackets and fronted by latticework; German furnishings c1890-c1920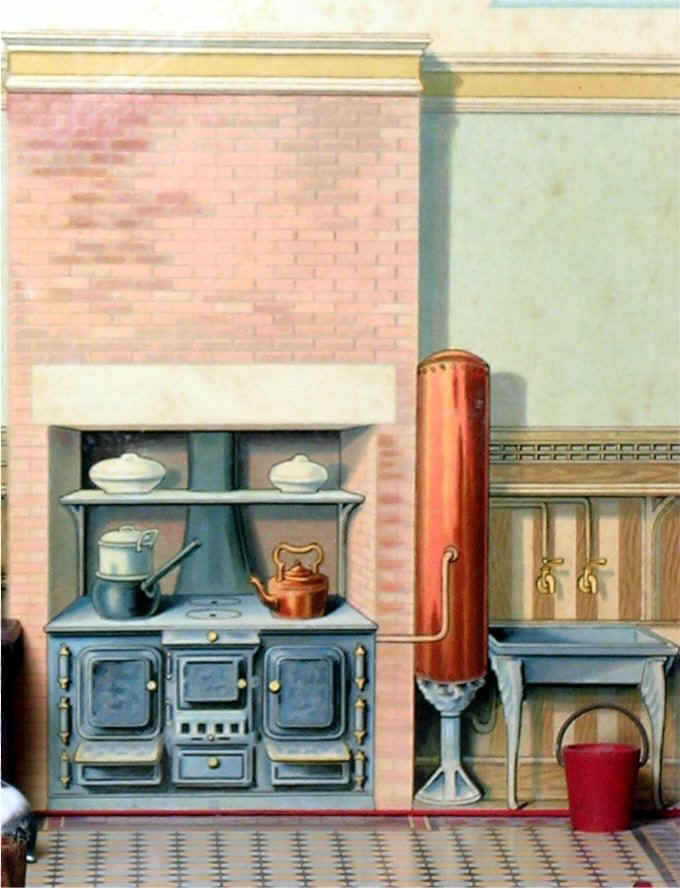 1894 the iron range, probably heated with coal and set into an exposed brick chimney, has a warming shelf with covered china serving pieces waiting to be taken into the dining room; there is a large copper kettle and a metal double-boiler on the range cooking surface; a boiler in the range provides hot water to the vertical copper reservoir, raised on an iron pedestal and feeding the sink by an exposed pipe; the faucets are affixed to the wainscoting above the sink; cold water, stored in a tank in the attic, descends by gravity down pipes; a hand-pump, perhaps in the cellar, may exist to force water through pipes to the upper floor bathrooms; by this time, independently heated hot-water tanks also existed, usually fired by gas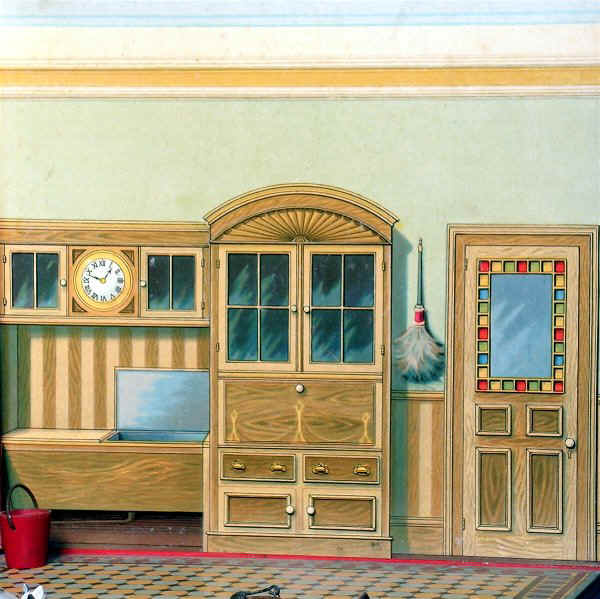 1894 there is a glazed hanging cupboard with a clock over the ice box, which has a pipe to drain off excess water from melting ice in the zinc-lined receptacle (more common at this time were vertical free-standing wooden iceboxes lined with zinc -- examples are shown further below); a tall wood kitchen cupb<![if !vml]>
<![endif]>oard with glazed upper doors for the more visually attractive kitchen dishes, a hinged flap for extra work space, drawers and panelled doors discretely hiding the more utilitarian kitchen accessories; a feather duster hangs between the cupboard and the panelled door with its colourful glass trim leading to the passage (hall) to the dining room
<![if !vml]>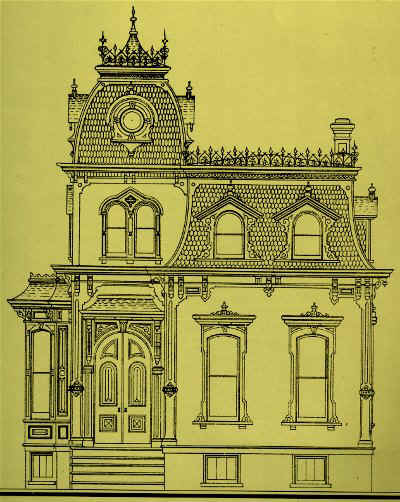 <![endif]>
1878 typical, upper middle-class American houses with a parlour joined by a double archway to the dining room; a short passage (hallway) leads from the dining room to the kitchen (direct access between kitchen and dining room was usually avoided -- separating the spheres of servants and the family); the kitchen has a sink and built-in range; there are two pantries (usually not incorporated into dollhouses) -- one off the dining room and the other off the kitchen, which has a back or service door near an outdoors cistern; Bicknell's Village Builder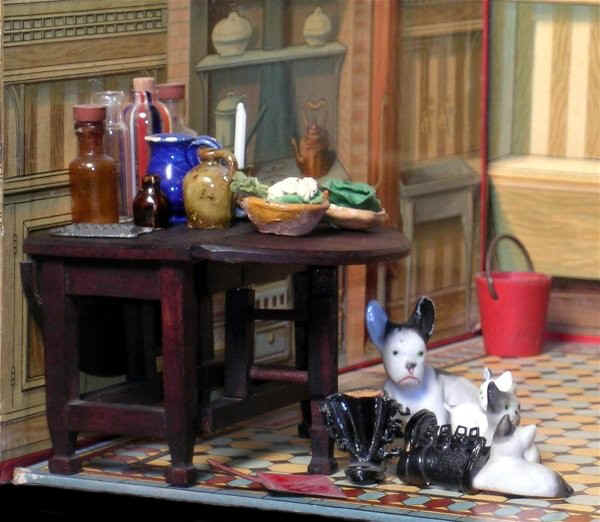 old glass and earthenware crocks, bottles and dishes on a "red-stained" drop-leaf, gate-leg German table c1910 guarded by a mother dog and her pups; when not in use, most of these dishes would be stored in an adjacent pantry; portable tables with leaves were particularly useful depending upon how much activity was taking place in the kitchen; red wood bucket c1940s
<![if !vml]>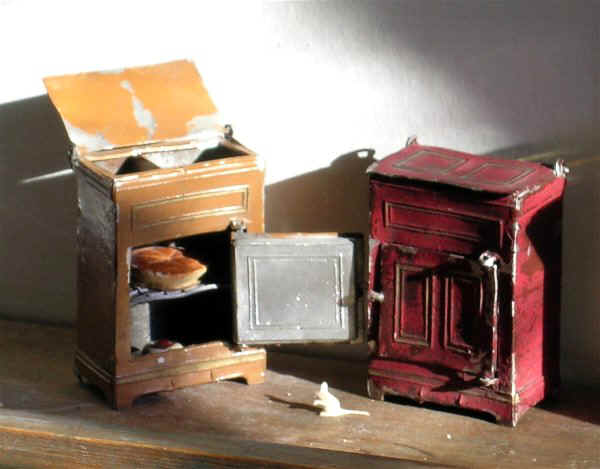 <![endif]>
c1900 two small ice boxes made from painted soft metal in a panel design; lid lifts to reveal two compartments for ice, thick ("insulated") door opens for food storage area, which is lined with zinc and has a open-weave metal shelf; just under 2½" high, German
<![if !vml]>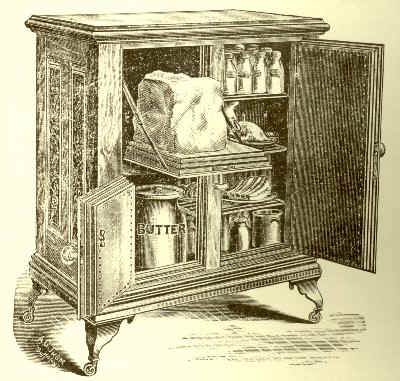 <![endif]>
advertisement of a New York firm selling ice-boxes in 1880 showing the use of panelling and thick doors, which are swung open to show a block of ice, milk bottles, meat, butter crock and other smaller crocks and bottles (in Bicknell & Comstock's Specimen Book of 100 Architectural Designs)
<![if !vml]>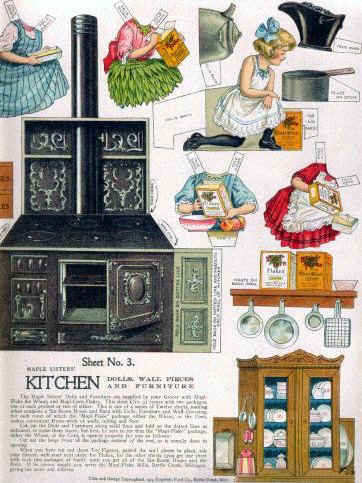 <![endif]>
1911 Maple Sisters paper dolls and furnishings showing an iron kitchen range, coal scuttle (upper right corner), iron kettle and cooking pot, wood wall shelf holding cereal boxes and hooks for hanging pots and a griddle, kitchen cupboard with glazed doors exposing a set of china dishes, cooking accessories are hung on its side and on the wainscoting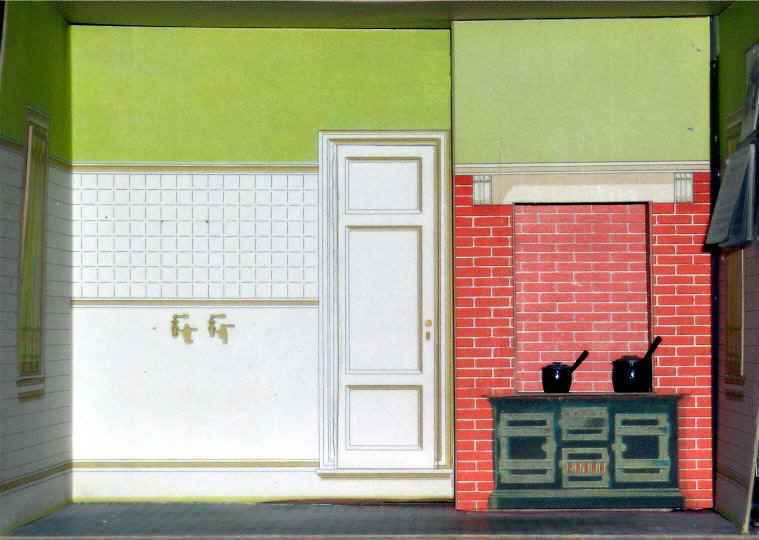 <![if !vml]>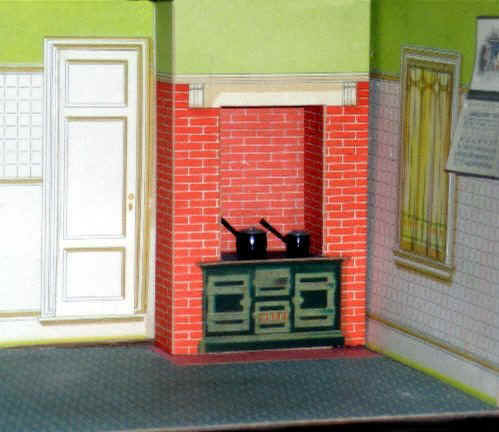 <![endif]>1913 kitchen of Betty's Bungalow, a lithographed cardboard house made in the U.S.A. The iron range is set in a wide, exposed red brick chimney, the opening of which is topped by a white painted shelf, supported on a pair of curved wood brackets. The range has no metal chimney -- probably an oversight (the huge brick chimney rising over the roof indicates the use of coal or wood rather than gas). A brick hearth protects the floor area immediately in front of the stove. The floor is blue and white tile (or patterned linoleum). The upper walls are painted green, while the remaining wall area is covered in white tile. The woodwork is painted white. A pair of faucets are positioned on the wall to serve a sink, supported on legs (not in position). Transparent yellow curtains are hung on the windows.
<![if !vml]>
<![endif]>1921 in this apartment kitchen in New York, a hanging plant is positioned between the curtained windows and the lower walls are covered with white tile; the furnishings are dated by our standards -- there is an ice-box instead of a refrigerator, a free-standing tall cupboard instead of built-in hanging cupboards and counters and a gas stove on tall legs instead of the box-like stoves of today; domestic help is still customary -- including a maid and Sally the cook; from a cardboard set "This 4 Room Apartment..with 'Invisibles' Cut-Out and Paint...", New York, 1921-23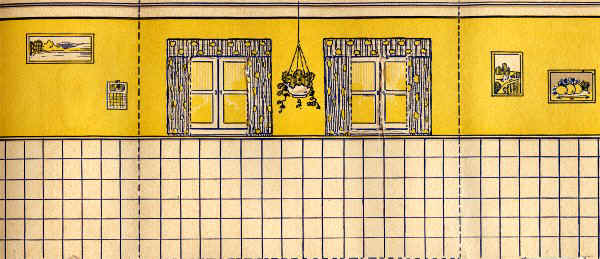 COOK STOVES
In the meanwhile, many houses -- well into the 1930s -- in Canadian and American villages and in thecountry had iron cook stoves, which used split wood as the fuel. They were offered as an alternative cooking apparatus (to gas and electric stoves) for dollhouses in toy catalogues until about 1930.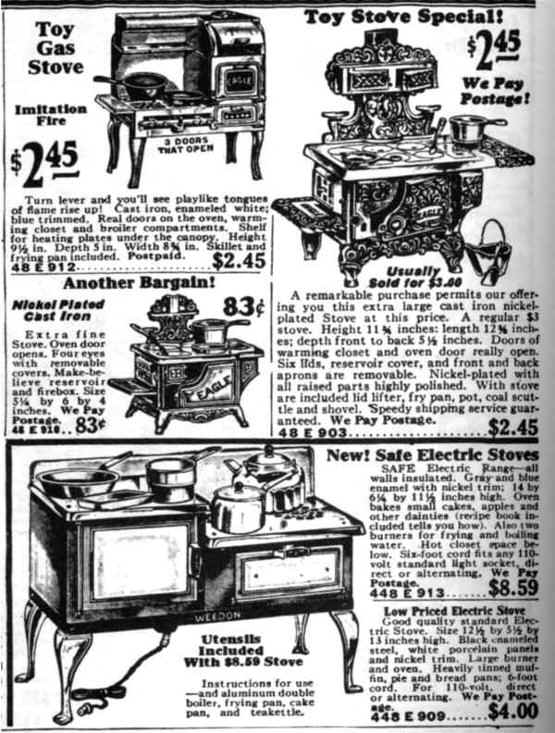 1930, Montgomery Ward catalogue
<![if !vml]>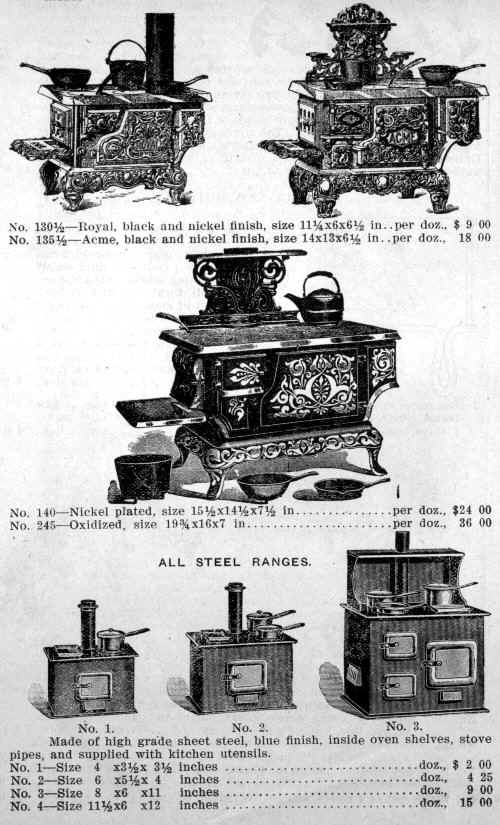 <![endif]>
1905
the fussy detailing of the Eagle woodstove in the 1930 ad (above) echoes that of the Acme model from 25 years earlier and resembles even earlier stoves; models shown here include Royal and Acme; many are too large for dollhouses; Wiemann & Muench catalogue, Milwaukee, Wisconsin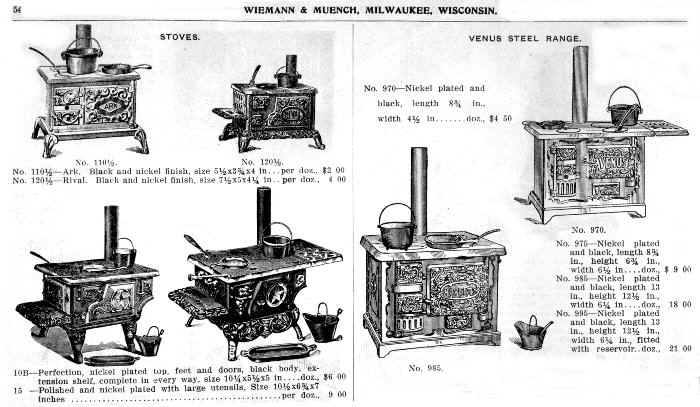 1905 note the pots, frying pans, coal scuttles and long griddles, as well as the lifters for moving the burner plates on the cooking surface; models include Ark, Rival, Venus, Novelty; Wiemann & Muench catalogue, Milwaukee, Wisconsin
1903 kettle, pots and frying pan for toy stoves, Montgomery Ward catalogue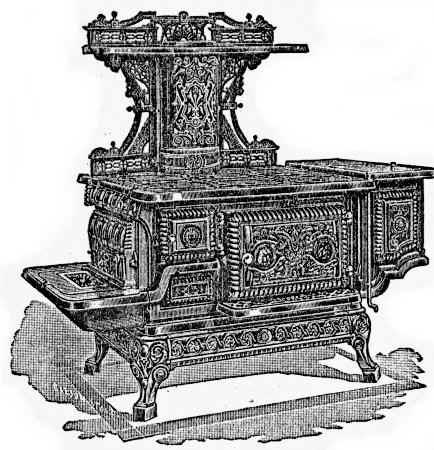 1887 ad for a real cast-iron cookstove in Canada with a fancy upper area, as seen in the toy stove below left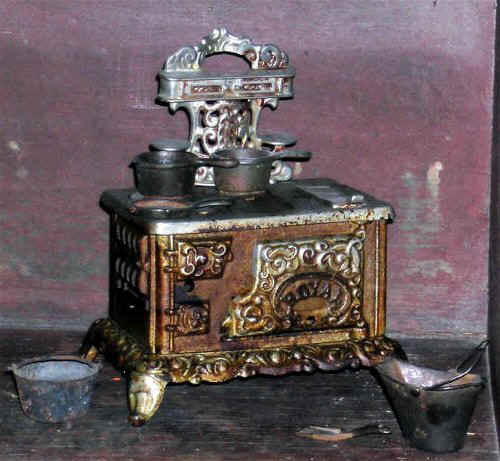 c1915 "Royal" cook stove, made in Kenton, Ohio, with hot water reservoir and warming ovens on stove-pipe portion, 8½" high (missing side extensions)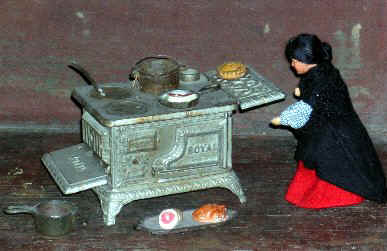 c1915 "Royal" cook stove, made in Kenton, Ohio: retaining its side extensions; 3½" high
<![if !vml]>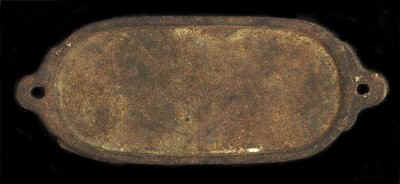 <![endif]>
left long iron griddle, as seen in ads of 1905 (see further above), just over 4" long
<![if !vml]>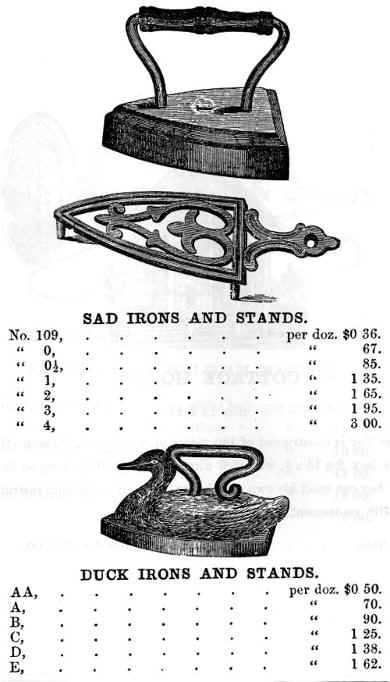 <![endif]><![if !vml]>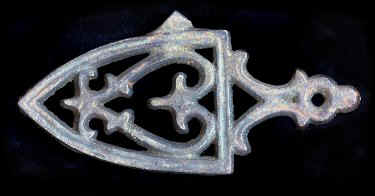 <![endif]>
<![if !vml]>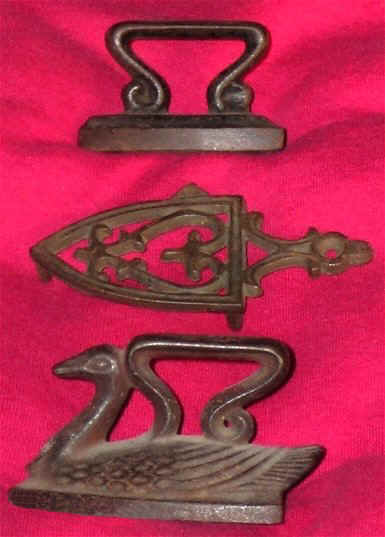 <![endif]>
1872 toy sad irons, cast in iron by Stevens & Brown in Cromwell, Conn., USA; the top iron (on the right), belonging to the stand (3¾" long) in the middle, likely is also from their factory, although not shown in the catalogue; the duck iron is 3¼" long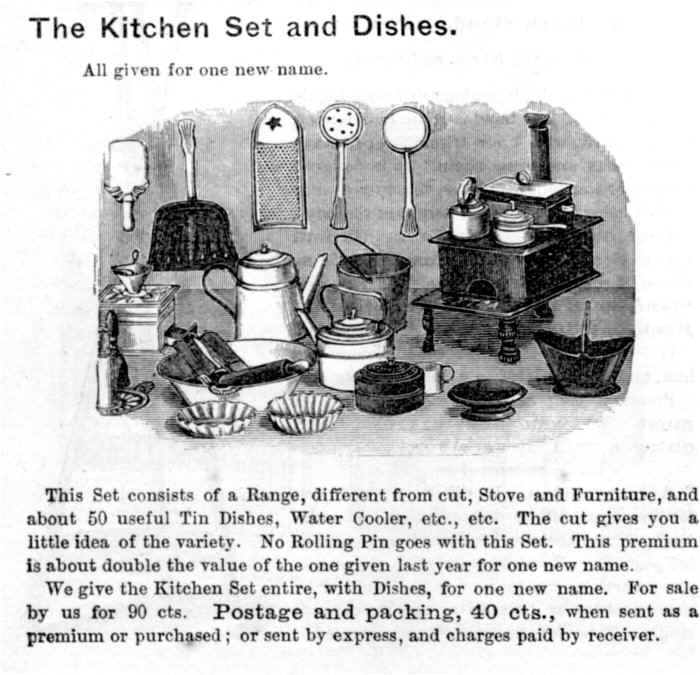 1890 kitchen stove and cooking accessories, Youth's Companion, October
<![if !vml]>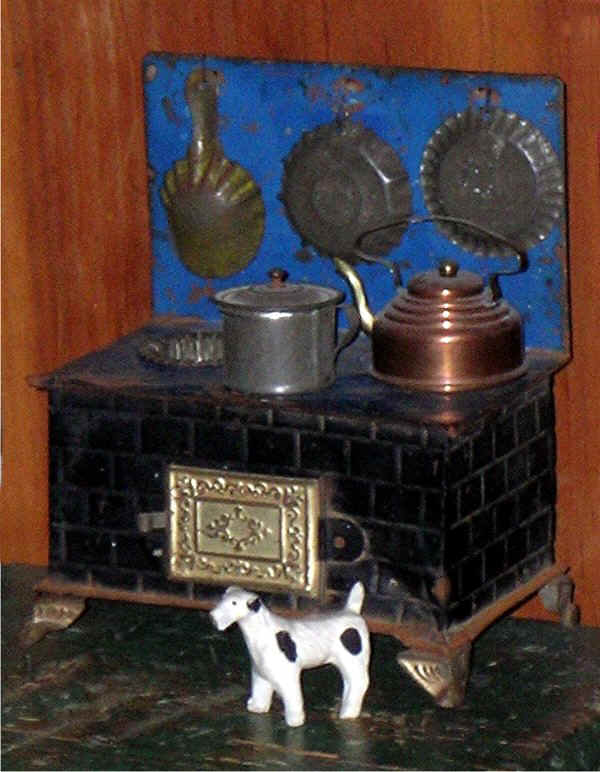 <![endif]>
<![if !vml]>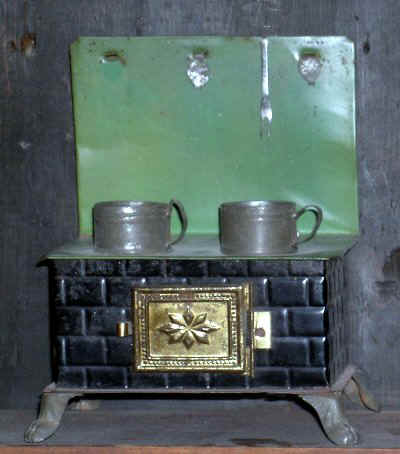 <![endif]>
blue and black German tin stove, 7" high
green and black German tin stove with lion's paw feet and 2 permanently placed stew pots, 6½" high
<![if !vml]>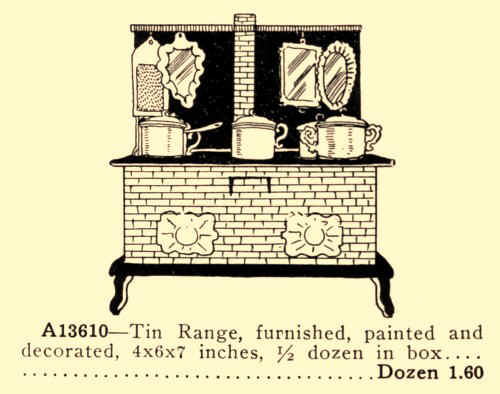 <![endif]>
1914 small tin stove with cooking pots and pans illustrated in Montgomery Ward catalogue; the stove itself imitates tiled walls, indicative of its German origins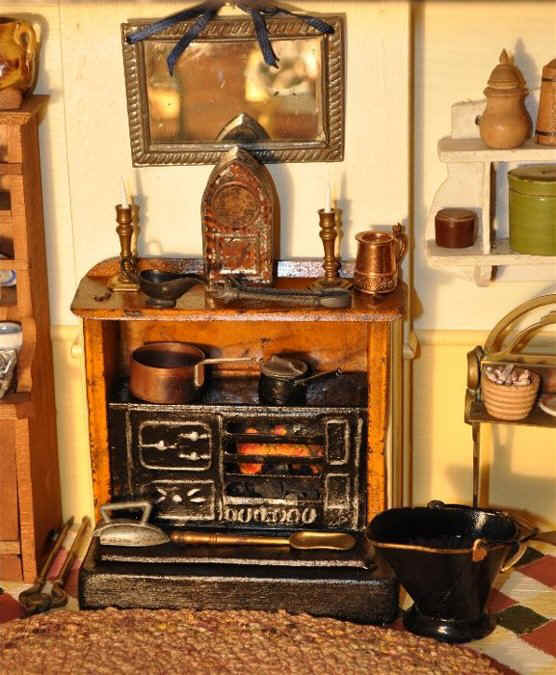 <![if !vml]>
<![endif]>
Built-in metal range. This one was part of a set ("Monster Kitchen Set": stove, dresser, table, chairs, plate & frying pan, all in metal), made in England by Hopkins Bros., Victoria Tin Toy Works, London, and advertised in 1927. This type of range, however, had been in use for many years previous. It was more popular at an earlier date in Britain because of the prevalence of coal than in North America.
Tin Kitchen Sets
<![if !vml]>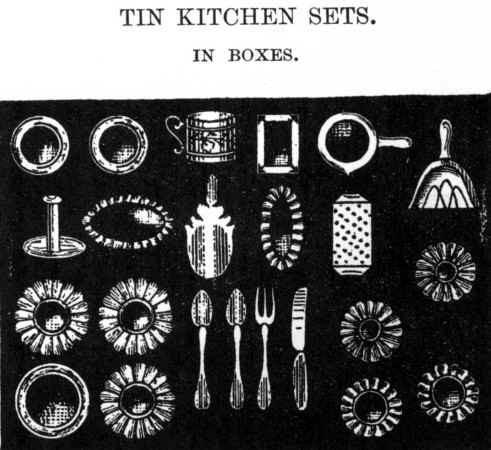 <![endif]>
left 1893 Carl Stirn catalogue, New York; a dust pan is typically included in such a set
below 1905 Wiemann & Muench catalogue, Milwaukee, Wisconsin; coffee mill, coffee pot, kettle, etc.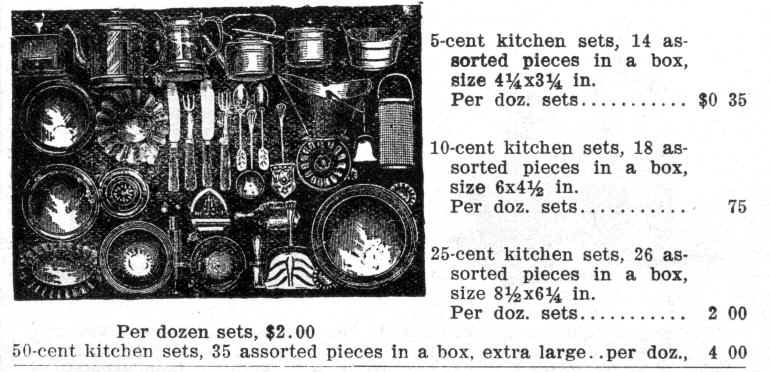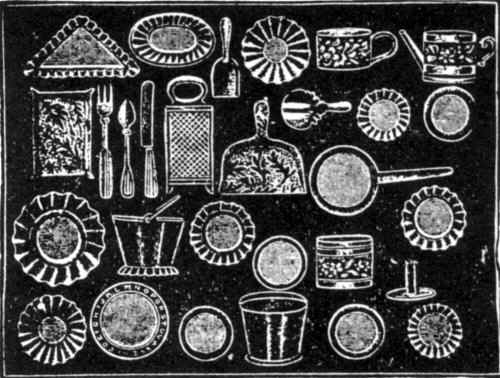 1914 Montgomery Ward catalogue; note the ABC plate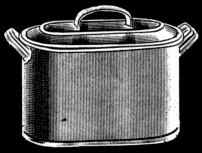 above tin washerboiler, 3" x 4" x 5½" (1914 Montgomery Ward catalogue)
TIN KITCHENS
<![if !vml]>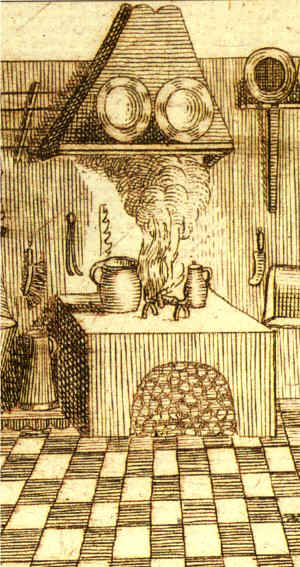 <![endif]>Late 19th and early 20th centuries tin kitchens, made in Germany, are descendants of much earlier toy kitchens, based on real European models. This detail of an early 19th century drawing (left) of a play kitchen demonstrates an open fire, burning charcoal, on the top of a tall hearth. The latter has an arched opening for storing fuel. Smoke is drawn to the hood and chimney. Most later tin kitchens have imitation-tile fire-boxes, burning coal, and containing an oven. There are round openings on the stove top surface for heating pots and pans.
<![if !vml]>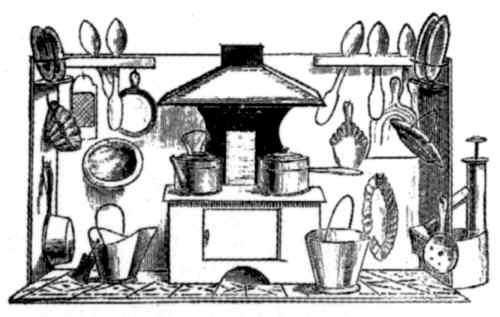 <![endif]>
above right 1874 Althof, Bergmann & Co., New York, catalogue; stove with oven, hood and arched opening next to floor (to store fuel); the pump has a plunger instead of the usual handle; this company made and imported toys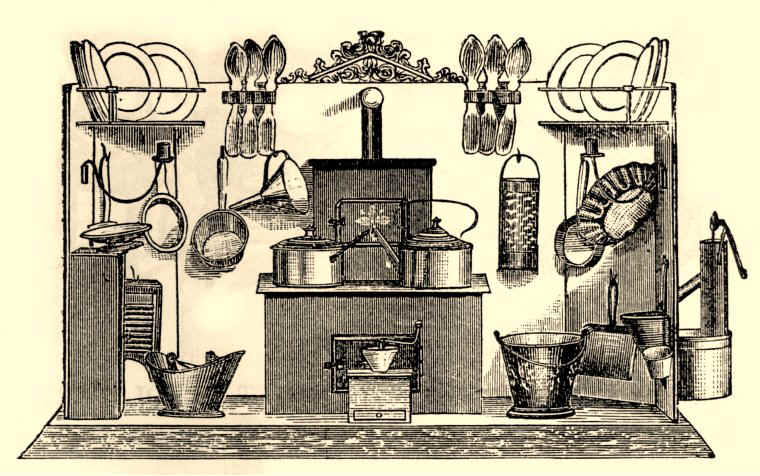 1872 Stevens & Brown catalogue, manufacturing company in Cromwell, Conn., USA; tin chimney and stove with two-tiered ovens in centre; pump on exterior side-wall with downward-angled pipe leading to a basin attached to the interior side-wall; accessories include plates, serving spoons, grater, coal scuttle, coffee mill, pail, ladle, pots, kettle, dust pan, funnel, scrub board, pair of wall candle-holders; eight sizes were available from 6" x 4½" to 19" x 12"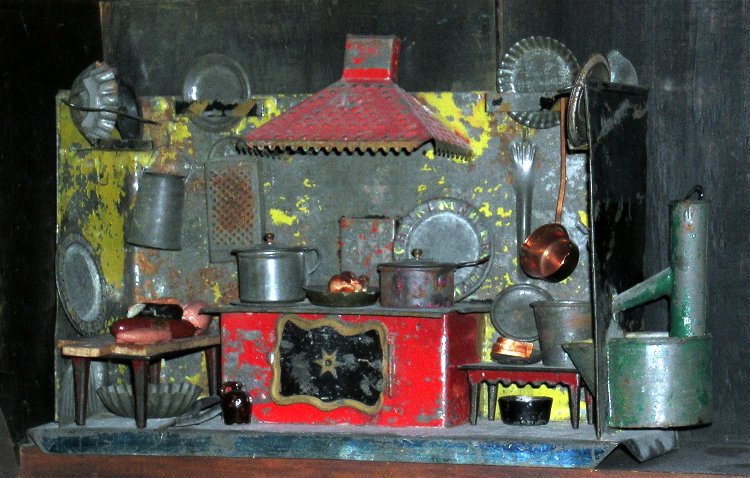 <![if !vml]>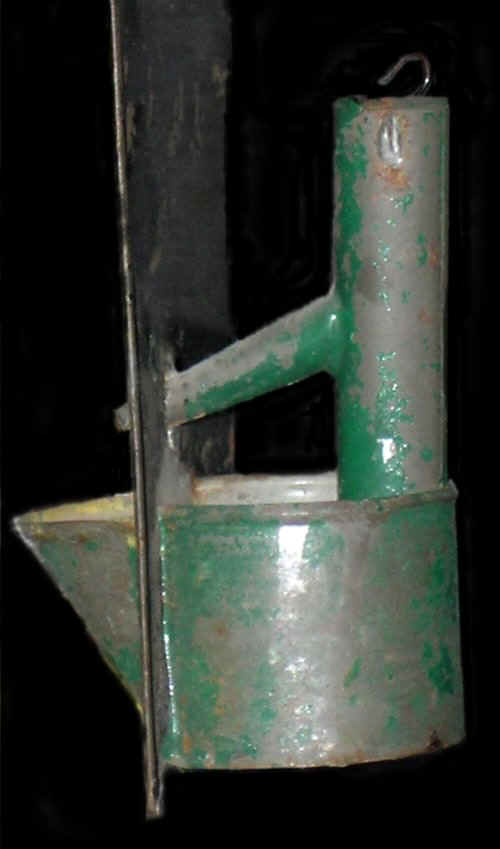 <![endif]>c1870s or '80s
Tin kitchen painted with bright yellow on the walls, red on the stove, chimney and hood, green on the water pump and basin, and with an imitation tile floor; the scalloping on the lower edge of the hood and outer edge of the oven door is attractive, as is the door's gold star motif; the iron benches are additions (by Stevens & Brown, 1872), but most of the tin pieces are original; the scale of the cooking accessories is often inconsistent; 8½ " high x 12½" long
detail of the pump (missing its handle)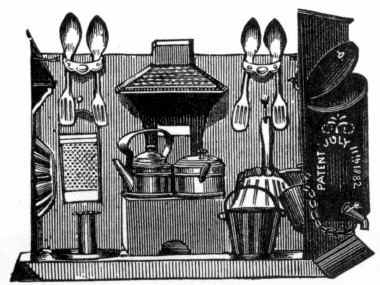 1882 (and 1893) patent date of July 11, 1882 on water reservoir on exterior end wall; large scale accessories compared to the stove, which does not have an oven door; Carl Stirn catalogue of 1893, New York
<![if !vml]>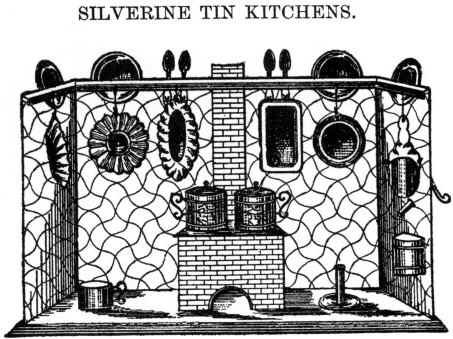 <![endif]>
1893 stove with chimney and arched opening next to floor but no oven door; basin and pipe connected to water pump; Carl Stirn catalogue of 1893, New York
<![if !vml]>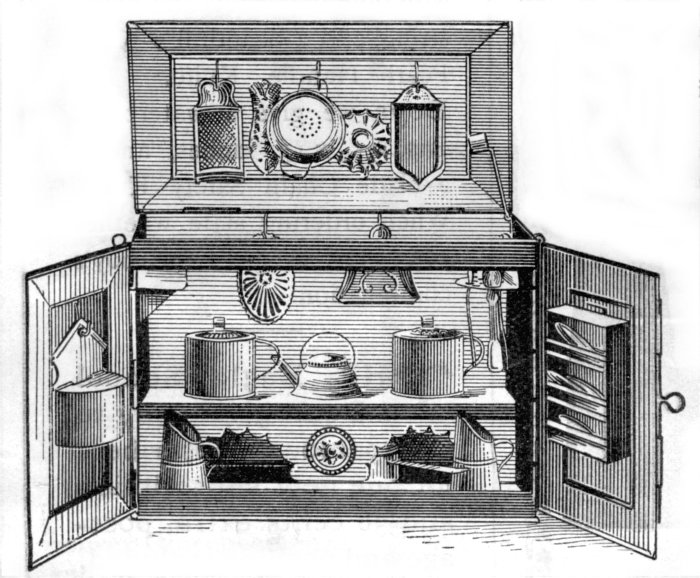 <![endif]>
1901 tin kitchen with folding doors and top; the accessories include a colander and fish mould; Youth's Companion, October
below 1914 aluminium kitchen with the same scalloped pair of openings as the 1901 example; aluminium appeared about 1900 in toy manufacturing
<![if !vml]>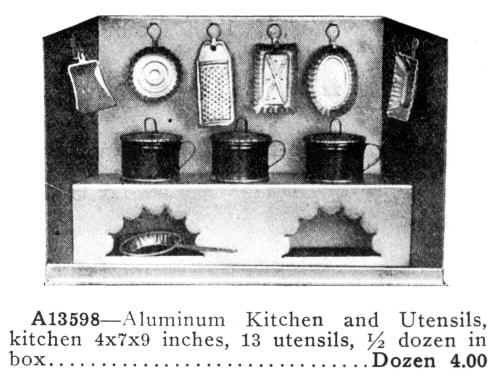 <![endif]>
WOODEN KITCHENS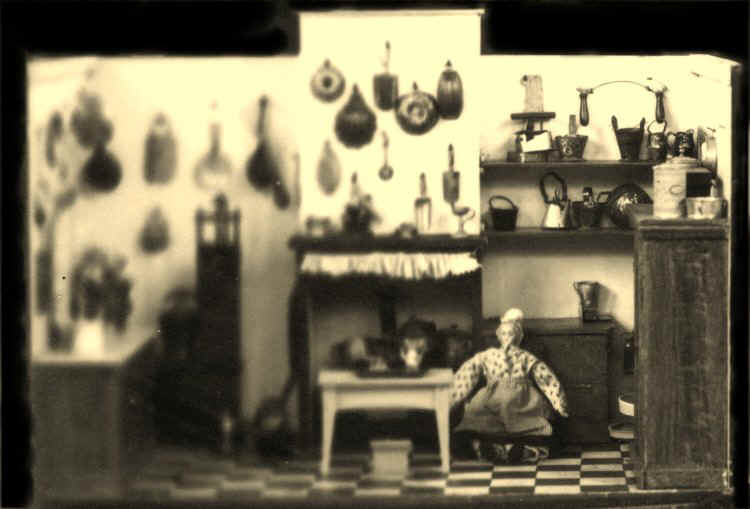 Detail from an undated postcard showing an unusual kitchen with a chimney breast and a smoke curtain hung under the chimney shelf; the cook is sitting on the tiled floor
1914 A basic set of furniture for the kitchen in white painted wood: cupboard, hanging shelf, work table, chair and bench, no doubt German in origins, Marshall Fields catalogue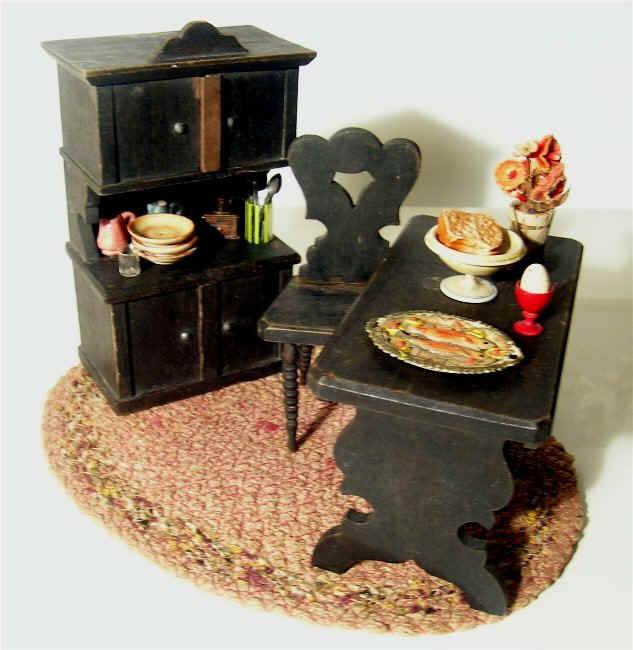 Part of a kitchen set, the choice of black paint is unusual, each door in the cupboard swings open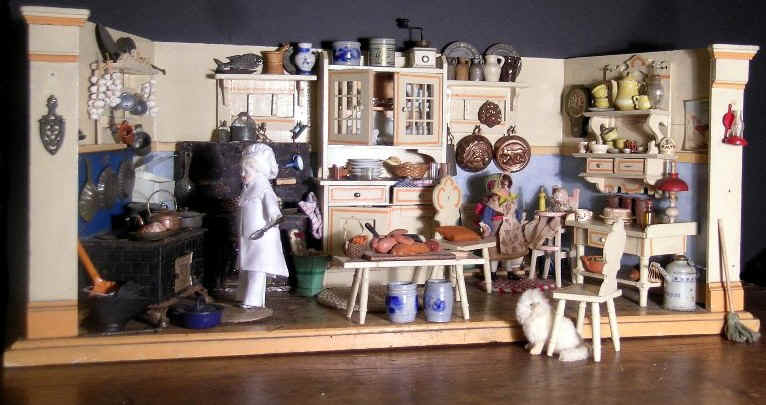 Kitchen in the original paint scheme of yellow and sponged-on blue with orange details, printed paper "tile" floor, 31½ inches across the front base; side walls angle towards the back wall (creating a better display space); original furnishings consist of 4 hanging shelves, cupboard with glass upper doors, bench, work table with shelf, & 2 sidechairs; German, maker not identified, late 19th century; the tin stove and sink have been added to the kitchen furnishings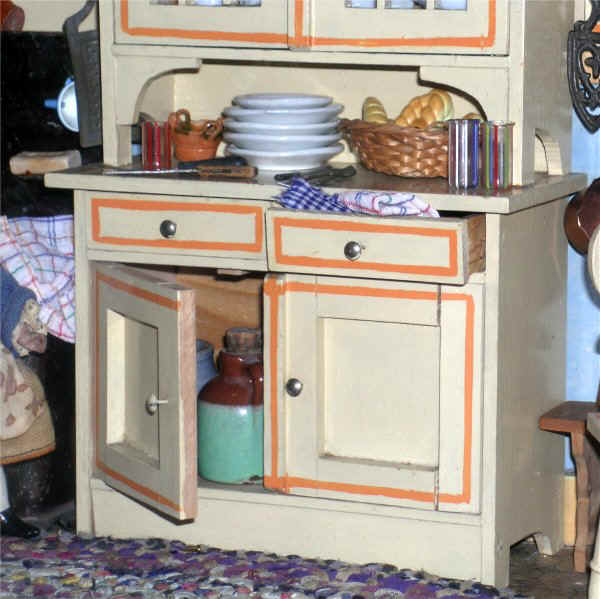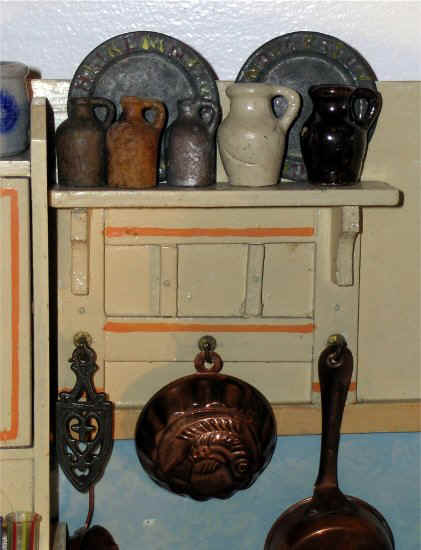 ABC tin plates, early crocks, copper fish mould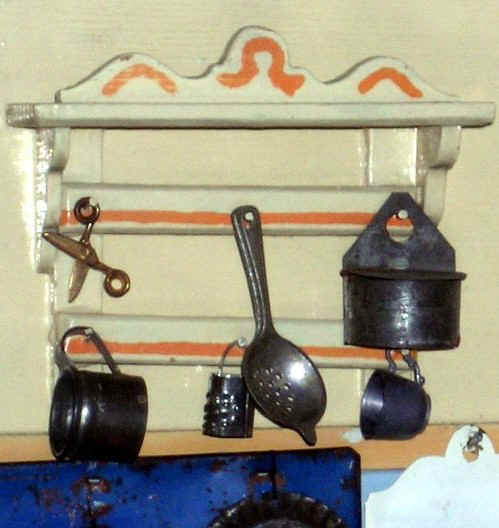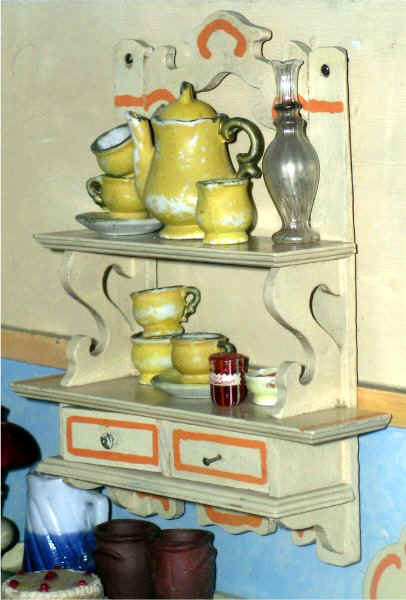 The scrolls and curves in the furnishings do not show the Art Nouveau influence of kitchens made in the early 20th century but resemble more closely the Rococo Revival style, which so strongly permeated dollhouse furnishings in the late 19th century
Painted china teaset marked "Made in Germany"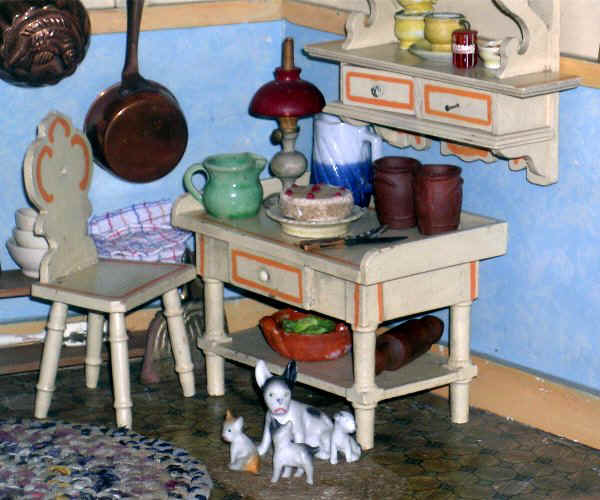 This table with a typical 3-sided gallery was a work table for preparing meals and baking; makers such as Gottschalk of Germany abandoned this style of cut-out solid chair backs in the 20th century, except for reviving it in the mid 1920s to evoke a German "peasant" style
<![if !vml]>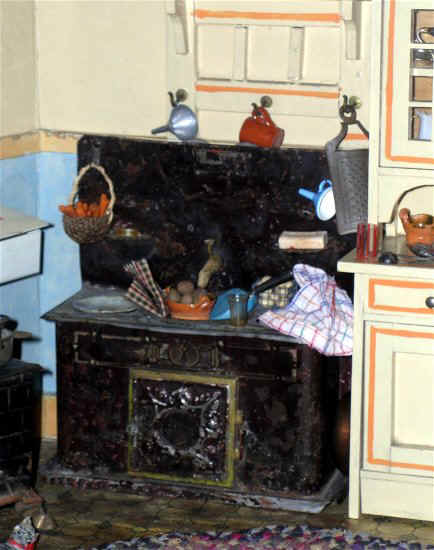 <![endif]><![if !vml]>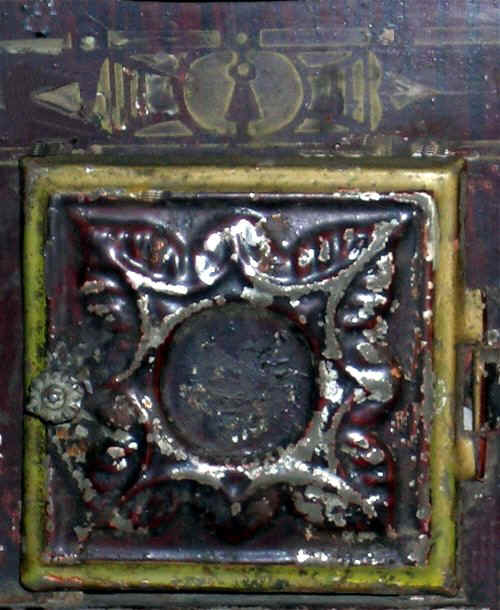 <![endif]>
An interesting tin sink with false-grain painting and gold detailing; 7 inches high; the embossed door with metal knob opens, there are hooks on the back plate, as well as a pair of small fluted curved shelves for soap; a small reservoir is hidden behind the back for placing water, which is released by a faucet into a dishpan sitting in a hole in the gray counter; to each side of the dishpan is a shallow removable plate; do they indicate a stove function in addition to the sink? Above the faucet in a semi-circle are the stencilled words "Patented ...1882"; the use of English (rather than German) suggests American or British origins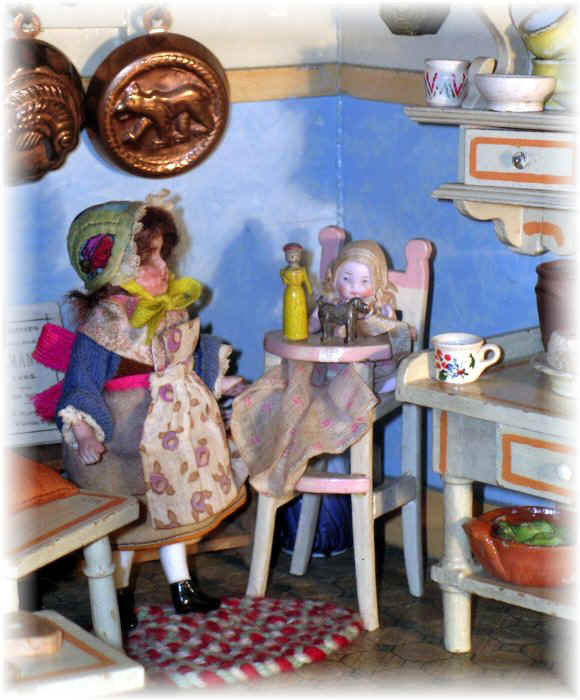 mother's helper
(both in original clothes, German, early 20th century)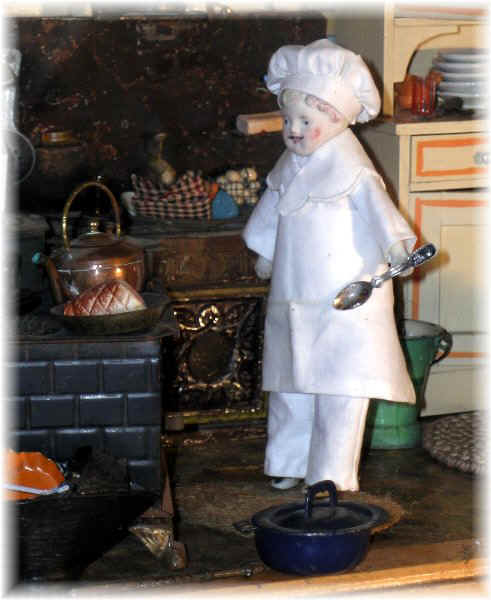 the cook (German, bisque, early 20th century, uniform made in 2009)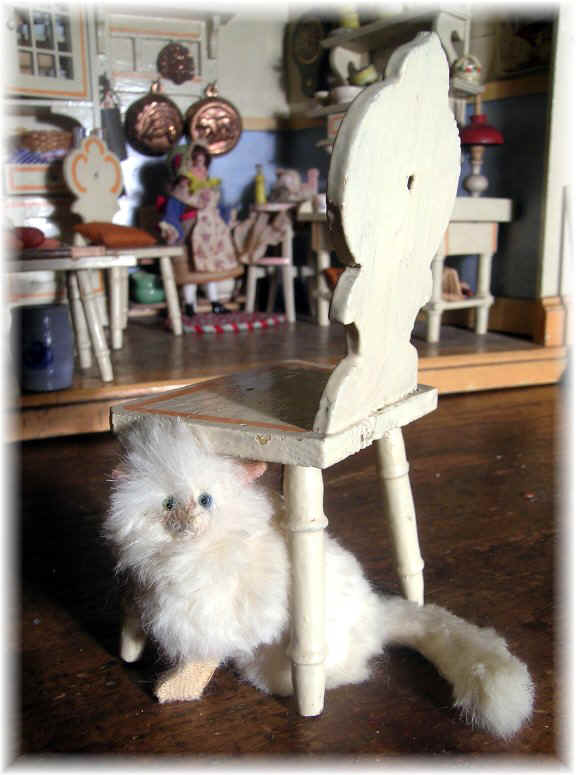 guard cat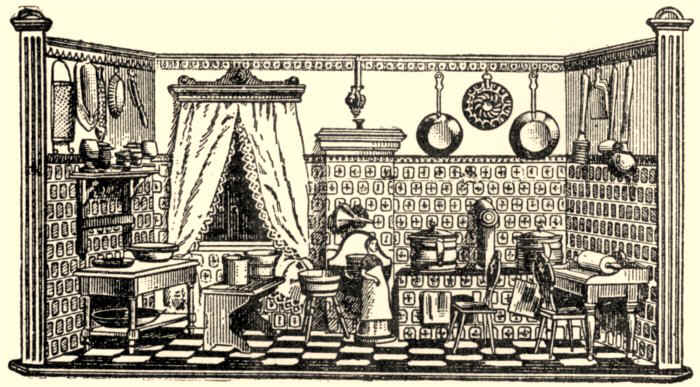 1893 "New style this season", a wooden kitchen with a curtained window and the lower 2/3 of the walls lined by imitation tiles, as is the stove, which has a chimney, oven and two stew pots; in the centre of the back wall is a water basin; the larger sized kitchens came with a cook and wooden furniture; a chopping block was a customary accessory; the metal moulds, grater and pans are very large in comparision to the cook and furniture; made by Gottschalk of Germany (see 1893 catalogue below # 2274/4); sold by Carl Stirn in his catalogue of 1893, New York
For readers interested in the products of the Gottschalk company, see Marianne Cieslik, Moritz Gottschalk 1892-1931, 2000.
<![if !vml]>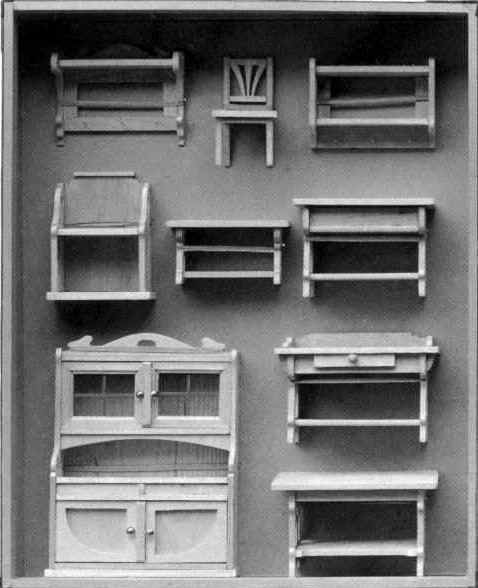 <![endif]>
1903
German Gottschalk catalogue showing kitchen furnishings -- 5 shelves, work table, bench, glazed cupboard, sidechair; the curves and scrolls have taken on an Art Nouveau quality; the sidechair has a pierced back; # 3349/1

1905 likely German Gottschalk kitchens (compare wallpaper, pilasters with two vertical lines, sink, etc. with Gottschalk catalogue below); shown in the Wanamaker catalogue, USA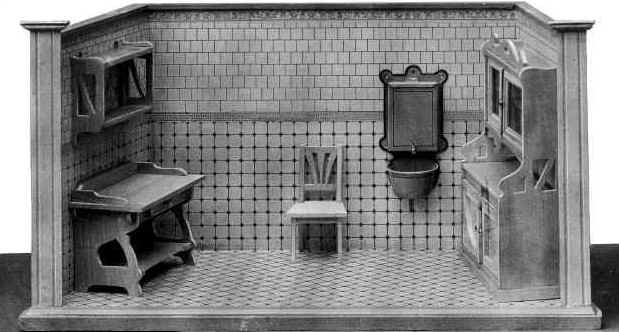 1902 Gottschalk # 3482/3, kitchens ranged from small and plain with no windows to large and complex; the wall sink is an attractive feature
<![if !vml]>
<![endif]>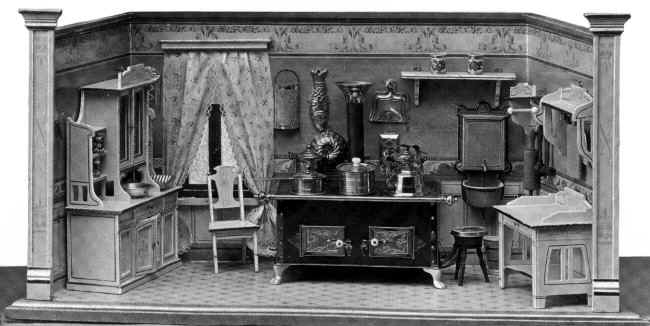 1908 Gottschalk, a metal Märklin cookstove is shown; displayed with certain furnished kitchens from at least the early 1890s to about 1915; they featured a stove pipe, some had double doors while others had a single door; the accessories were often inconsistent in scale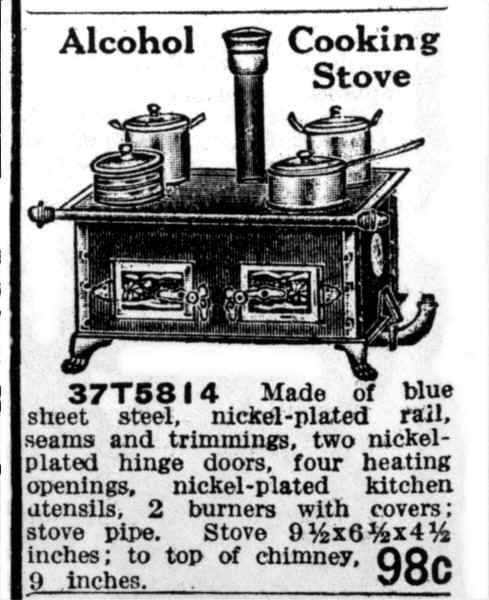 1917 likely a German Märklin stove in the John Smyth catalogue, USA
<![if !vml]>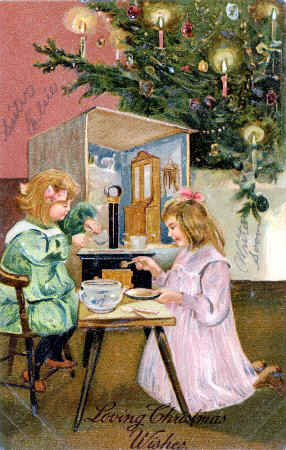 <![endif]><![if !vml]>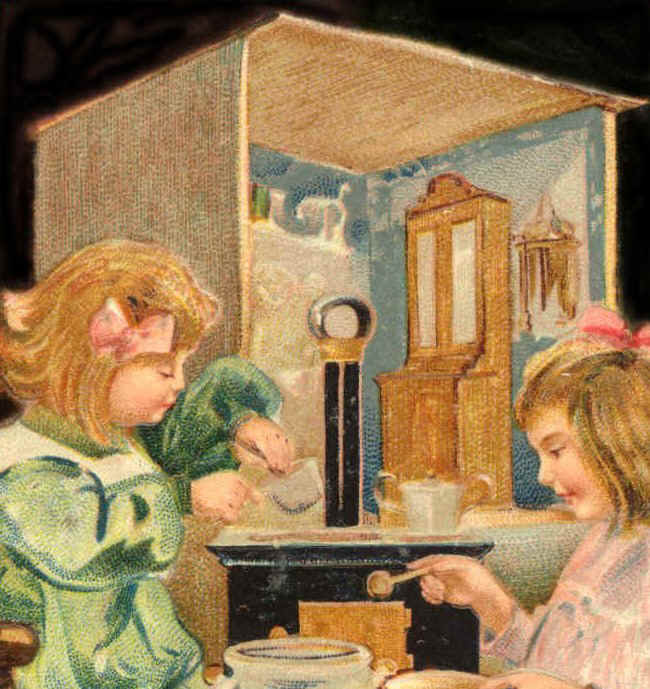 <![endif]>
Undated postcard with children cooking on their Märklin stove; in the background is a wooden kitchen with a cupboard and hanging shelf; c1915-20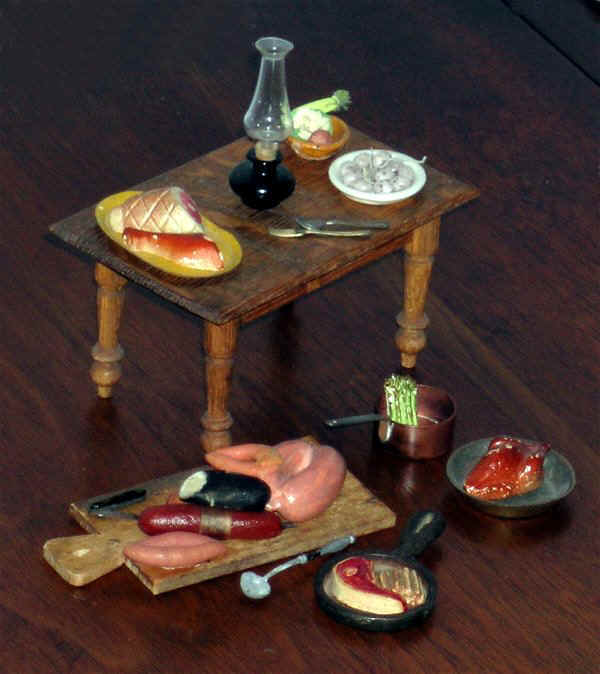 eating: THE DINING ROOM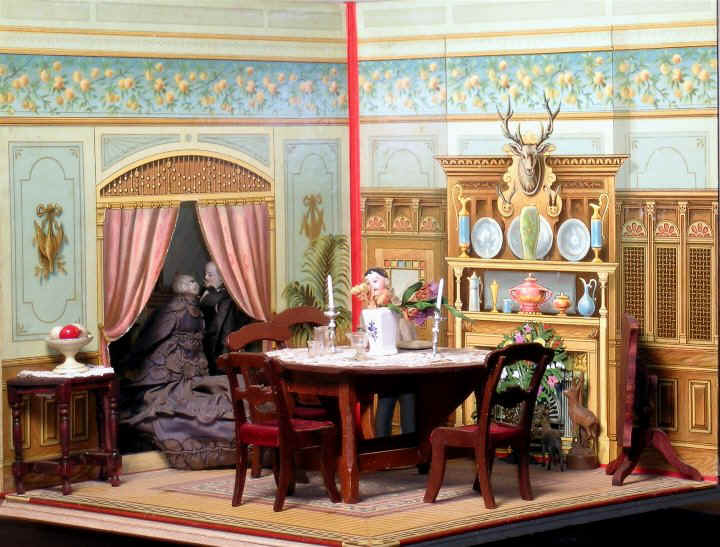 1894 the American firm McLoughlin produced a set of 4 rooms with lithographed walls showing the furnishings and decor enjoyed by the urban upper classes; this is the dining room with blue panelling (on which carved dead game hangs) over natural wood, panelled wainscoting; a band of wallpaper with oranges and branches runs around the upper part of the room; there is a parquetry floor with an Oriental rug in the centre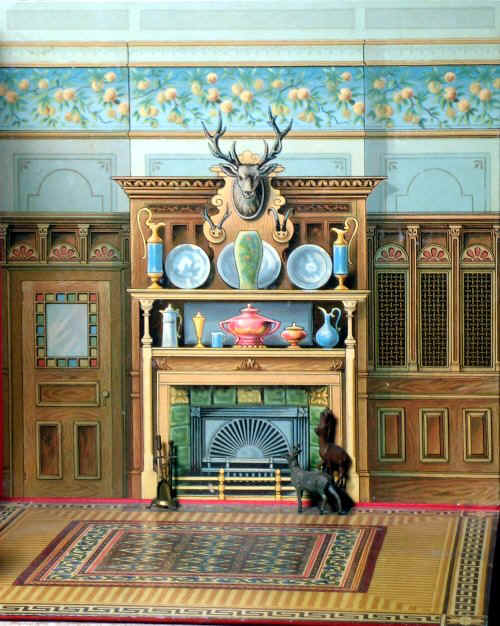 The fireplace wall features natural woodwork surrounding the tiled fireplace box surmounted by an overmantel with shelves laden with ornamental china; towering over all is a mounted stag head with sets of smaller horns below; on one side a passageway door leads to the kitchen while on the other, there may be a dish-storage area shielded by screening; the effect is rich and colourful
<![if !vml]>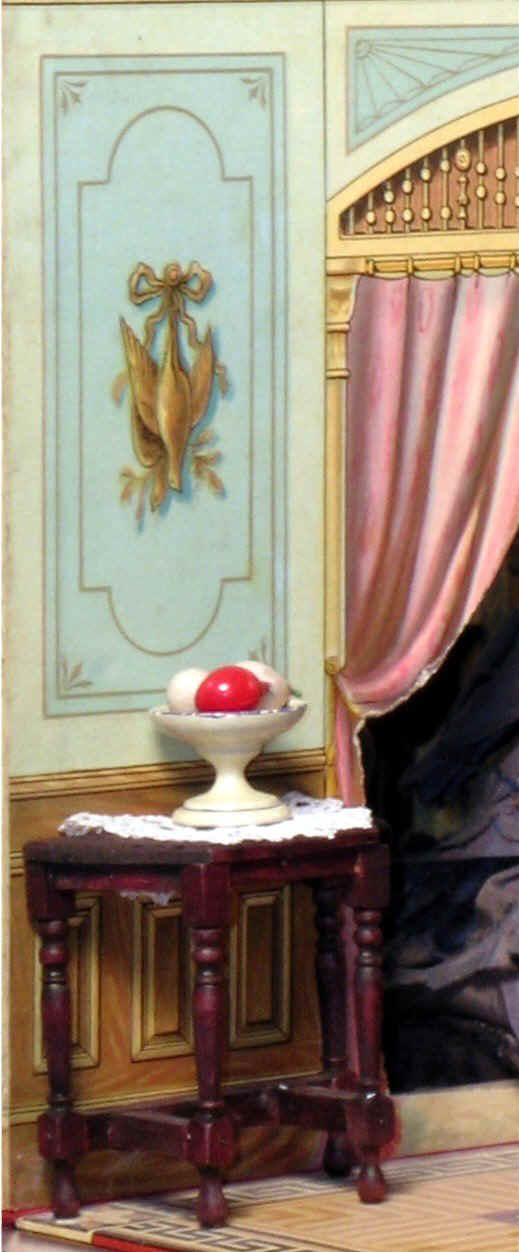 <![endif]>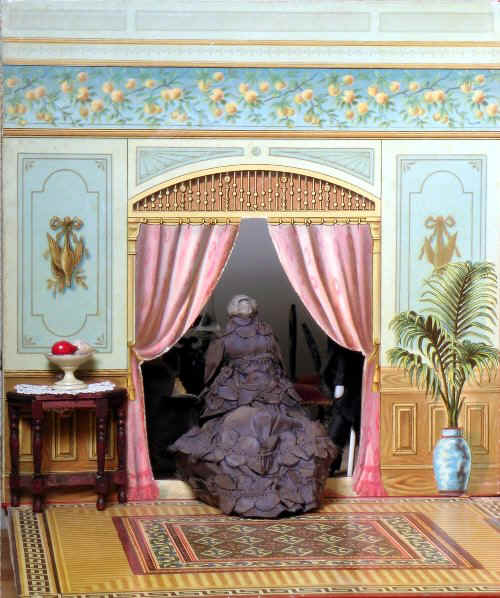 Grandmother, with her silk gown trailing, enters the parlour through rose curtains hung below an arched screen of spindles; large green palms are in a blue and white floor vase; a German "red stain" table, which bears a painted and turned wood compote, sits against the wainscoting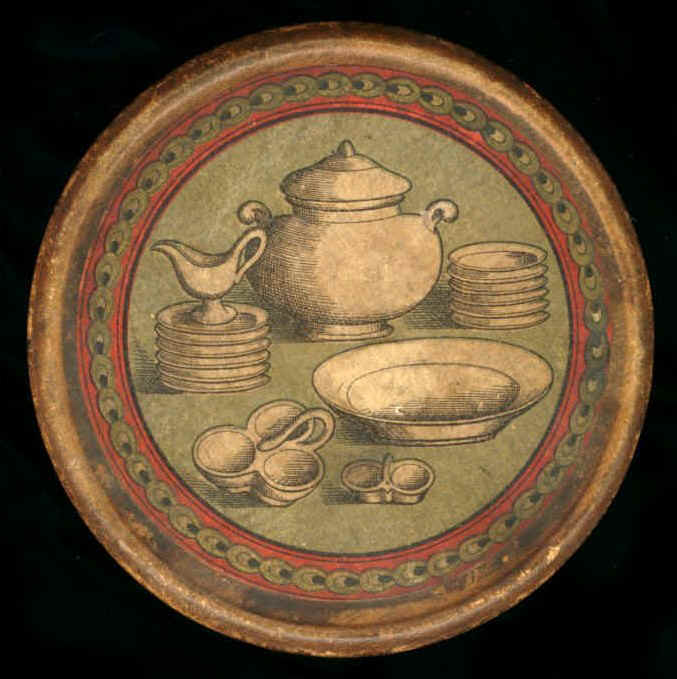 lid of a box holding a set of dollhouse blue onion dishes, 3 in. dia., German, late 19th century, impressed on reverse is MECHANISCHE FABRIK FRIEDR CHRISTIAN BAD SODEN AT PATENT NO. 33982 3 414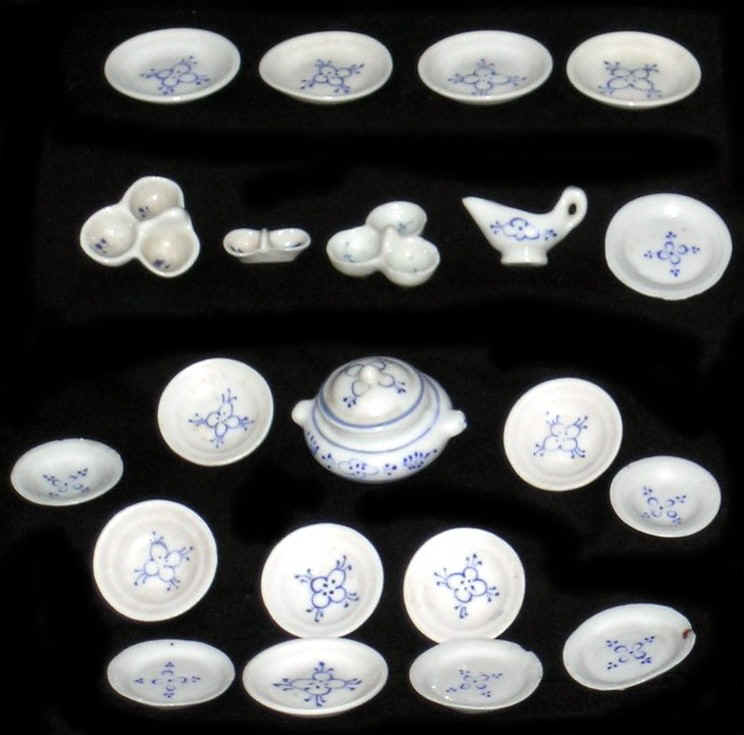 c1880 set of blue and white, onion pattern china for the dining room, German, hand painted, plates 1½" diameter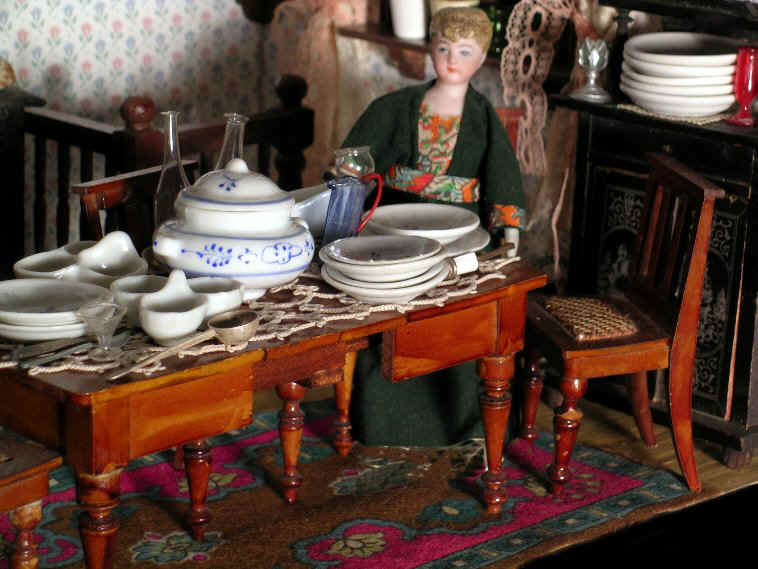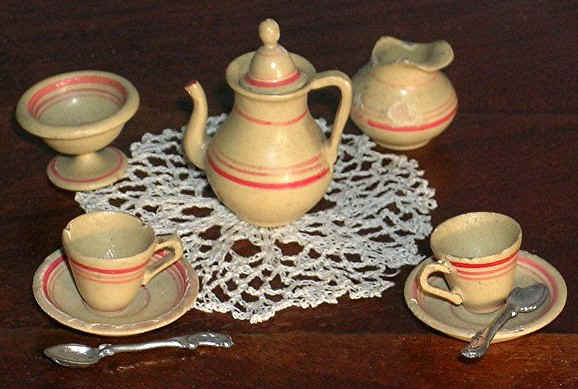 c1890 painted treen coffee set, likely German, coffee pot just over 1¼" high
<![if !vml]>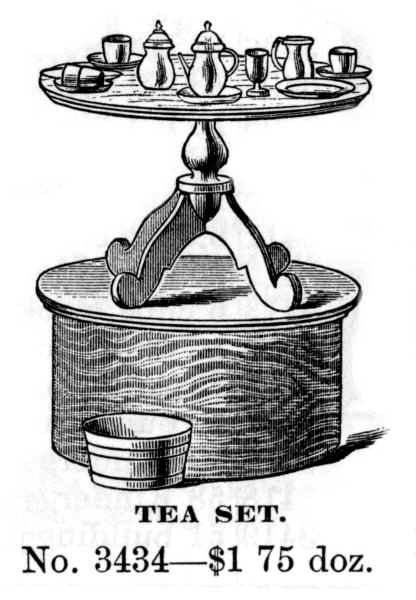 <![endif]>
1879-1880
Davis Brothers Catalogue, San Francisco, California
Likely treen (not specified in catalogue) and German; tall elegant lids usually characterize these early teapots; the sets are normally painted in a solid colour with lines as accents; some sets are embellished with flowers and/or birds with flowers; the delicate handles often have been broken off after useage at too many tea parties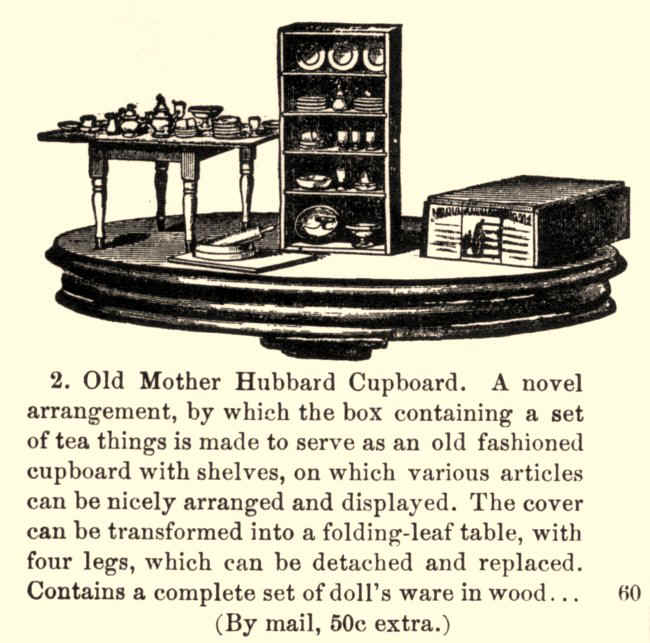 1881 Ehrich's Fashion Quarterly Catalogue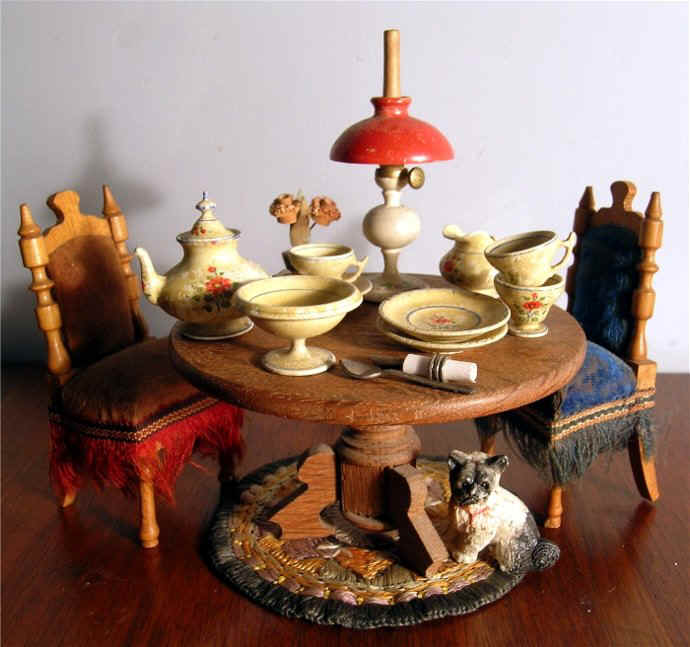 Treen teaset and oil lamp, likely German (as are the chairs and table) c1890; teapot 1½" high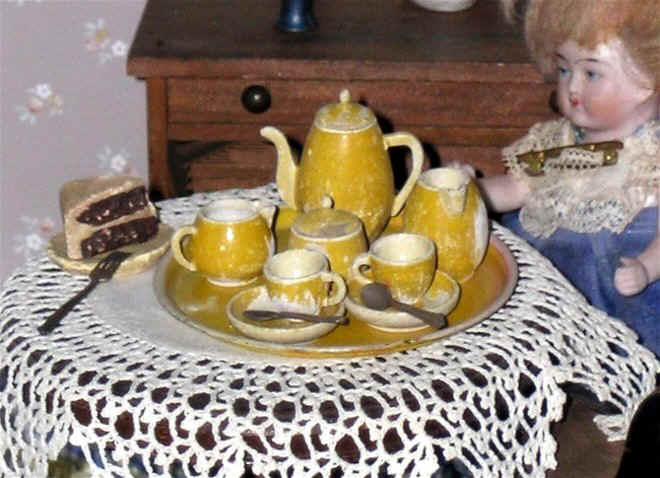 Treen teaset, c1910-c1930, painted a strong mustard colour and sitting on a matching tin round tray, stamped "Germany"; the piece of cake and set of cutlery came from the same American dollhouse. The teaspoons are just under 1".
<![if !vml]>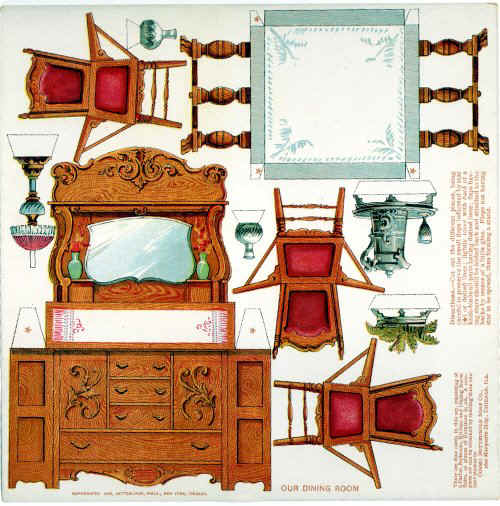 <![endif]>1895 set of paper furnishings for the dining room; although confusing because the furniture appears splayed out in preparation for cutting out and assembling, this is a good illustration of the colours, style and accessories suitable for this time period such as embroidered linens on the table and sideb<![if !vml]>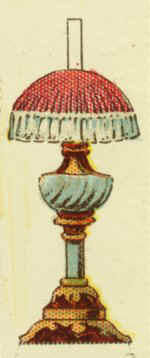 <![endif]>oard, elegant kerosene lamp, potted fern, glass vases and furniture in natural wood with red upholstery; the sideboard is in Rococo Revival style with applied carvings and cut-out scroll supports on each side of the mirror; (this is an advertisement for Cosmo Buttermilk toilet soap, Chicago)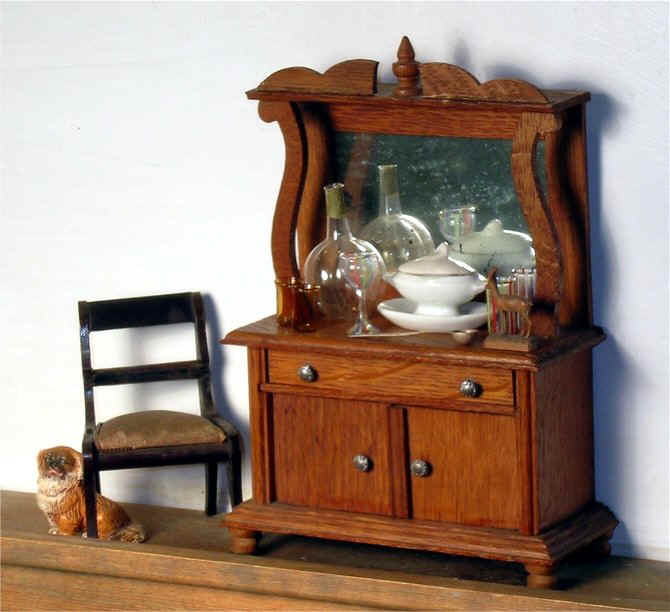 c1905 -1917 sideboard in natural oak with cut-out curved supports on each side of the mirror, bun feet, broken pediment on top with a finial in the shape of an urn, metal hardware, likely German in origin, 8¼" high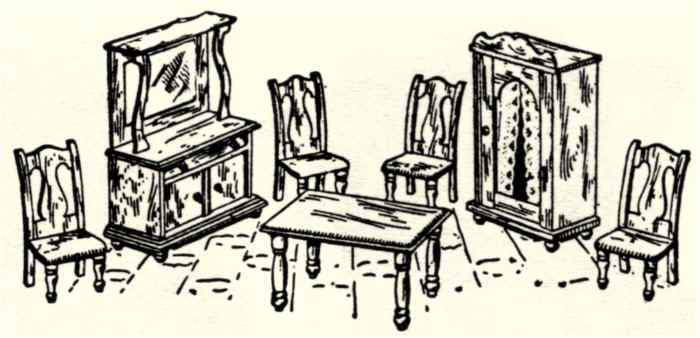 1905 described as a parlour set selling for $1 in the Wanamaker Catalogue, USA, it looks more like a dining room set; compare sideboard above, although shown here without the broken pediment and finial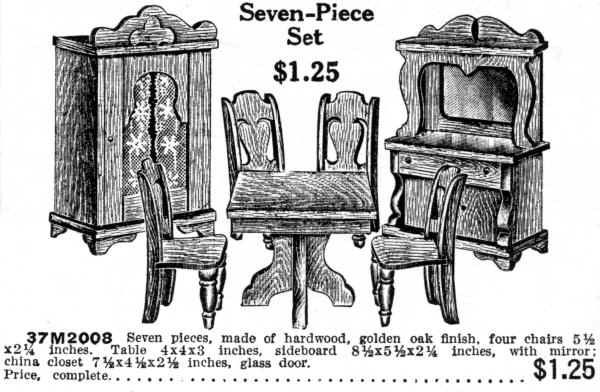 11917 dining set in "golden oak finish" in the John Smyth catalogue; generically similar to the 1905 set in the Wanamaker catalogue and the oak sideboard above, which as a central finial not shown in either illustration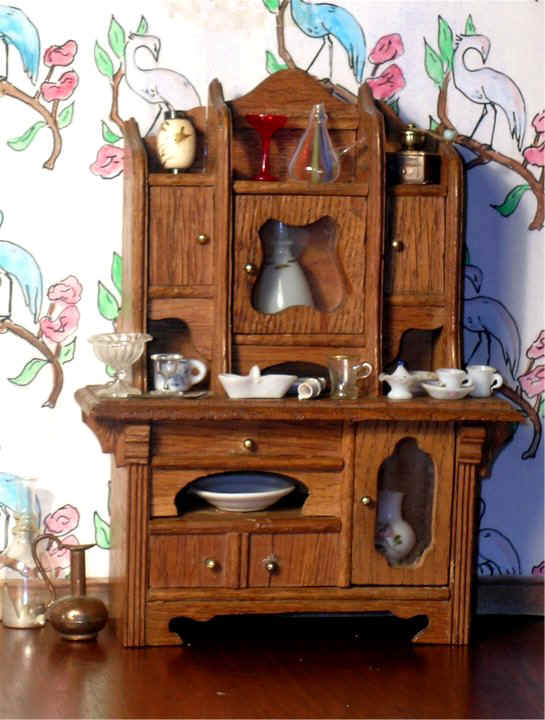 c1890 sideboard, oak, 6.75 in. high, likely German
<![if !vml]>
<![endif]>
1914 Schneegas catalogue, Walterhausen, Germany – dining-room furniture (see Gallery 1 for the table and chairs)
<![if !vml]>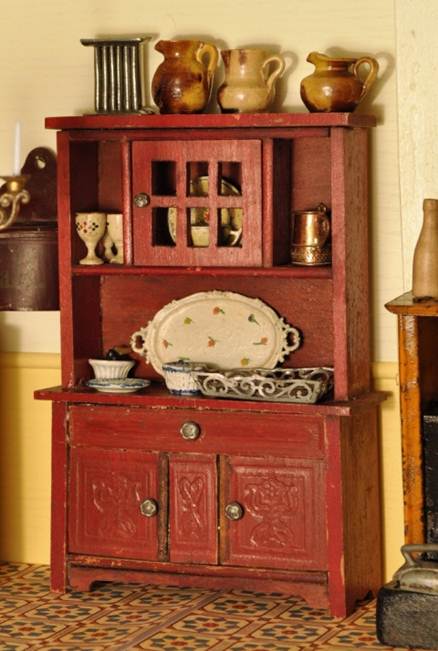 <![endif]>
<![if !vml]>
<![endif]>
Shown here in a kitchen, this Schneegas back-to-the-wall cupboard belongs to a dining-room set, as seen in the 1914 catalogue; the impressed wood designs on the cupboard's bottom half are pleasing Art Nouveau renditions of flowers with undulating leaves and roots
<![if !vml]>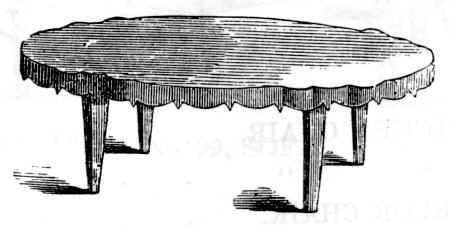 <![endif]>
1872 cast-iron dining table by Stevens & Brown, Cromwell, Conn., USA; detail from their catalogue of 1872 and below a small version with remnants of the once brilliant hand-painting and floral stencilwork; the sharp scalloping of the apron is easier to achieve in metal than in wood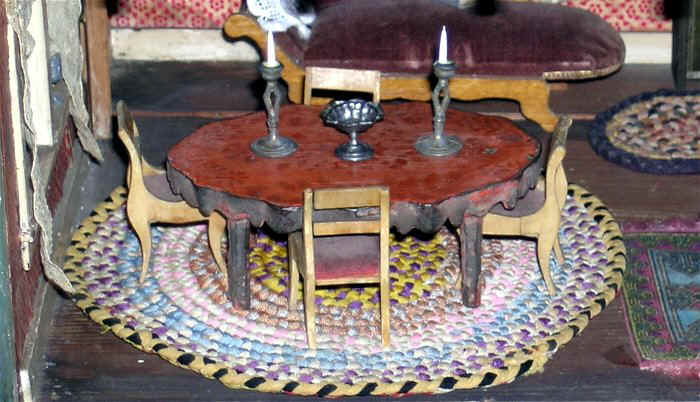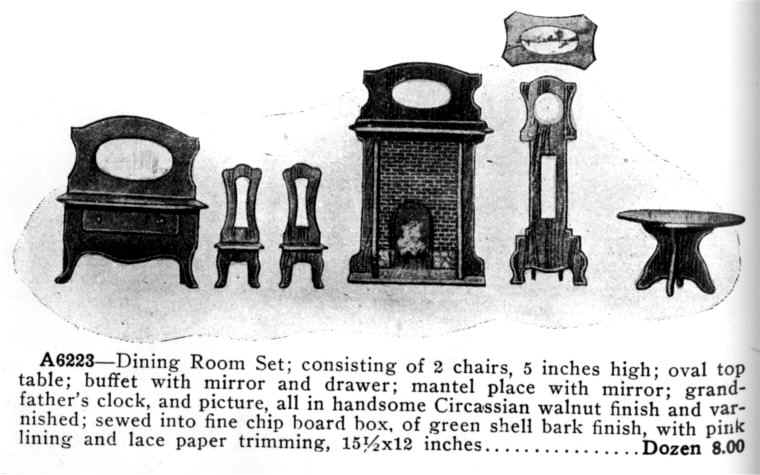 <![if !vml]>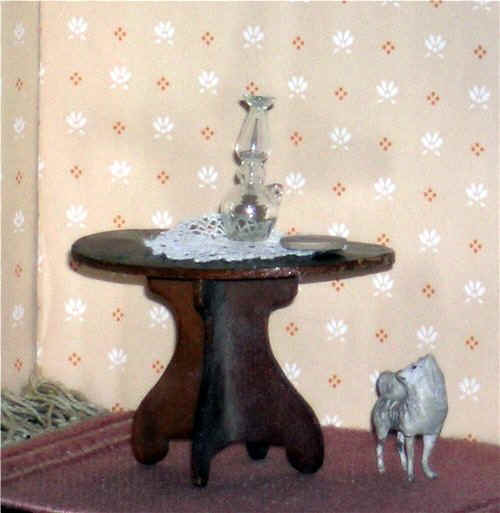 <![endif]>1914
dining room set from Montgomery Ward catalogue of 1914 (still appearing in the Sears Roebuck catalogue of 1921) showing furniture in dark varnish sawn in stylized curves out of flat thin pieces of wood; tables are formed by piecing together two supports, which appear as four scrolled legs; the chairs in the catalogue are 5" high (too large a scale for most dollhouses) but the oval table on the left is only 2¾" high (this leg construction appears in the late 19th century and continues into the 1920s); the set below is in a large scale: the chairs are 7" high and demonstrate the method of sawing out a flat piece for the front legs; the general impression of this type of furniture is Art Nouveau because of the stylized curves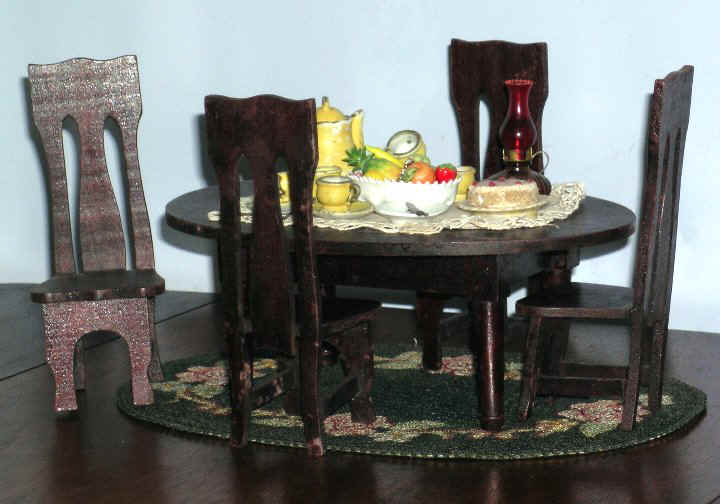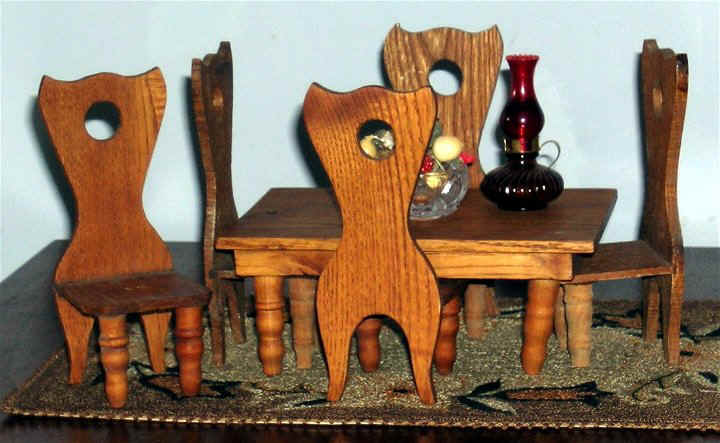 c1915 set by N.D. Cass Company of Athol, Massachusetts; chairs 5" high, the table seems strangely low in comparison to the high-back sidechairs, which have an odd combination of turned front legs and flat cut-out back
<![if !vml]>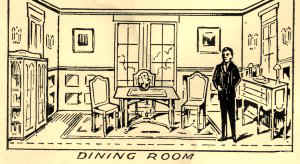 <![endif]>1921 as the love of Art Nouveau and Art Deco began to fade, there was an increasing enthusiasm for classicism in the 1920s resulting in wainscotting and furniture based on late 18th century styles; lighting is all electrical in this apartment; from a cardboard set "This 4 Room Apartment..with 'Invisibles' Cut-Out and Paint...", New York, 1921-23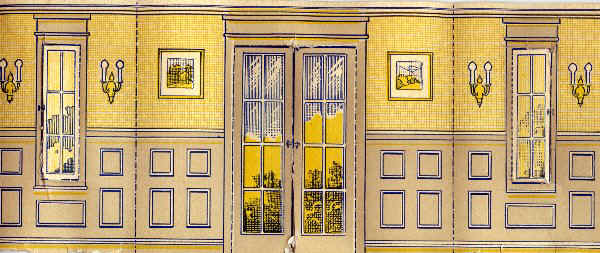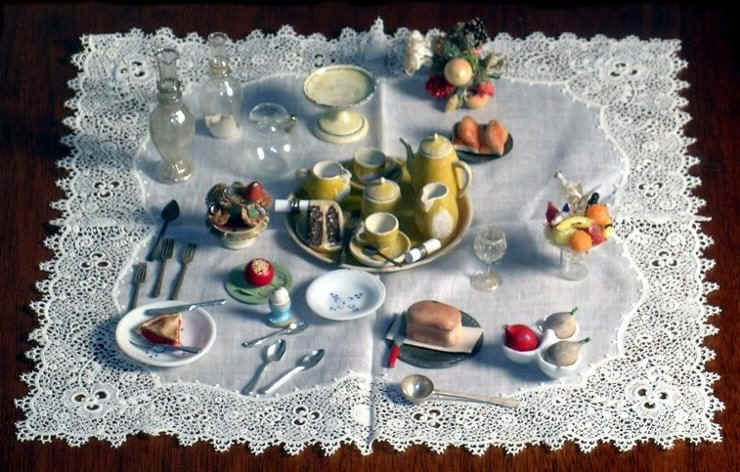 c1900 - 1930s an array of German dishes and food
<![if !vml]>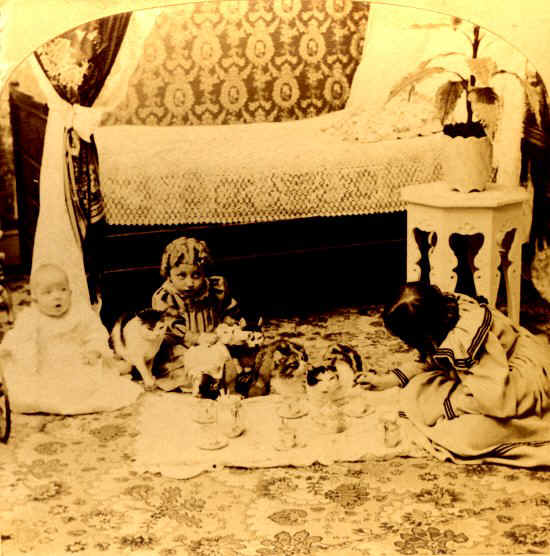 <![endif]>
1899
although the toy tea set is difficult to distinguish in this American stereocard (by Kilburn), two young girls and a baby are pouring tea for four co-operative cats; the bed has a lace coverlet and draped curtains; there is an exotic looking plant stand and a floral woven carpet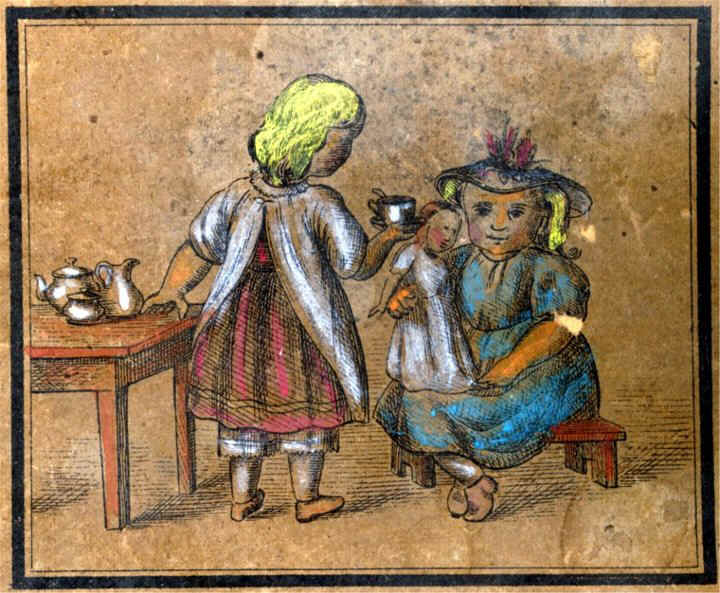 <![if !vml]>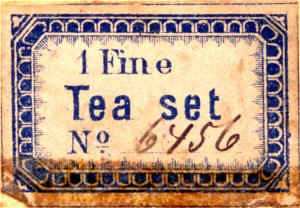 <![endif]>c1890 cardboard box with original hand-painted colours for "one fine tea set for a good girl" (tiny white ironstone), 5 x 4 x 2 inches
<![if !vml]>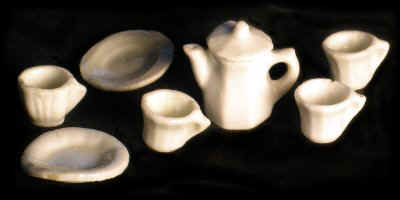 <![endif]>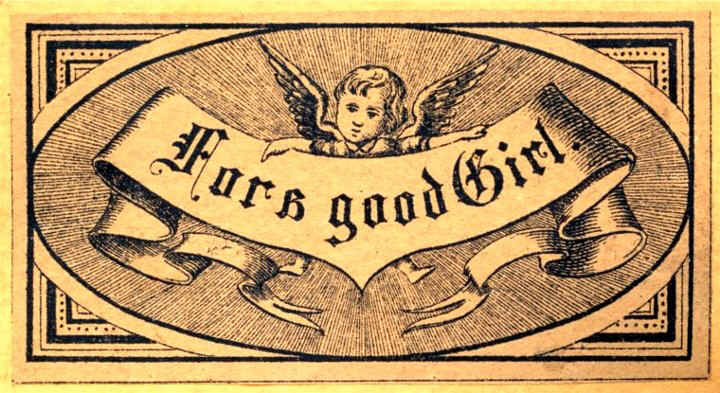 PLEASE CLICK HERE TO CONTINUE TO THE NEXT SECTION (ON PARLOURS)!
 top of page home page history of dollhouses
GALLERY of IMAGES 1 GALLERY OF IMAGES 2 GALLERY OF IMAGES 3
GALLERY OF IMAGES 5 GALLERY OF IMAGES 6 GALLERY_OF_IMAGES_7